CBNation
I AM CEO PODCAST
IAM1619 – Real Estate Investor Shares His Positivity and Insights
Podcast Interview with Matthew Martinez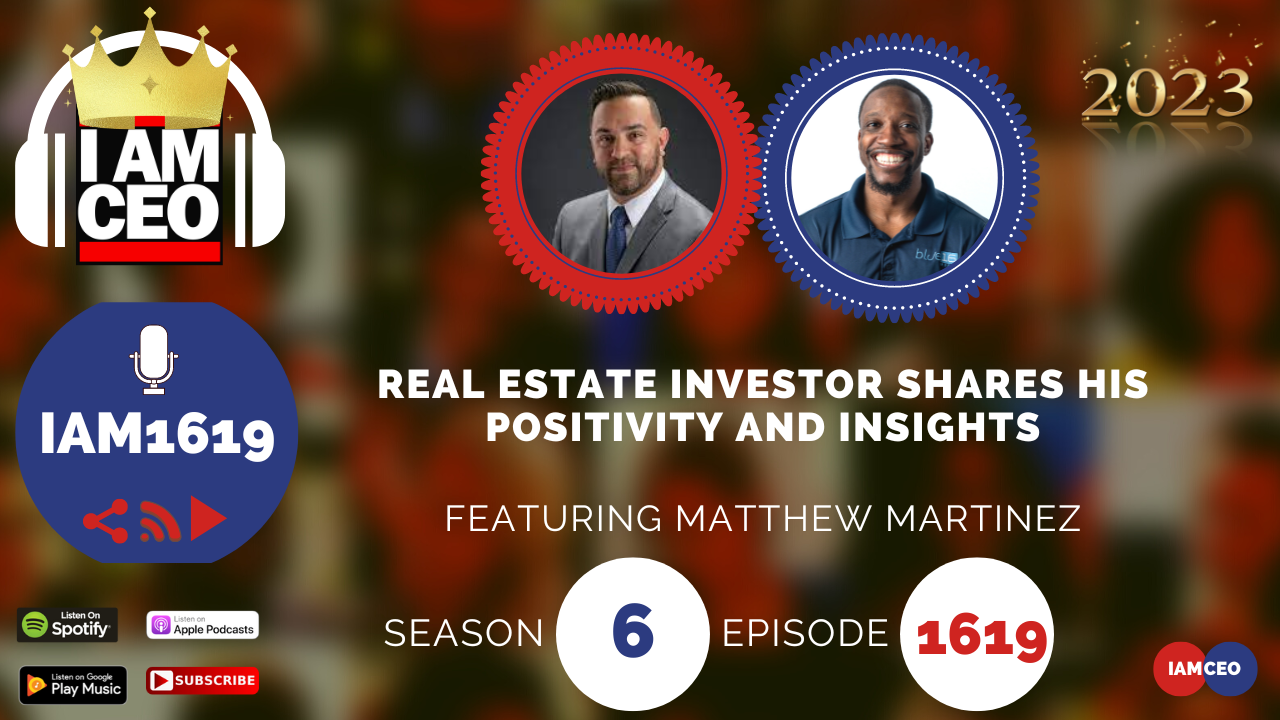 Why it was selected for "CBNation Architects": One of the most impactful things I heard over, and over and over again was the importance of the morning routine and while it seems obvious it is often overlooked. When starting something new and thinking of planning and preparation, don't forget about the morning routine. Matthew has contributed to our sites in the past so it was awesome to have him on the show. It was interesting that he wasn't a morning person originally but one of his mentors influenced him and now he has a purposeful routine at 4/5 in the morning.
Check out premium content in the CBNation Library at http://cbnation.co/library and pick up our eBook to hear some of the best lessons at http://cbnation.co/shop.
Previous Episode: https://iamceo.co/2021/09/03/iam1117-real-estate-investor-shares-his-positivity-and-insights/
Transcription:

Matthew Martinez 0:00
To always believe in yourself. And try to think outside of the box. Many times I find myself navigating complex and very difficult situations. But by being creative I usually find a way to make a situation a win-win for all parties involved, which is my favorite.
Intro 0:17
Are you ready to hear business stories and learn effective ways to build relationships, generate sales, and level up your business from awesome CEOs, entrepreneurs, and founders. Without listening to a long long long interview? If so, you've come to the right place, Gresh values your time and is ready to share with you the valuable info you're in search of this is the I am CEO podcast.
Gresham Harkless 0:45
Hello, hello, hello. This is Gresh from the I am CEO podcast. And I have a very special guest on the show today, I have Matthew Martinez of Diamond Real Estate Group. Matthew, it's great to have you on the show.
Matthew Martinez 0:54
Thank you for having me, happy to be here.
Gresham Harkless 0:56
Super excited to have you on as well too, and before we jumped in, I want to read a little bit more about Matthew. So you can hear about all the awesome things that he's doing. And Matthew is a luxury and investment real estate broker, entrepreneur, and a certified life coach. Matthew and his team at Diamond Real Estate Group a service clients from the Napa Valley Wine Country to the greater San Francisco Bay Area. Matthew is also a real estate investor himself and has experience with wholesale and real estate, multi-unit properties commercial investment properties, and flipping houses. And with a growing and active tribe of over 30,000 on social media in his database, Matthew shares his positivity insight on real estate investing and his daily experiences in business and in life. And many entrepreneurs follow to learn what it really takes to go from overwhelmed entrepreneur to profitable business owner. Matthew prides himself on being a problem solver, and he's also been an awesome contributor to our CB Nation. So Matthew great to have you on the show are you ready to speak to the I am CEO community?
Matthew Martinez 0:52
Yes I am.