I AM CEO PODCAST
IAM1618 – Coach Helps Her Clients Search for Authenticity in Life
Podcast Interview with Lesley Bradshaw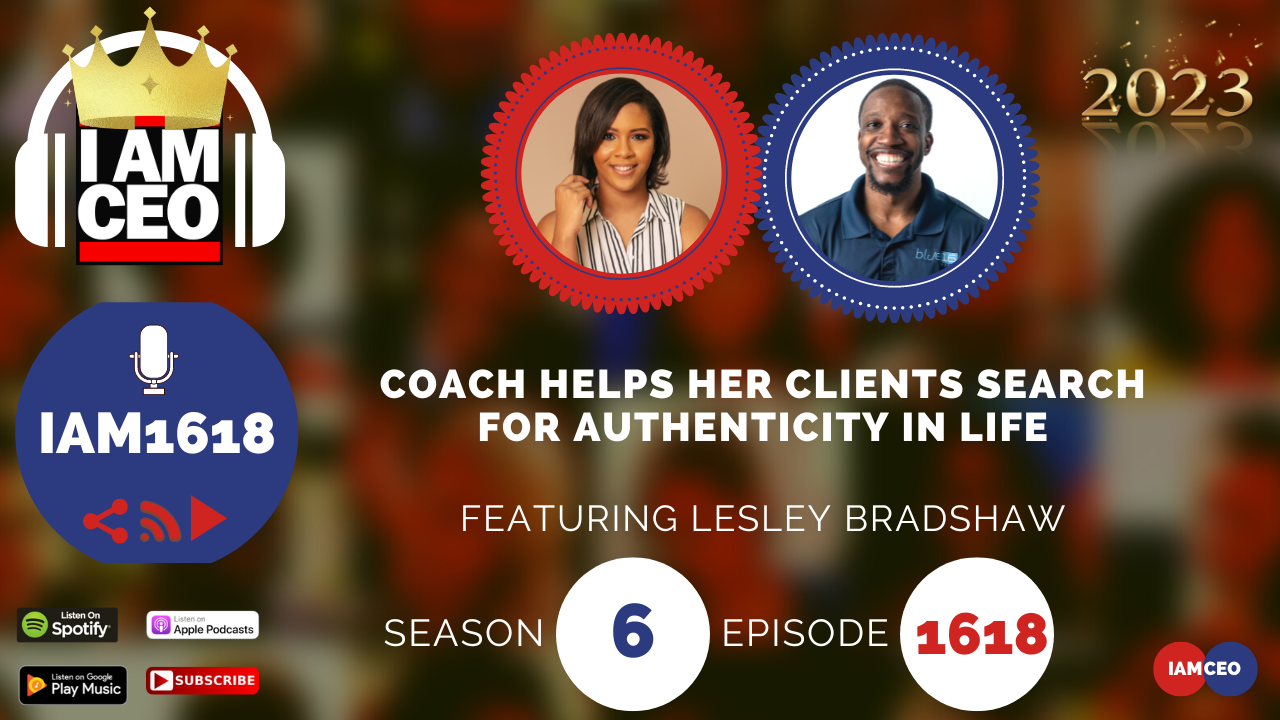 Why it was selected for "CBNation Architects": One of the most impactful things I heard over and over and over again was the importance of the morning routine and while it seems obvious, it is often overlooked. When starting something new and thinking of planning and preparation, don't forget about the morning routine. Lesley talked all about this during her episode and how it doesn't have to be long and elaborate. We spoke about how important it is to "level up in life" and her journey exposing her "limiting her beliefs" has helped her and her clients.
Check out premium content in the CBNation Library at http://cbnation.co/library and pick up our eBook to hear some of the best lessons at http://cbnation.co/shop.
Previous Episode: https://iamceo.co/2022/04/02/iam1328-coach-helps-her-clients-search-for-authenticity-in-life/
Transcription:

1618
Lesley Bradshaw Teaser 0:00
We're getting the same message. You can't do this, this is not the right way, whatever the right way is.  And helping them believe in themselves was like yeah, I like this feeling, I like being that support system. That support system that I needed. I like being in that support system for other people. So that's kind of how I got into it.
Intro 0:23
Do you want to learn effective ways to build relationships, generate sales and grow your business from successful entrepreneurs, startups and CEOs without listening to a long long long interview? If so you've come to the right place, Gresham Harkless values your time and is ready to share with you precisely the information you're in search of. This is the I am CEO podcast.
Gresham Harkless 0:50
Hello, hello, hello. This is Gresh from the I am CEO podcast. I have a very special guest on the show today, I have Lesley Bradshaw of lesleybradshaw.com. Lesley, super excited to have you on the show.
Lesley Bradshaw 0:59
Hi, thank you for having me.
Gresham Harkless 1:01
Yes, it'll be definitely awesome to hear about all the awesome things you're doing in your story. And before of course we do that, I want to read a little bit more about Lesley so you can hear about some of the awesome things. Lesley is a Certified Life Coach with a background in Psychology and Human Resources. She is a mother of two beautiful daughters who are her inspiration for pursuing a coaching career. As a former people pleaser herself, Lesley has not only learned the theory of how to level up in life but she has also put into practice all the techniques that she teaches. She wishes to support as many people as she can in their search for authenticity by helping them figure out those blind spots and limited beliefs that are keeping them from pursuing the life of their dreams.  Lesley, excited again to have you on the show to talk about all the awesome things you're doing. Are you ready to speak to the I am CEO community?
Lesley Bradshaw1:47
Yes, I am, let's do it.