I AM CEO PODCAST
IAM1620 – Founder Runs 100% Woman-owned Boutique Winery
Podcast Interview with Heather Rader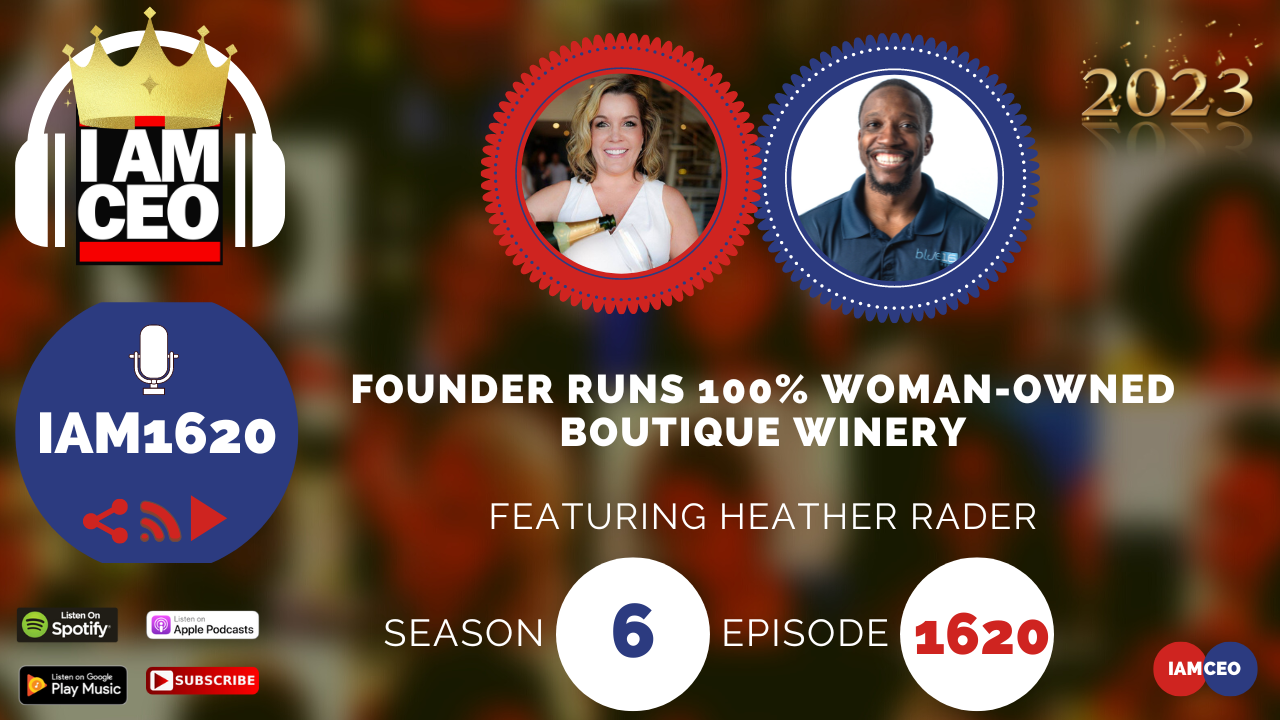 Why it was selected for "CBNation Architects": One of the most impactful things I heard over, and over and over again was the importance of the morning routine and while it seems obvious, it is often overlooked. When starting something new and thinking of planning and preparation, don't forget about the morning routine. Heather touched on how impactful it was for her to "make that mental shift to being a morning person" and one of Heather's values is all about freedom and how she ran a $500M portfolio but made a shift in her career. She's a trailblazing and inspiring person but also this episode was a great reminder of how you can be the change you hope to see.
Check out premium content in the CBNation Library at http://cbnation.co/library and pick up our eBook to hear some of the best lessons at http://cbnation.co/shop.
Previous Episode: https://iamceo.co/2021/07/22/iam1074-founder-runs-100-woman-owned-boutique-winery/
Transcription:

Heather Rader Teaser 0:00
Being a CEO to me means freedom. Truly I would say probably my number one value outside of learning is freedom. I spent many years in the corporate world, where I was making a lot of other people a lot of money and I wanted the freedom to travel, and spend my time where I wanted to spend it giving back and creating this whole neat ecosystem.
Intro 0:27
Are you ready to hear business stories? And learn effective ways to build relationships, generate sales, and level up your business from awesome CEOs, entrepreneurs, and founders without listening to a long long long interview. If so, you've come to the right place. Gresh values your time, and is ready to share with you the valuable info you're in search of, this is the I am CEO podcast.
Gresham Harkless 0:54
Hello, hello, hello. This is Gresh from the I am CEO podcast, and I have a very special guest on the show today. I have Heather Rader of Spirit Horse Vineyards. Heather, it's great to have you on the show.
Heather Rader 1:04
Thank you so much for having me, I'm honored to be here.
Gresham Harkless 1:07
Definitely, the honor is all ours and you're doing so many phenomenal things. What I wanted to do is just read a little bit more about Heather, so you can hear about some of those awesome things. Heather Rader is the founder of Spirit Horse Vineyards, a 100% woman-owned boutique winery based in Napa that empowers community and connection through delicious wines, unique member experiences and philanthropy. The winery proudly supports the SpiritHorse Riding Center, an equine therapy rescue horse ranch that helps the next generation of girls thrive. 
Heather, great to have you on the show again, are you ready to speak to the I am CEO community?
Heather Rader 1:39
I am, I'm so excited thanks so much.