I AM CEO PODCAST
IAM1609 – Founder Brings People Together Through Intuitive Social Platform
Podcast Interview with Amir Shiekh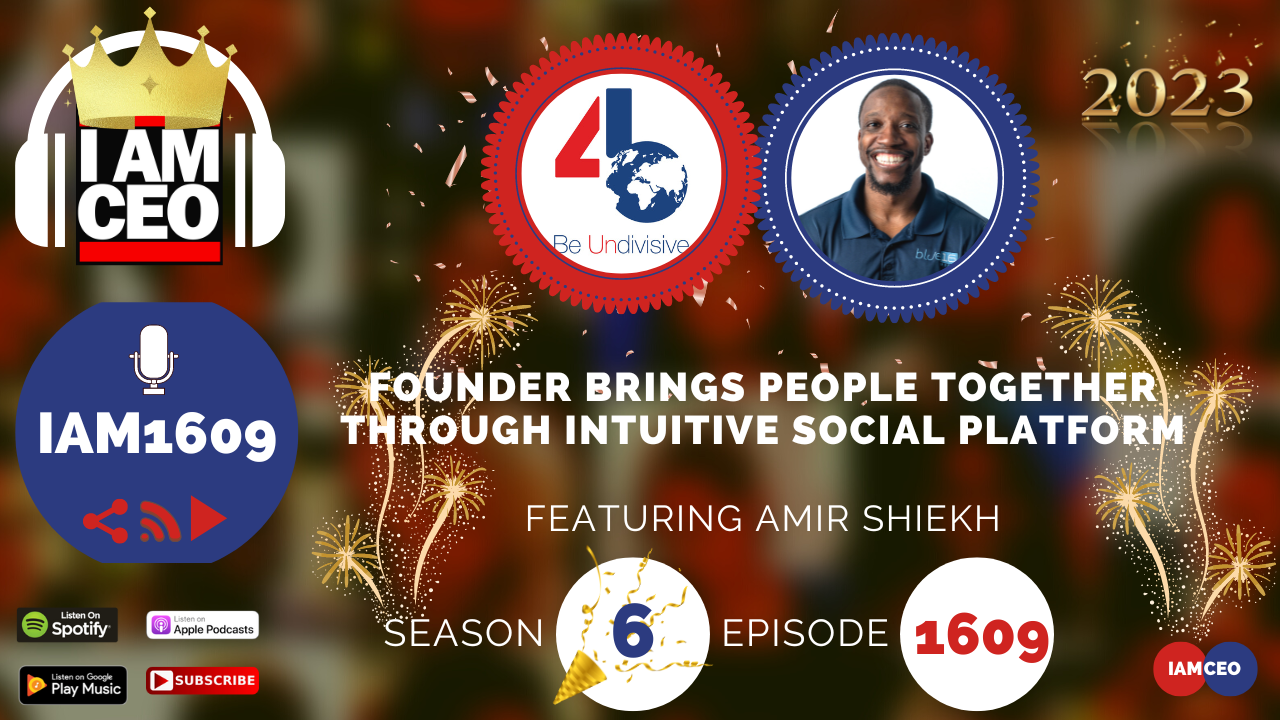 Why it was selected: It was great to hear about this startup business with Amir about how we can create more conversations and different perspectives and how it makes the world better but on a deeper level I think having different and diverse perspectives only makes our ideas stronger and also from a leadership give us the chance to build stronger organizations.
Check out premium content in the CBNation Library at http://cbnation.co/library and pick up our eBook to hear some of the best lessons at http://cbnation.co/shop
Previous Episode:
https://iamceo.co/2020/09/28/29541
Transcription:

Amir Sheikh 0:00
Yeah, I think that not having a specific lane in the sense that, we don't have a core consumer, our consumer is everyone and our purpose is to bring people together. I'll use kind of political example because it's easy analogy,  you have your Fox News listeners, and then you have your CNN listeners, and they're very distinct. And those networks cater to their audience in a very distinct way. Now, they both claim that they're objective, and truthful, and all of that, but if you look at their main pages, they'll be very different and their stories are very different. And so obviously, both of them can't be right. I think that for us to be unique is really is to be able to bring everyone together on the same platform.
Intro 0:29
Do you want to learn effective ways to build relationships, generate sales, and grow your business from successful entrepreneurs, startups, and CEOs without listening to a long, long, long interview? If so, you've come to the right place, Gresham Harkless values your time and is ready to share with you precisely the information you're in search of. This is the I am CEO podcast.
Gresham Harkless 0:57
Hello, hello. Hello, this is Gresh from the I am CEO podcast and I have a very special guest on the show today. I have Amir Sheikh of 4b. Amir, it's awesome to have you on the show.
Amir Sheikh  1:05
Thank you for having me. Appreciate it.
Gresham Harkless 1:07
No problem. Super excited to have you on. And before we jump in, I want to read a little bit more about Amir so you can hear about all the awesome things that he's doing. Amir is the Founder and CEO of 4b, a social platform bringing together original controversial news and topics from both sides. The unique concept came from years of frustration listening to divisive and biased content from all media sources. Amir is committed to bringing people together through respectful and productive fact-based content in an intuitive social platform. Amir, are you ready to speak to the I am CEO community?
Amir Sheikh 1:40
Yes, sir.