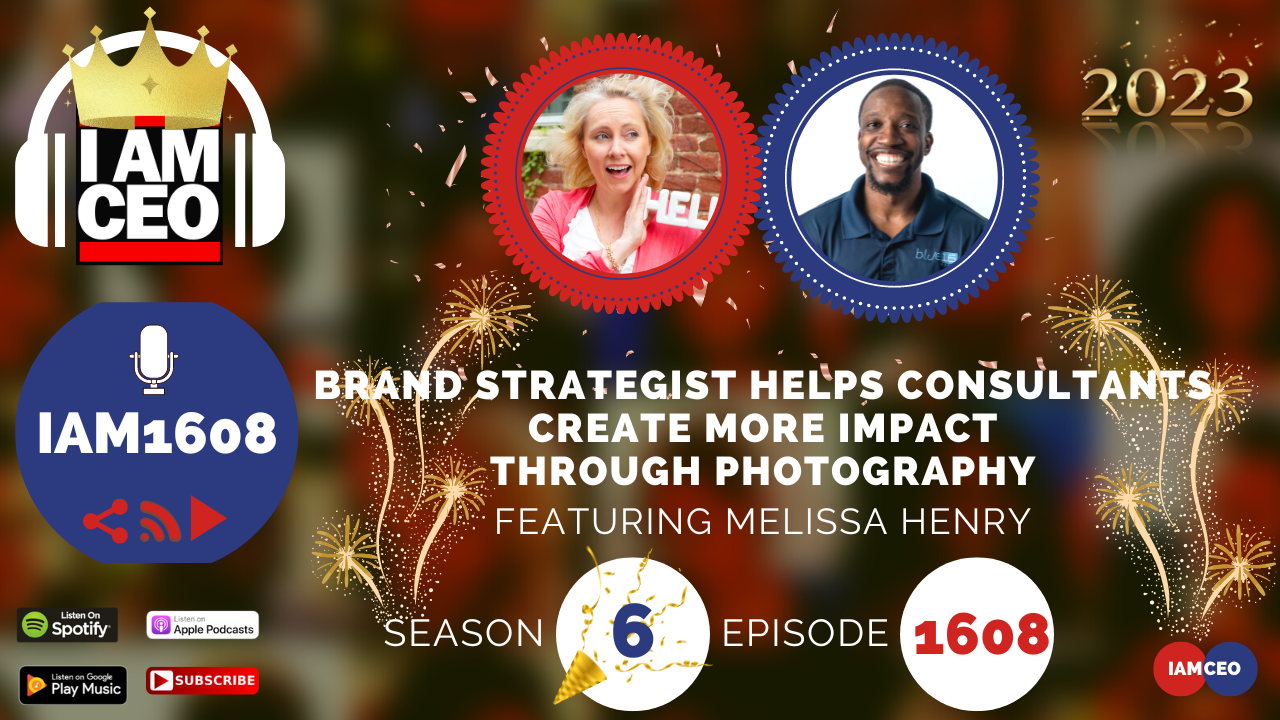 Why it was selected: Melissa gets what it means to have a brand and how it is a part of all aspects of the business. Having the strategy piece I think takes things to another level. For Melissa, it's not just being a photographer, it can often be the strategy that helps highlight your secret sauce. Also, how important it is to do the work and create the time to build that foundation with her framework.
Check out premium content in the CBNation Library at http://cbnation.co/library and pick up our eBook to hear some of the best lessons at http://cbnation.co/shop
Previous Episode:
https://iamceo.co/2022/11/06/iam1546-brand-strategist-helps-consultants-create-more-impact-through-photography/
Transcription:

Melissa Henry Teaser 0:00
Hire people that can do that other stuff, that's why that brand strategy is important. You get to say what is my next investment and that could be with a person coming into your business, it could be automating something, getting the help that you need to do that automation. You're a Mac, by the way you are a massive automation machine.
Intro 0:21
Do you want to learn effective ways to build relationships, generate sales and grow your business from successful entrepreneurs startups and CEOs without listening to a long, long, long interview. If so, you've come to the right place, Gresham Harkness values your time and is ready to share with you precisely the information you're in search of, this is the I am CEO podcast.
Gresham Harkless 0:48
Hello hello hello this is Gresh from the I am CEO podcast I have a very special guest on the show today I have Melissa Henry of personal brandtography which also houses Melissa demple photography. Melissa excited to have you on the show.
Melissa Henry  1:01
Thank you excited to be here.
Gresham Harkless  1:03
Yeah super excited about all the awesome things that you're doing and of course before we jumped in I want to read a little bit more about Melissa so you can hear about some of those awesome things. Melissa Henry, Founder of Personal Brandtography™ and Melissa Demple Photography, helps female coaches and consultants strategically clarify and showcase their personal brands online, making their marketing WAY more effective, creating a bigger impact AND growing their business to multiple six and seven figures. With 13 years in the photography industry and over 4 years studying brand strategy while building her own personal brand, Melissa's uniqueness is in combining personal brand strategy with photography to create images that capture your personal brand AND powerfully connect you with your target audience. Unlike other brand photographers out there, with Melissa, you get BOTH brand strategy and professional brand imagery! Melissa excited again to have you on the show my friend are you raised me to the I am CEO community? 
Melissa Henry  1:57
Yes, I'm excited, this is great.