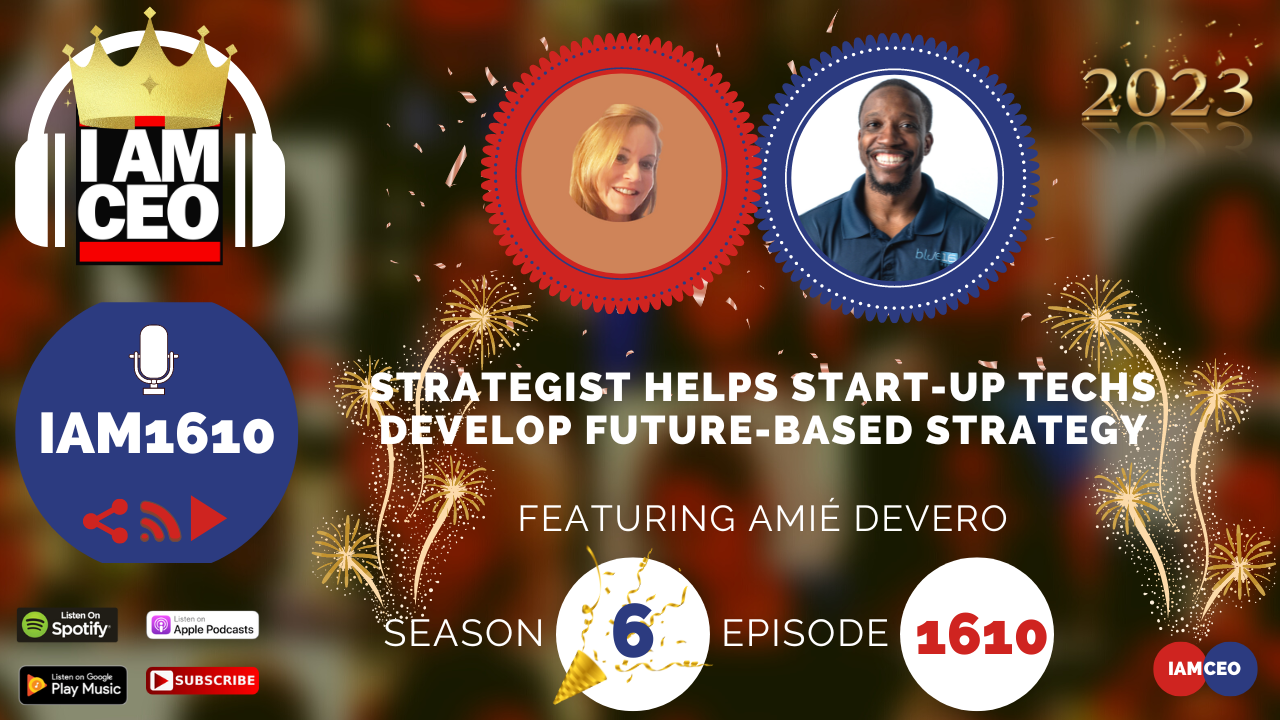 Why it was selected: Amié has spent a lot of experience in the startup world and as a strategy consultant, she understands how important it is to do deep work. She isn't just a startup advisor but is rooted in strategy and the misconceptions around strategy. It's also powerful how she empowers leaders to be able to understand their "superpowers" and understand the impact of strategy in business.
Check out premium content in the CBNation Library at http://cbnation.co/library and pick up our eBook to hear some of the best lessons at http://cbnation.co/shop
Previous Episode:
https://iamceo.co/2022/12/11/iam1581-strategist-helps-start-up-techs-develop-future-based-strategy/
Transcription:

Amié Devero Teaser  0:00
Don't get pulled by seeming opportunities if they're not already within the scope of your strategy. Don't allow your strategy to get killed by opportunism and I think every business falls into that trap. I've never met a CEO yet who doesn't.
Intro  0:20
Do you want to learn effective ways to build relationships, generate sales and grow your business from successful entrepreneurs, startups, and CEOs without listening to a long long long interview? If so you've come to the right place Gresham Harkless values your time and is ready to share with you precisely the information you're in search of, this is the I am CEO podcast.
Gresham Harkless  0:48
Hello, hello, hello this is Gresh from the I am CEO podcast I have a very special guest on the show today I have Amié Devero a Beyond better strategy and coaching. Amié it's great to have you on the show. Thanks for having me Gresh I'm delighted to be here. Yeah super excited to have you on and talk about all the awesome things that you're doing and before we jump into the interview I want to read a little bit more about Amié so you can hear about all those awesome things. Amié is the founder and managing partner of Beyond better strategy and coaching. Beyond better works with Founders and leaders of high growth technology startups to develop future based strategy and to cultivate the leaders to fulfill those strategies. Amié has been a strategy consultant and executive coach for about 25 years, she was the managing director of I control Mobile payment which was acquired by British mobile parking Pioneer Ringo under her leadership and Amié led Ringo's expansion into North America, grew the company into over 50 major markets. Her best-selling book powered by principals using core values to build world-class organizations is a research-based approach to strategy and organizational change and is available worldwide in several different editions. Amié, great to have you on the show again are you ready to speak to the I am CEO community?
Amié Devero 2:01
I'm ready when you are.