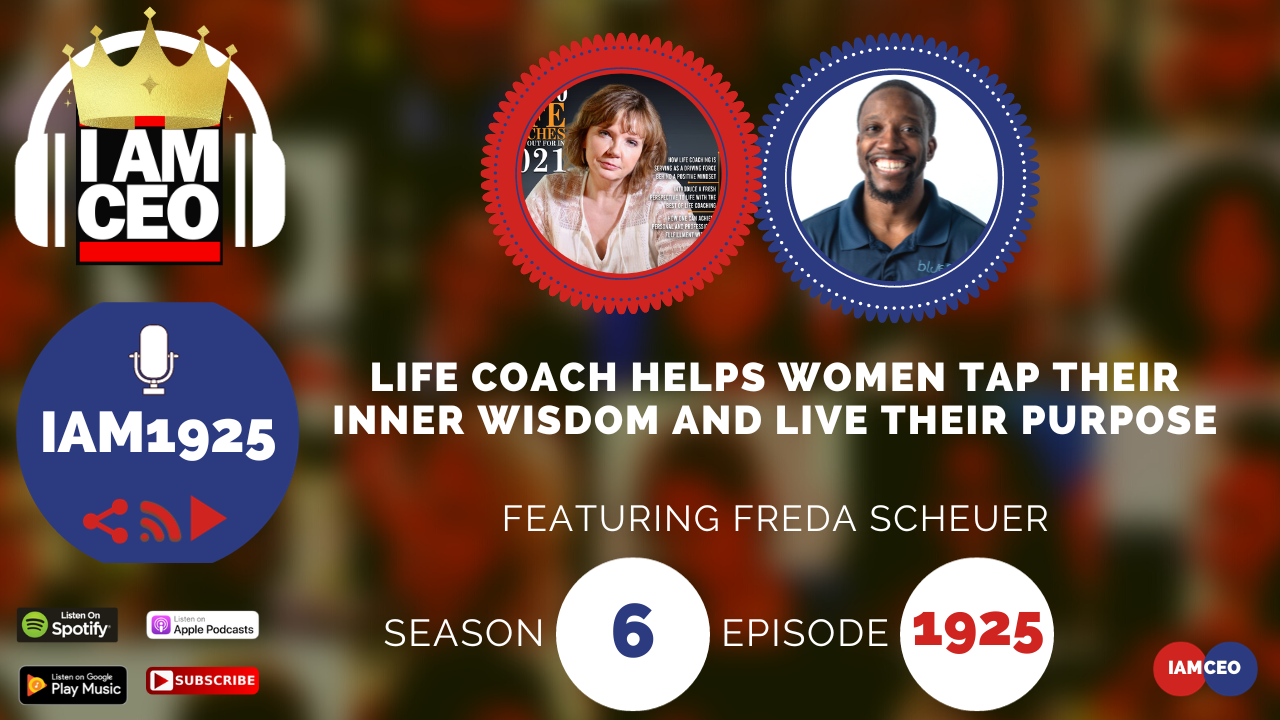 Why it was selected for "CBNation Architects":
In this episode, the guest is Freda Scheuer, an ICF-certified life coach and the owner and CEO of YBeU Life Coaching for Women.
Key Points:
Background: Freda discovered her passion for coaching while working as a senior counterterrorism executive at the CIA, where she mentored women in high-stakes job situations.
YBeU Life Coaching for Women: After retiring from her job, Freda founded YBeU as a platform to continue helping women ignite their passion, live their purpose, and make a difference.
Business Service: Freda provides both in-person and virtual coaching sessions, helping clients tap into their inner wisdom to clarify what they really want.
Secret Sauce: Freda attributes her success to continuous learning and her life experience as a professional intelligence officer.
CEO Hack: She advocates for maintaining a well-structured schedule using productivity tools like Microsoft Outlook.
CEO Nugget: Freda encourages aspiring entrepreneurs to act on their business ideas instead of waiting for the perfect moment.
CEO Defined: She sees being a CEO as the epitome of freedom and independence to do things your way and define the vision.
Check out our CEO Hack Buzz Newsletter–our premium newsletter with hacks and nuggets to level up your organization. Sign up 
HERE
. 

I AM CEO Handbook Volume 3
 is HERE and it's FREE. Get your copy here: 
http://cbnation.co/iamceo3
. Get the 100+ things that you can learn from 1600 business podcasts we recorded. Hear Gresh's story, learn the 16 business pillars from the podcast, find out about CBNation Architects and why you might be one and so much more. Did we mention it was FREE? Download it today!
Transcription:
The full transcription is only available to CBNation Library Members. Sign up today!
Freda Scheuer 00:00
Tell new kind of CEOs , you know what? If you have an idea for a business or service, just do it and just do it scared if you have to. I love that expression. If you wait for the time when you feel prepared, for the right time, so many clients come to me and say, when I move next year and after I finished my degree, or I put this job.
If you're waiting for the perfect time, it's never going to happen.
Intro 00:27
Do you want to learn effective ways to build relationships, generate sales, and grow your business from successful entrepreneurs, startups, and CEOs without listening to a long, long, long interview?
If so, you've come to the right place. Gresham Harkless values your time and is ready to share with you precisely the information you're in search of.
This is the I AM CEO podcast.
Gresham Harkless 00:53
Hello, hello, hello. This is Gresh from the I AM CEO podcast and I appreciate you listening to this episode. If you've been listening this year, you know that we hit 1600 episodes at the beginning of this year. We're doing something a little bit different where we're repurposing our favorite episodes around certain categories, topics or as I like to call them business pillars that we think are going to be extremely impactful for CEOs, entrepreneurs, and business owners, or what I like to call CB nation architects who are looking to level up their organizations.
This month, we are focused on innovation, disruption, women entrepreneurship, DEI, gig economy, remote economy, even the cannabis industry. Think about these industries and these disruptive technologies that really sometimes aren't as disruptive, but there are people that are just paying attention to what the market needs and they're providing that. So really think about the things that are quote and quote, outside of the norm, but really help entrepreneurship to grow and fully develop.
I think it's an extremely exciting time when you're talking about any type of innovation or disruption, because I think that there are so many opportunities and needs that aren't felt that are starting to be filled by different groups, different organizations, or even different industries. So what I want you to do is sit back and enjoy this special episode of the I AM CEO podcast.
Hello. Hello. Hello. This is Gresh from the I AM CEO podcast and I have a very special guest on the show today. I have Freda Scheuer of YBeU Life Coaching for Women. Freda, it's great to have you on the show.
Freda Scheuer 02:19
Hey there Gresh, thanks so much. It's great to be here.
Gresham Harkless 02:22
Yeah. I'm super excited to have you on and talk about all the awesome things that you're doing. And of course, before we jump into the conversation, I want to read a little bit more about Freda so you can hear about some of those awesome things.
Freda is an ICF-certified Life Coach and Owner of CEO and CEO of YBeU Life Coaching for Women. Freda started YBeU as her labor of love after retiring last year from her dream job as a senior counterterrorism executive CIA where she coached teams of women in high-stakes jobs who trust their gut, take smart chances and be the best version of themselves.
She loves and continue to help women in all stages of life to ignite their passion, live their purpose, and make a difference. She's based in Virginia, but works with clients across the country in virtual coaching sessions. You can find her coaching tips and tricks on Instagram, Facebook, LinkedIn, as well as askher.com, where she's an expert answering any and all life coaching question.
Freda, again, excited to have you on the show. Are you ready to speak to the I AM CEO community?
Freda Scheuer 03:18
I'm ready. Let's do it.