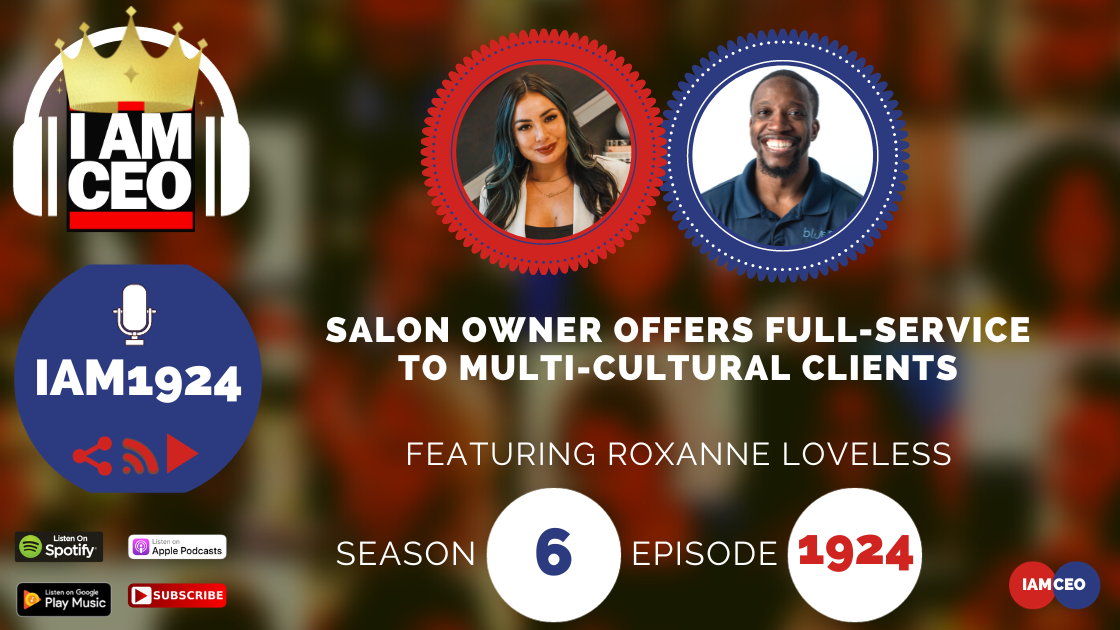 Why it was selected for "CBNation Architects":
In this episode, the guest is Roxanne Loveless, CEO of Jackson Harlow, a multicultural, LGBTQ+ inclusive, and full-service beauty lounge.
Key Points:
CEO Story: Roxanne started her career in the multi-million-dollar beauty industry, working her way up and achieving significant success. She eventually ventured into her own business by offering part-time eyelash extension services, later teaming up with her best friend to open a facility in the area. It evolved into a full-service beauty lounge under her sole management.
Business Service: Jackson Harlow is a multi-cultural salon that caters to men, women, and children of all hair textures. They offer a variety of services such as hair care, waxing, skincare, eyelash extensions, training, and mentoring.
Secret Sauce: Roxanne focuses on the human aspect of the business, helping clients while being aware of red flags and setting healthy boundaries.
CEO Hack: She relies on notes for organization, delegates responsibilities, listens to podcasts, and reads motivational books.
CEO Nugget: Roxanne shares that it's okay to make mistakes since every day is a learning experience.
CEO Defined: For Roxanne, being a CEO is about upholding the company's mission and values while giving back to the community.
Check out our CEO Hack Buzz Newsletter–our premium newsletter with hacks and nuggets to level up your organization. Sign up 
HERE
. 

I AM CEO Handbook Volume 3
 is HERE and it's FREE. Get your copy here: 
http://cbnation.co/iamceo3
. Get the 100+ things that you can learn from 1600 business podcasts we recorded. Hear Gresh's story, learn the 16 business pillars from the podcast, find out about CBNation Architects and why you might be one and so much more. Did we mention it was FREE? Download it today!
Transcription:
The full transcription is only available to CBNation Library Members. Sign up today!
Roxanne Loveless Teaser 00:00
Bringing everybody together because we have the ability to do better for each other and help those people out. I want to make people feel good.
I want to be there for people and I want to help out my community. I want to help the newer generation coming in and just be able to give everybody opportunity for success.
Intro 00:21
Do you want to learn effective ways to build relationships, generate sales and grow your business from successful entrepreneurs, startups and CEOs without listening to a long, long, long interview?
If so, you've come to the right place. Gresham Harkless values your time and is ready to share with you precisely the information you're in search of.
This is the I AM CEO podcast.
Gresham Harkless 00:49
Hello. Hello. Hello. This is Gresham from the I AM CEO podcast, and I appreciate you listening to this episode. If you've been listening this year, you know that we hit 1600 episodes at the beginning of this year. We're doing something a little bit different where we're repurposing our favorite episodes around certain categories, topics or as I like to call them business pillars that we think are going to be extremely impactful for CEOs, entrepreneurs and business owners, or what I like to call CB nation architects who are looking to level up their organizations.
This month, we are focused on innovation, disruption, women entrepreneurship, DEI, gig economy, remote economy, even the cannabis industry, think about these industries and these disruptive technologies that really sometimes aren't as disruptive, but this people that are just paying attention to what the market needs and they're providing that. So really think about the things that are quote and quote outside of the norm, but really help entrepreneurship to grow and fully develop.
I think it's an extremely exciting time when you're talking about any type of innovation or disruption, because I think that there are so many opportunities and needs that aren't felt that are starting to be filled by different groups, different organizations, or even different industries. So what I want you to do is sit back and enjoy this special episode of the I AM CEO podcast.
Hello. Hello. Hello. This is Gresh from the I AM CEO podcast. I have a very special guest on the show today. I have Roxanne Loveless of Jackson Harlow. Roxanne, super excited to have you on the show.
Roxanne Loveless 02:13
I'm excited to be here. Thanks for having me.
Gresham Harkless 02:15
Yes, absolutely. It should be a phenomenal interview. What I wanted to do before we jumped into the interview was read a little bit more about Roxanne so you can hear about some of those awesome things that she's working on.
Roxanne is CEO of Jackson Harlow, a full-service multicultural and LGBTQ plus inclusive beauty Lounge. The Beauty Lounge expanded in 2019. Roxanne has been in business since 2012 and all of her experience coupled with her work ethic has made her one savvy businesswoman and allowed her business to survive the pandemic and continue to thrive.
Roxanne, again excited to have you on the show. Are you ready to speak to the I AM CEO community?
Roxanne Loveless 02:50
I'm ready. Let's do this.