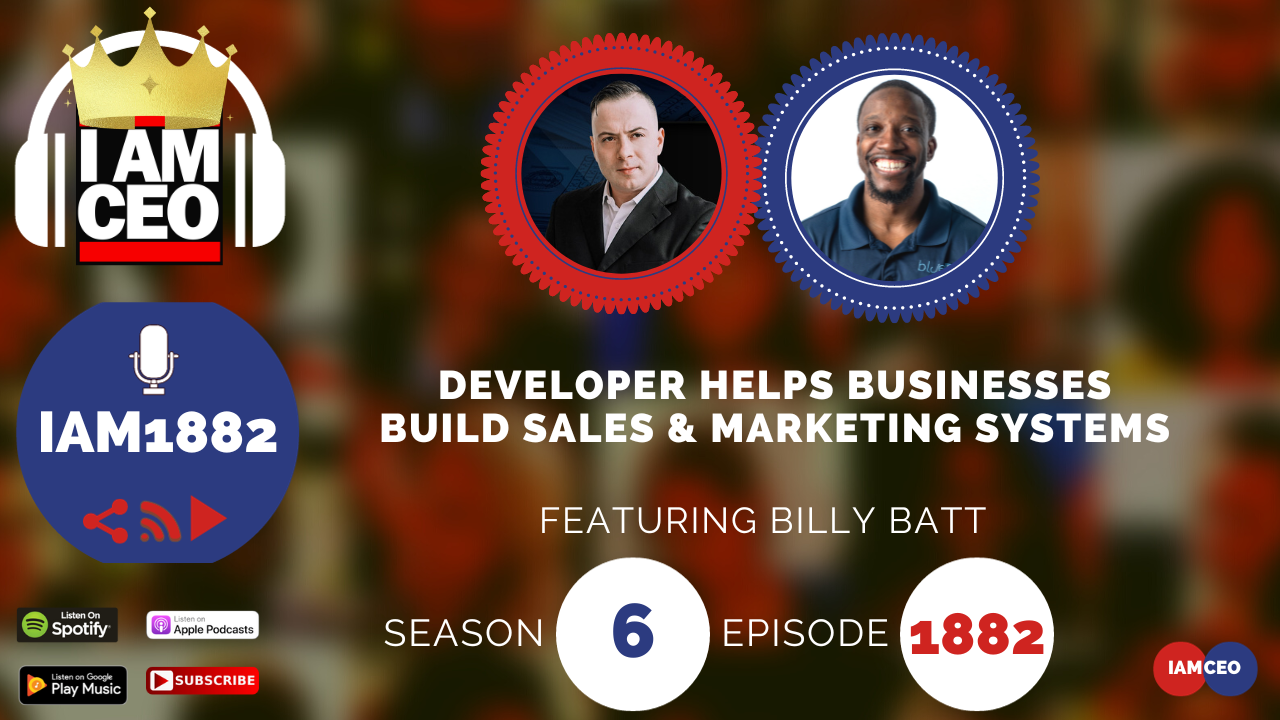 Why it was selected for "CBNation Architects":
In this episode of the IAMCEO Podcast, we learn from Billy Batt, a seasoned sales and marketing expert who has built a thriving agency, Chrome Consulting & Management, while working 10-14 hours a day in the oilfields of Northern Canada.
CEO Story: Despite the harsh conditions, Batt's hard work and determination have enabled his agency to thrive through robust systems and management practices. He has gone through numerous trial and error attempts at entrepreneurship, resulting in a strong team that serves their customers to the best of their abilities.
Business Service: Batt's team assists in executing multiple successful events and marketing campaigns for their partners and clients. He's worked with professionals in fields ranging from Real Estate and Contractors, coaching, kitchen or bath remodeling, rent to own, and investors – helping them bolster their business sales, recruitment, and marketing systems.
CEO Hack: Batt lives by his calendar through time blocking, which appears to be his productivity secret.
CEO Nugget: His nuggets of wisdom are two-fold: reinvest your money in personal development and do the work necessary to achieve your goals.
CEO Defined: For Batt, being a CEO means having the ability to control or create your own economy.
Check out our CEO Hack Buzz Newsletter–our premium newsletter with hacks and nuggets to level up your organization. Sign up 
HERE
. 

I AM CEO Handbook Volume 3
 is HERE and it's FREE. Get your copy here: 
http://cbnation.co/iamceo3
. Get the 100+ things that you can learn from 1600 business podcasts we recorded. Hear Gresh's story, learn the 16 business pillars from the podcast, find out about CBNation Architects and why you might be one and so much more. Did we mention it was FREE? Download it today!
Transcription:
The full transcription is only available to CBNation Library Members. Sign up today!
Billy Batt Teaser 00:00
Invest your money. If you don't have a lot of money in your account, just reinvest it in a personal development. And the other one is the magic bullet to getting anything is you got to do the work. There's no getting around doing the work.
Intro 00:13
Are you ready to hear business stories and learn effective ways to build relationships, generate sales, and level up your business from awesome CEOs, entrepreneurs and founders without listening to a long, long, long interview?
If so, you've come to the right place. Gresh values your time and is ready to share with you the valuable info you're in search of.
This is the IAMCEO podcast.
Gresham Harkless 00:41
Hello, hello, hello. This is Gresh from the IAMCEO podcast and I appreciate you listening to this episode. If you've been listening this year, you know that we hit 1600 episodes at the beginning of this year. We're doing something a little bit different where we're repurposing our favorite episodes around certain categories, topics, or as I like to call them, the business pillars that we think are going to be extremely impactful for CEOs, entrepreneurs, business owners, and what I like to call the CB Nation architects who are looking to level up their organizations.
This month, we are focusing on operations. The systems will set you free. So think about systems, think about flow, sustainability, potentially working out in your morning routine, waking up early, e-commerce, different business models. Think of the operations in the models that basically set up the foundation to allow the creativity within organizations, but also to make sure the trains are running on time and things are going as they should.
Now, this is extremely important because we often can turn to the sexy parts of business and forget about the operations and how important that is. So I really want to focus this month on this specific topic. So sit back and enjoy this special episode at the IAMCEO podcast.
Hello. Hello. Hello. This is Gresh from the IAMCEO podcast and I have a very special guest on the show today. I have Billy Batt of Chrome Consulting and Management. Billy, it's great to have you on the show.
Billy Batt 02:00
Yes, really excited to be here. Excited to be here.
Gresham Harkless 02:02
Definitely excited to have you on as well. Before we jump into the interview, I want to read a little bit more about Billy so you can hear about all the awesome things that he's doing.
Billy has been in the sales and marketing business for the past 6 years. He's built his business while working 10 to 14 hours a day in the oil field of Northern Canada. Due to his hard work and dedication, his agency not only survives, but thrives through perfect systems and management. Chrome Consulting and Management was developed through many trial and error attempts at entrepreneurship, and from assisting multiple successful events to highly successful marketing campaigns, they go to bat for their partners and their clients.
Billy has worked with the real estate professionals and contractors, helping them accelerate their business sales, recruitment and their marketing systems. He has achieved success in commercial and residential roofing and solar, coaching, kitchen and bath remodeling, rent-to-own investor and among many other fields.
Billy is a 10 X ambassador, because every activity that he undertakes has the potential of always 10 Xing. He's also the host of the New World Marketing Order, founder of the veterans of North American America Foundation and the CMO of Pro-choice roofing.
Billy, great to have you on the show. Are you ready to speak to the IAMCEO community?
Billy Batt 03:08
Yes, yes, of course, my friend, of course.