CBNation
I AM CEO PODCAST
IAM1117- Real Estate Investor Shares His Positivity and Insights
Podcast Interview with Matthew Martinez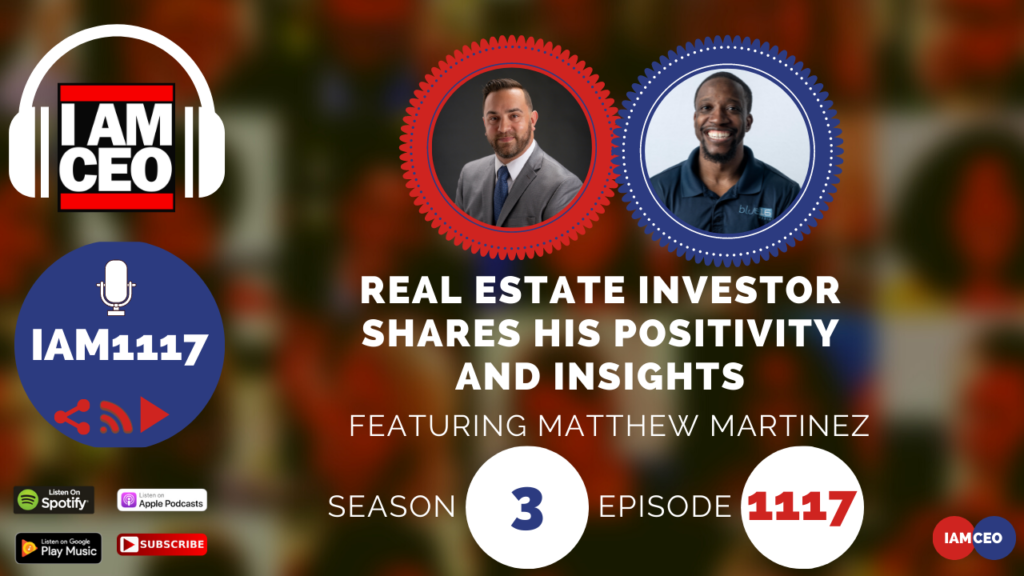 Matthew is a luxury and investment real estate broker, entrepreneur and a certified life coach. Matthew and his team at Diamond Real Estate Group, service clients from the Napa Valley wine country to the greater San Francisco Bay Area. Matthew is also a real estate investor himself and has experience with wholesaling real estate, multi-unit properties, commercial investment properties and flipping houses.
With a growing and active tribe of over 30,000 on social media and his database, Matthew shares his positivity, insight on real estate investing and his daily experiences in business and life.
Many entrepreneurs follow to learn what it really takes to go from overwhelmed entrepreneur to a profitable business owner. Matthew prides himself on being a problem solver.
CEO Hack: Having a strong and most purposeful morning routine
CEO Nugget: Always believe in yourself and think outside the box
CEO Defined: Doing something I'm passionate about, being a visionary and bringing positive impact
Website: http://diamondgroupestates.com/
LinkedIn: www.linkedin.com/in/matthew-diamondgroup/
Instagram (personal): https://www.instagram.com/thematthewmartinez/
Instagram (business): https://www.instagram.com/diamond_realestategroup/
Facebook: https://www.facebook.com/DiamondRealEstateGroupLuxury
Youtube: https://youtube.com/channel/UC7-ZQWJg3IJC3EQInQF6mPQ
---
Check out one of our favorite CEO Hack's Audible. Get your free audiobook and check out more of our favorite CEO Hacks HERE