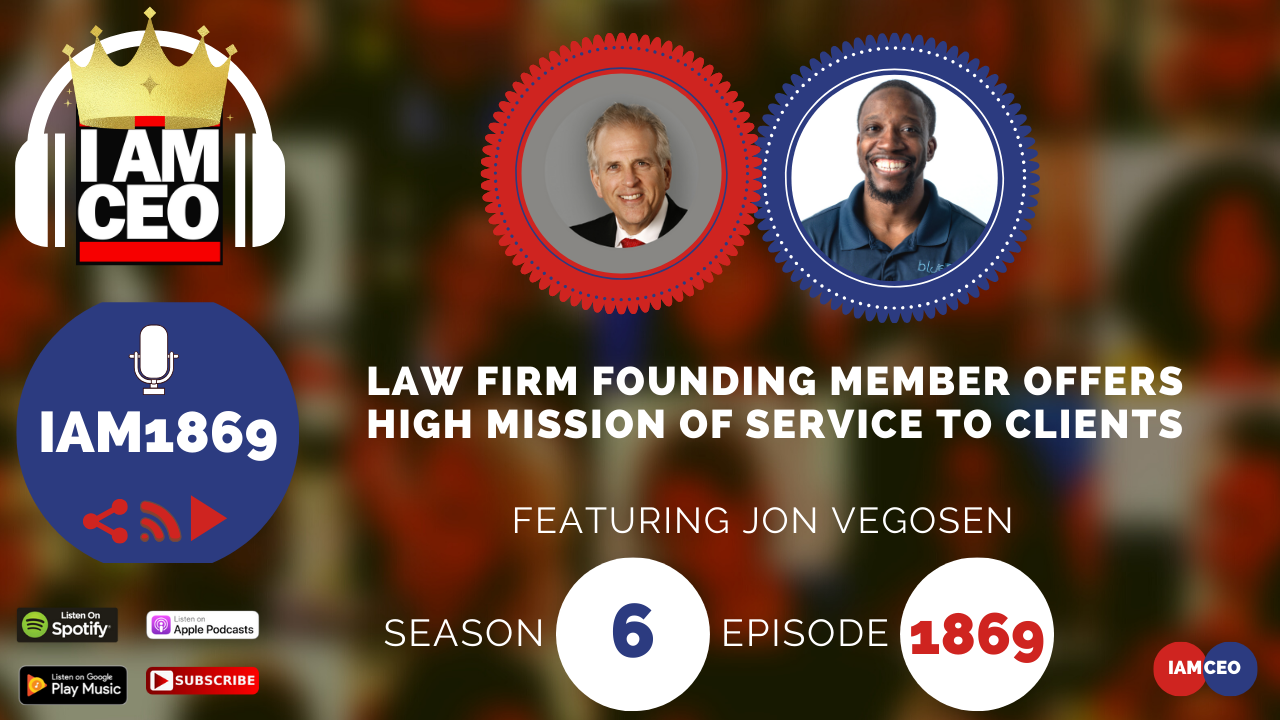 Why it was selected for "CBNation Architects"
:
In this episode of the IAMCEO Podcast, Jon Vegosen, a founding member of the Chicago-based corporate and litigation law firm Funkhouser Vegosen Liebman and Dunn Ltd (FVLD), shares his story and experience in providing a high level of service to clients. Jon has a broad legal background with a focus on labor and employment matters. He has received the highest professional peer review ratings, including being selected as a Super Lawyer in Illinois for employment law for several years.
CEO Story: Jon began his career as a law clerk for two years after graduating from Northwestern University's law school. Despite receiving offers from large and well-known firms, he chose a mid-size firm to develop a broad-based background. After two and a half years, he received an opportunity to join a partnership as an associate in the formation of FVLD. His firm recently celebrated its 41st anniversary, demonstrating the strength of their partnership.
Business Service: FVLD is a corporate and litigation law firm that serves as outside general counsel, taking care of legal and business matters for their clients. Their offerings include caring for clients' personal and business lives and providing extremely responsive service.
Secret Sauce: Trust and care for clients with top-notch services, along with a high mission of service. Jon has served as a Board of Director in various Tennis Associations, further showcasing his commitment to service.
CEO Hack: Membership in a CEO Leadership Peer advisory board for 20 years, offering support and advice to fellow
members.
CEO Nugget: Always be there for your clients, offering service even when it is not related to your work. Make "how can I help?" your mantra.
CEO Defined: A wise and effective leader in the organization who adopts and communicates a clear, inspiring vision. Act with integrity, walking the talk, and working collaboratively.
Check out our CEO Hack Buzz Newsletter–our premium newsletter with hacks and nuggets to level up your organization. Sign up 
HERE
. 

I AM CEO Handbook Volume 3
 is HERE and it's FREE. Get your copy here: 
http://cbnation.co/iamceo3
. Get the 100+ things that you can learn from 1600 business podcasts we recorded. Hear Gresh's story, learn the 16 business pillars from the podcast, find out about CBNation Architects and why you might be one and so much more. Did we mention it was FREE? Download it today!
Transcription:
The full transcription is only available to CBNation Library Members. Sign up today!
Jon Vegosen 00:00
I think it's my approach to serving clients and my responsiveness. With what I call a high mission of service, I believe I provide clients with 1st rate service and advice. In addition, I help them with things in their personal and business lives that they have nothing to do with legal issues.
Intro 00:20
Do you want to learn effective ways to build relationships, generate sales, and grow your business from successful entrepreneurs, startups, and CEOs, without listening to a long, long, long interview?
If so, you've come to the right place. Gresham Harkless values your time and is ready to share with you precisely the information you are in search of.
This is the IAMCEO podcast.
Gresham Harkless 00:47
Hello, hello, hello. This is Gresh from the IAMCEO podcast and I appreciate you listening to this episode. If you've been listening this year, you know that we hit 1600 episodes at the beginning of this year. We're doing something a little bit different where we're repurposing our favorite episodes around certain categories, topics, or as I like to call them business pillars that we think are going to be extremely impactful for CEOs, entrepreneurs, and business owners, or what I like to call the CB nation architects who are looking to level up their organizations.
This month, we are focused on leadership management and coaching. When we think of leadership, management, and coaching, we often think of doing all of the other things, but often it's a person that's able to build up their team, that's able to cultivate a creative and innovative culture so that people can excel and actually be their own leaders. So that's why this month we're focusing on those three big topics because they make a huge impact on the organizations that we're part of.
Now you'll hear some of those topics this month. And of course, some really great perspectives on how people are even defining leadership, which I think is extremely exciting. So sit back and enjoy this special episode of the IAMCEO podcast.
Hello. Hello. Hello. This is Gresh from the IAMCEO podcast. I have a very special guest on the show today. I have Jon Vogelsen of Funkhauser, Vogelsen, Lieben, Dunn Limited. Jon, super excited to have you on the show.
Jon Vegosen 02:10
I'm thrilled to be here. Thanks for having me, Gresh.
Gresham Harkless 02:13
Yes, super excited to have you on and talk about all the awesome things that you're doing. And of course, before we do that, I want to read a little bit more about John so you can hear about some of those awesome things.
John is a founding member of Chicago corporate and litigation law firm Funkhauser, the Gosen Liebman and Dunn Limited, where he was co-managing partner for many years. While John has a broad-based legal background, he concentrates in labor and employment matters and also writes and speaks widely about them.
A Phi Beta Kappa graduate at Northwestern University and a Cum Laude graduate of its law school, John has received the highest of professional peer review ratings, including being selected as a super lawyer in Illinois and employment law for several years.
John has served on several board of directors, including a chairman of the board, President and CEO of the United States Tennis Association in 2011 and 2012, and has been chairman of the board of the Intercollegiate Tennis Association since 2015.
John, excited to have you on this show again, my friend. Are you ready to speak to the IAMCEO community?
Jon Vegosen 03:14
I am ready. Thanks so much again.