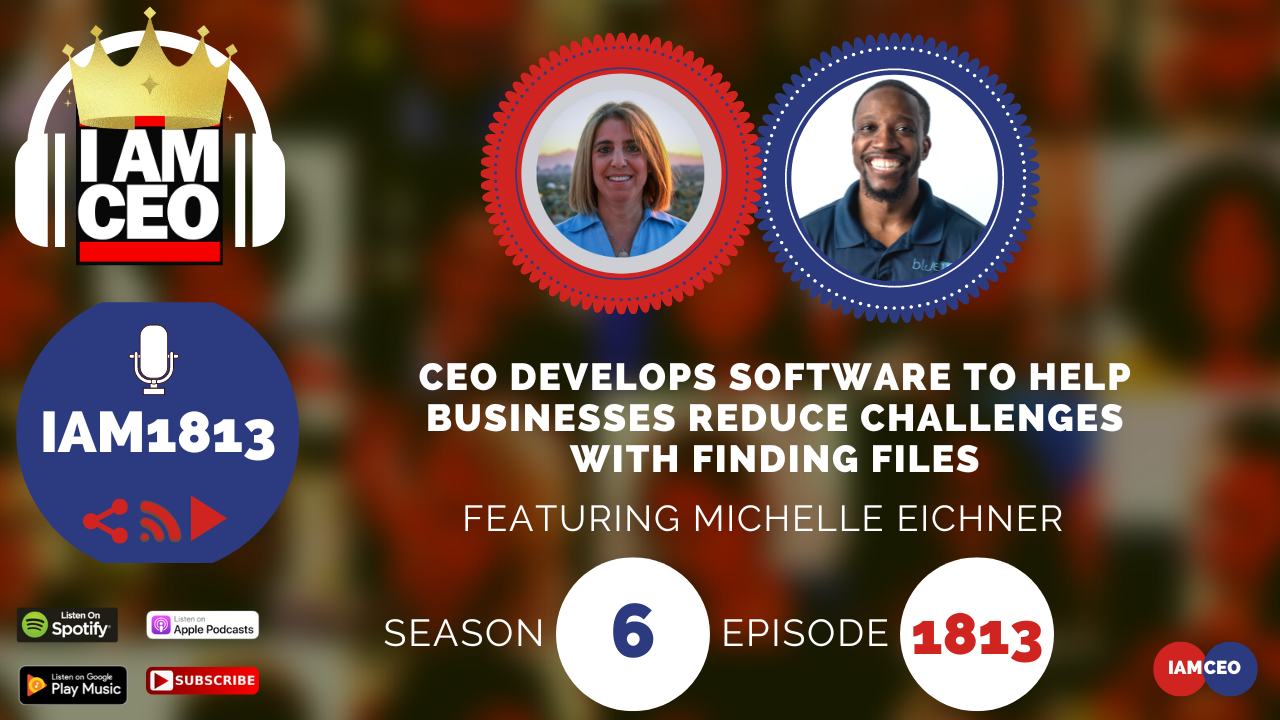 Why it was selected for "CBNation Architects":
In this episode of the I AM CEO Podcast, host Gresham Harkless interviews Michelle Eichner, the founder and CEO of Digitile. Digitile is a software company that helps businesses address the challenges of finding files. With her extensive background in marketing and SaaS software, Michelle brings a deep understanding of the marketplace and a wealth of experience in driving product marketing and strategy.
During the discussion, Michelle discusses the importance of reducing the challenges employees face when searching for files within organizations. She highlights the need for effective file management systems and shares how Digitile's software addresses these challenges. Michelle also provides valuable insights on networking and the benefits of finding mentors who can provide an outside perspective.
Throughout the episode, Michelle mentions helpful resources and tools such as Notion and LinkedIn Sales Navigator, which have been instrumental in her work. She also shares her website at digitile.io, where listeners can learn more about the services offered by Digitile and sign up for a free trial. Michelle can also be found on LinkedIn.
Overall, this episode provides valuable insights into the importance of efficient file management within businesses. Michelle's expertise and experience in the software and marketing industry make her insights particularly relevant for entrepreneurs and business owners looking to streamline their file organization processes.
Check out one of our favorite CEO Hack's CEO Web Shop. Get your free audiobook and check out more of our favorite CEO Hacks HERE.

I AM CEO Handbook Volume 3
 is HERE and it's FREE. Get your copy here: 
http://cbnation.co/iamceo3
. Get the 100+ things that you can learn from 1600 business podcasts we recorded. Hear Gresh's story, learn the 16 business pillars from the podcast, find out about CBNation Architects and why you might be one and so much more. Did we mention it was FREE? Download it today!
Transcription:
The full transcription is only available to CBNation Library Members. Sign up today!
Michelle Eichner Teaser 00:00
There are some nuances that make actually finding a file hard. Their search engines are actually not very robust. They don't actually check within the context of that file, whereas Google does. Salesforce does not. HubSpot does not. So some of these guys do something different and unique.
And then also, so how you search, how you share files is unique by platform. You have to log in to all these platforms. We wanted to unify this experience so that even though each of these had their own nuances, you didn't have to worry about those.
Intro 00:33
Do you want to learn effective ways to build relationships, generate sales, and grow your business from successful entrepreneurs, startups, and CEOs without listening to a long, long, long interview?
If so, you've come to the right place. Gresham Harkless values your time and is ready to share with you precisely the information you're in search of.
This is the I AM CEO podcast.
Gresham Harkless 00:57
Hello. Hello. Hello. This is Gresh from the I AM CEO podcast and I appreciate you listening to this episode. If you've been listening this year, you know that we've hit 1600 episodes at the beginning of this year. We're doing something a little bit different where we're repurposing our favorite episodes around certain categories, topics, or as I like to call them, business pillars that we think are going to be extremely impactful for CEOs, entrepreneurs, and business owners, just like you, what I like to call the CB nation architects who are looking to level up their organizations.
This month we are focusing on CEO hacks and CEO nuggets. This is by far one of my favorite questions I asked on the show. In other words, I asked, what are the apps, books, and habits that make you more effective and efficient? Those were the CEO hacks. And then I asked for a word of wisdom or a piece of advice or something that you might tell your younger business self if you were to hop into a time machine. Those were the CEO nuggets.
That's what we'll focus on this month and some of the top ones that can instantly impact your business. I love all the questions, but with every episode, I thought I would walk away with something I could look at and implement right there to save precious resources, time and money. Or I would also learn about the advice, tips and tidbits or tools of the trade on how to level up our organization. So you'll hear some of these this month. So sit back and enjoy this special episode of the I AM CEO podcast.
Hello, hello, hello. This is Gresham Harkless from I AM CEO podcast, and I have a very special guest on the show today. I have Michelle Eichner of DigiTile. Michelle, it's awesome to have you on the show.
Michelle Eichner 02:33
Hey, thank you, Gresham. It's a pleasure to be with you.
Gresham Harkless 02:36
Awesome. Awesome. Awesome. What I want to do is just read a little bit more about Michelle so you can learn a little bit more about her, and hear about all the awesome things that she's doing.
Michelle is the founder and CEO of DigiTile. She works with businesses to reduce the challenges employees have finding files. Eichner is a seasoned marketer and SaaS software veteran with a deep understanding of the marketplace for more than 25 years of in-depth B2B experience, driving product marketing and strategy helps identify market challenges, gaps, and solutions.
Michelle, are you ready to speak to the I AM CEO community?
Michelle Eichner 03:09
Absolutely.