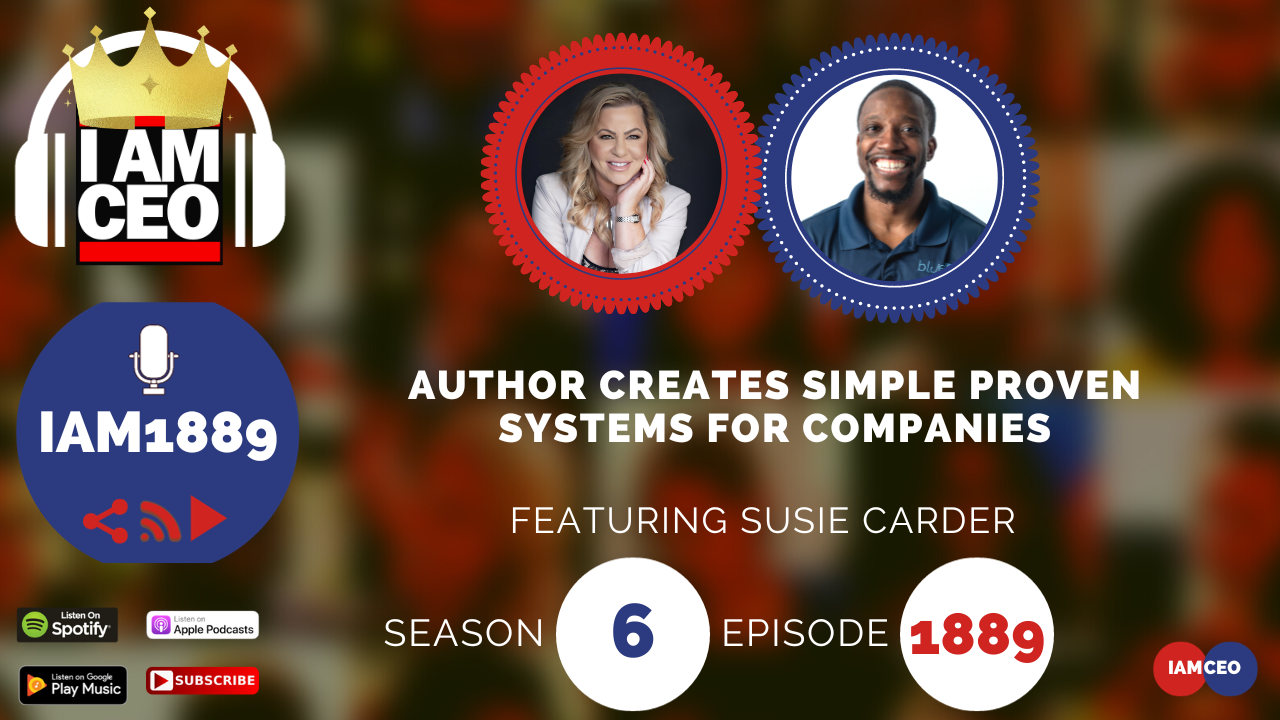 Why it was selected for "CBNation Architects":
In the CEO Podcasts episode, Susie Carder is the guest speaker. She began her career as a low-paid hairdresser, attempting to support her two daughters, but decided to carve out her own path in business despite numerous challenges.
Here are some key points from the episode:
Career Journey: Susie strived to create her own business after starting as a low-paid hairdresser. She eventually succeeded in establishing not only one but two $10 million businesses.
Expertise: Susie Carder's core expertise lies in her ability to simplify complicated issues by creating simple and proven systems. These systems guarantee significant growth for any business.
Track Record: Carder has facilitated over 100,000 entrepreneurs in increasing their revenues by more than 3000% and has worked with top business moguls.
Latest Book: Her latest book, 'Power Your Profit,' is her tenth publication. The book provides a comprehensive guide for businesses, to take them from startup to multi-million-dollar operations.
CEO Hack: Emphasize on continuous learning and growth.
CEO Definition: Being the change agent.
Check out our CEO Hack Buzz Newsletter–our premium newsletter with hacks and nuggets to level up your organization. Sign up 
HERE
. 

I AM CEO Handbook Volume 3
 is HERE and it's FREE. Get your copy here: 
http://cbnation.co/iamceo3
. Get the 100+ things that you can learn from 1600 business podcasts we recorded. Hear Gresh's story, learn the 16 business pillars from the podcast, find out about CBNation Architects and why you might be one and so much more. Did we mention it was FREE? Download it today!
Transcription:
The full transcription is only available to CBNation Library Members. Sign up today!
Susie Carder Teaser 00:00
It's hard. It's hard right now just where the economy is, clients canceling events, canceling, but I need to be, I need to be the calm in the storm. I need to be the lighthouse. I need to be that thing, that beacon of hope to go. This too shall pass as leaders, as CEOs and as leaders, we have to be out in front.
We have to be the one taking the bullets, taking the hit, taking the, the charge, creating calm, creating peace, creating harmony. Cause that's what they for, right? That's why they work for us. That's why they follow us.
Intro 00:30
Do you want to learn effective ways to build relationships, generate sales, and grow your business from successful entrepreneurs, startups, and CEOs without listening to a long, long, long interview?
If so, you've come to the right place. Gresham Harkness values your time and is ready to share with you precisely the information you're in search of. This is the I am CEO podcast.
Gresham Harkless 00:57
Hello. Hello. Hello. This is Gresh from the IAMCEO podcast, and I appreciate you listening to this episode. If you've been listening this year, that we hit 1600 episodes at the beginning of this year.
And we're doing something a little bit different where we're repurposing our favorite episodes around certain categories, topics, or as I like to call them, the business pillars that we think are going to be extremely impactful for CEOs, entrepreneurs, business owners, and what I like to call the CB nation architects who are looking to level up their organizations.
This month, we are focusing on operations. The systems will set you free. So think about systems, think about flow, sustainability, potentially working out in your morning routine, waking up early e-commerce, and different business models.
Think of the operations in the models that basically set up the foundation to allow the creativity within organizations, but also to make sure the trains are running on time and things are going as they should. Now, this is extremely important because we often turn to the sexy parts of business and forget about the operations and how important that is.
So I really want to focus this month on this specific topic. So sit back and enjoy this special episode at the IAMCEO podcast.
Hello. Hello. Hello. This is Gresh from the IAMCEO podcast. And I have a very special guest on the show today at Susie Carder of susiecarder.com. Susie, it's awesome to have you on the show.
Susie Carder 02:15
Thanks for having me. I'm excited to contribute to your tribe. And you know what? Thank you for everything that you do, especially now, right? We need, some inspiration, some real facts, some actionable items, in the midst of a storm, we need to be the call.
Gresham Harkless 02:28
Exactly. We're trying to be the calm as much as possible. So, I'm honored to get the opportunity to interview really awesome people like Susie. And just to introduce you to Susie.
If you haven't heard anything about her, Susie is actually started out as a low-paid hairdresser trying to support her two little girls. Instead of working for someone else, she decided to do whatever it took to create her own business.
After much blood, sweat and tears mixed with cheap mascara, she went on to create not one but two 10 million companies. Her core genius is the ability to simplify complicated issues by creating simple proven systems that are guaranteed to create dramatic growth for any company. She has helped over a 100,000 entrepreneurs increase their revenues by more than 3000 percent and work with top business mobiles.
In her newest book number 10. Power Your Profit is a blueprint start-to-finish plan for taking your business from startup mode to the multi-million dollar mark.
Susie, are you ready to speak to the IAMCEO community?
Susie Carder 03:18
I am ready.