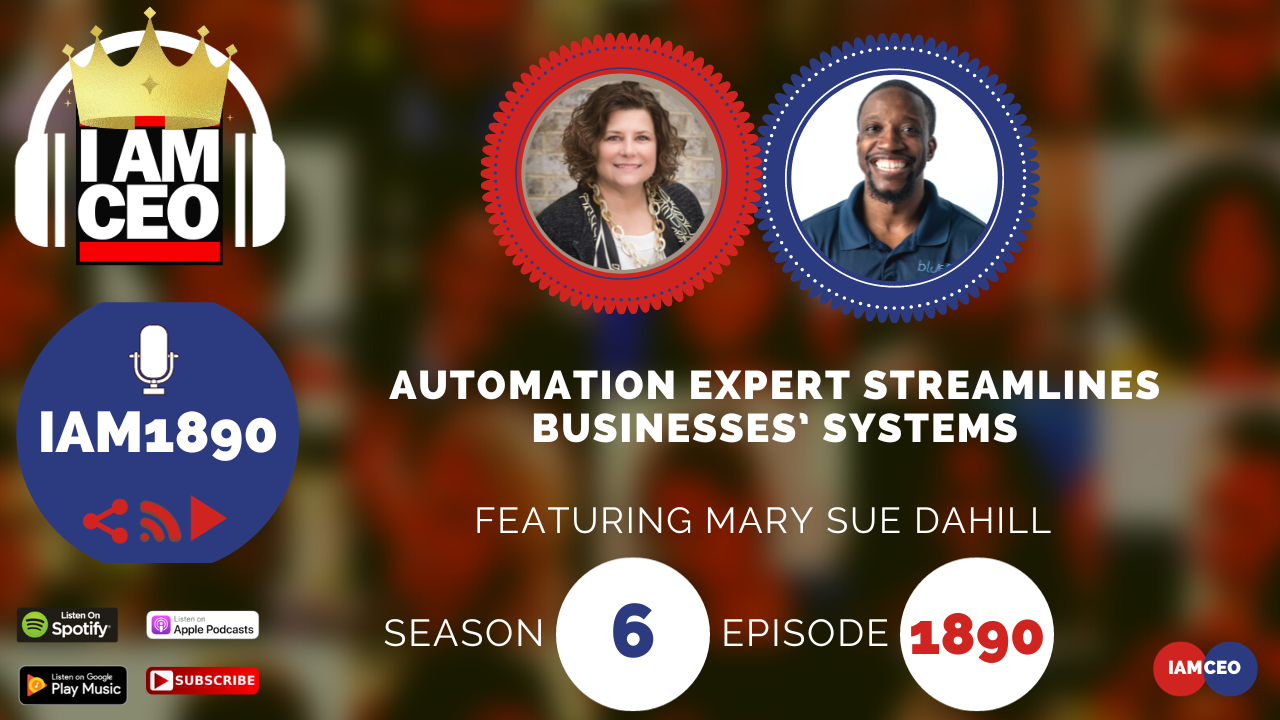 Why it was selected for "CBNation Architects":
In this episode, Mary Sue Dahill is the featured guest. She utilizes her unique capability to interpret technology for non-tech-savvy individuals and aids business owners in choosing the apt digital tools that can save them significant amounts of time and money.
Key insights from the episode:
Profile: Mary Sue Dahill is an automation expert who assists businesses in streamlining their systems, employing the right digital tools, and automating workflows, enabling them to work smarter and successfully optimize their time and money.
Impact: Mary Sue's clients typically experience faster growth with more profit, largely because they eliminate the need for hiring to perform tasks that can be automated and avoid wasting money on digital tools that aren't fit for the purpose.
CEO Hack: Mary Sue uses The Rocketbook for taking notes.
CEO Nugget: She advises selecting a digital tool using three means: G2Crowd for software reviews, Zapier for integration information, and finally, checking the tool's health information.
CEO Defined: In her understanding, being a CEO means (1) Having a vision for where the business is going, and (2) Thinking strategically about your path.
Check out our CEO Hack Buzz Newsletter–our premium newsletter with hacks and nuggets to level up your organization. Sign up 
HERE
. 

I AM CEO Handbook Volume 3
 is HERE and it's FREE. Get your copy here: 
http://cbnation.co/iamceo3
. Get the 100+ things that you can learn from 1600 business podcasts we recorded. Hear Gresh's story, learn the 16 business pillars from the podcast, find out about CBNation Architects and why you might be one and so much more. Did we mention it was FREE? Download it today!
Transcription:
The full transcription is only available to CBNation Library Members. Sign up today!
Mary Sue Dahill Teaser 00:00
And I'll tell you my favorite tool is Active Campaign. So I go in there and I'll type in Active Campaign. I can read reviews about it, but what I like better is I can see how it's categorized. So, I think it's part of the CRM all in one. So I can go see what does it mean to be part of the CRM all in one category.
And what are the other competitors in that space? So maybe I can, I get ideas on then what other tools to be looking at.
Intro 00:24
Do you want to learn effective ways to build relationships, generate sales, and grow your business from successful entrepreneurs, startups, and CEOs without listening to a long, long, long interview?
If so, you've come to the right place. Gresham Harkless values your time and is ready to share with you precisely the information you're in search of. This is the IAMCEO podcast.
Gresham Harkless 00:52
Hello. Hello. Hello. This is Gresham from the IAMCEO podcast, and I appreciate you listening to this episode. If you've been listening this year, you know that we hit 1600 episodes at the beginning of this year.
And we're doing something a little bit different where we're repurposing our favorite episodes around certain categories, topics, or as I like to call them, the business pillars that we think are going to be extremely impactful for CEOs, entrepreneurs, business owners, and what I like to call the CB Nation architects who are looking to level up their organizations.
This month, we are focusing on operations. The systems will set you free. So think about systems, think about flow, sustainability, potentially working out in your morning routine, waking up early e-commerce, and different business models, think of the operations in the models that basically set up the foundation to allow the creativity within organizations, but also to make sure the trains are running on time and things are going as they should.
Now, this is extremely important because we often turn to the sexy parts of business and forget about the operations and how important So I really want to focus this month on this specific topic. So sit back and enjoy this special episode at the IAMCEO podcast.
Hello. Hello. Hello. This is Gresh from the IAMCEO podcast. I have a very special guest on the show today. I have Mary Sue Dahill of Work Smarter Digital. Mary Sue it's awesome to have you on the show.
Mary Sue Dahill 02:12
Thank you. It's great to be here.
Gresham Harkless 02:14
Definitely super excited to have you on. And what I want to do is just read a little bit more about Mary Sue so you can hear about all the awesome things that she's doing.
And Mary Sue has the unique ability to translate technology for non-techies. She helps business owners invest in the right tool, digital tools that save them money and time. And while they avoid the frustration of tools that don't work.
Mary Sue helps businesses streamline their systems, leverage the right digital tools and automate workflows so they can work smart and maximize their time and money for the greatest impact.
Her clients grow faster with more profit because they don't have to hire people to do tasks that can be automated and don't waste money on digital tools that don't do the job. Mary Sue, are you ready to speak to the IAMCEO community?
Mary Sue Dahill 02:52
I am awesome.