Healthy CEO
I AM CEO PODCAST
IAM1657 – Founder and Author Provides Online Personal and Professional Development Training In Humanist Learning
Podcast Interview with Jennifer Hancock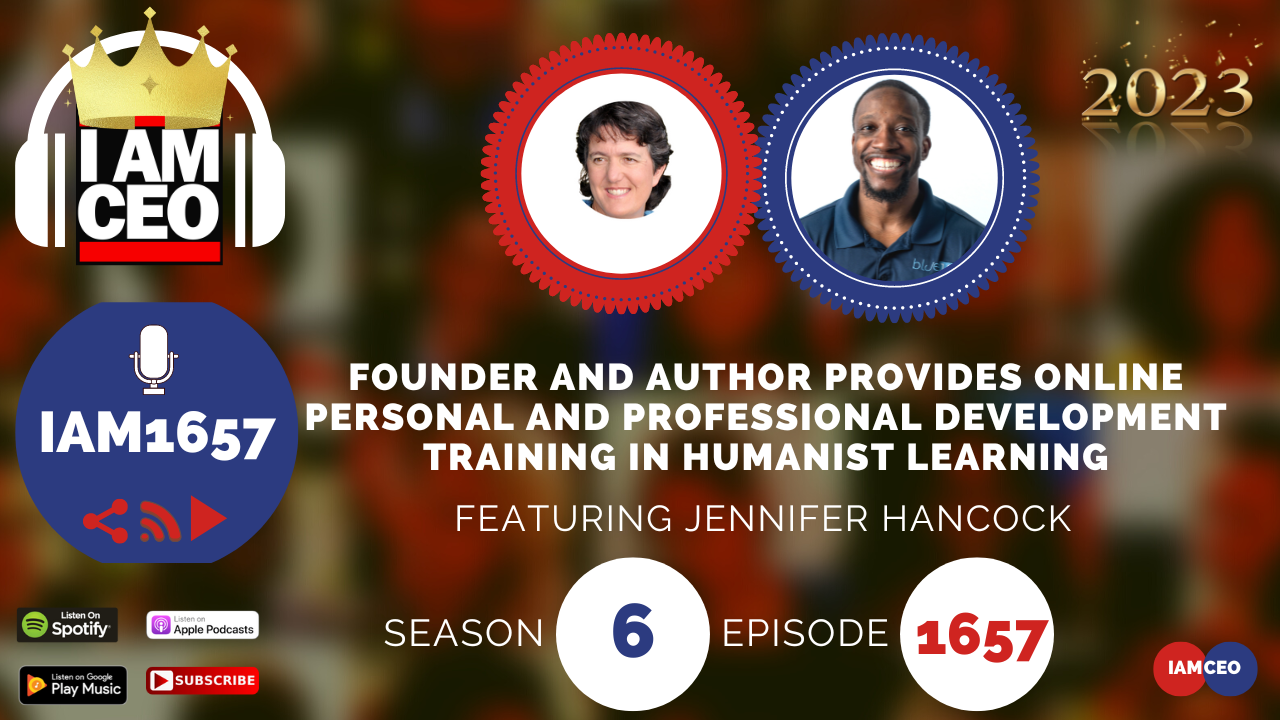 Why it was selected for "CBNation Architects": Jennifer runs a successful business and has a significant influence. Her "why" is so strong but what I love is how in a true entrepreneurial form she became the change she hoped to see. She has such a great perspective in the understanding of the human aspect of business in the behavior of her clients but also owns and stands in her "limitations" as they give her power but also a catalyst for her creativity. We talked a little about humanism and what most people may not realize about human development, and she very much understands "if you run your race you can't lose."
Check out premium content in the CBNation Library at http://cbnation.co/library and pick up our eBook to hear some of the best lessons at http://cbnation.co/shop.
Previous Episode: https://iamceo.co/2018/12/13/iam128-founder-and-author-provides-online-personal-and-professional-development-training-in-humanist-learning/
Transcription:

Jennifer Hancock Teaser
00:00
That's exactly my philosophy is, I don't wanna work hard, but I still wanna work. And I still wanna have an impact on the world. So how do I do that? it just requires me to be creative.
Intro 00:10
Do you want to learn effective ways to build relationships, generate sales, and grow your business from successful entrepreneurs, startups, and CEOs. Without listening to a long, long, long interview? If so, you come to the right place. Gresham Harkless values your time and is ready to share with you precisely the information you're in search of. This is the I am CEO podcast.
Gresham Harkless 00:35
Hello, hello, hello, this is Gresh from the I am CEO podcast and we're doing something a little bit different this year with some of our episodes. We're repurposing some of our favorite episodes around specific topics related to entrepreneurship. This month we're focusing on entrepreneurship and community. Us, we, our, together and we're gonna look at entrepreneurship and industries in different types of entrepreneurship and ultimately what that really means. But we're also gonna delve deeper into the importance of community, networking, niche communities and how that supports being a CEO, entrepreneur and business owner. So sit back and enjoy these special episodes around entrepreneurship and community.
Hello, hello, hello. This is Gresh from the I am CEO podcast and I have a very special guest on the show today. I have Jennifer Hancock of Humanist Learning Systems. Jennifer, it's awesome to have you on the show. What I wanted to do was read a little bit more about Jennifer so you can hear about all the awesome things that she's doing. Jennifer Hancock is a mom, author of The Bully Vaccine, and founder of Humanist Learning Systems. Her professional background is varied, including stints in both the for-profit and nonprofit sectors. She has served as a director of volunteer services for the Los Angeles SPCA and sold international franchise licenses for biotech firms. She was the manager of an acquisition group information for half a billion-dollar company, and served as the executive director for the Humanist of Florida. Her speaking and teaching businesses coalesced into the founding of Humanist Learning Systems, which provide online personal and professional development training and humanistic business management and science-based harassment training that actually works. Jennifer, are you ready to speak to the I am CEO community?
Jennifer Hancock 02:12
Yes, I am.