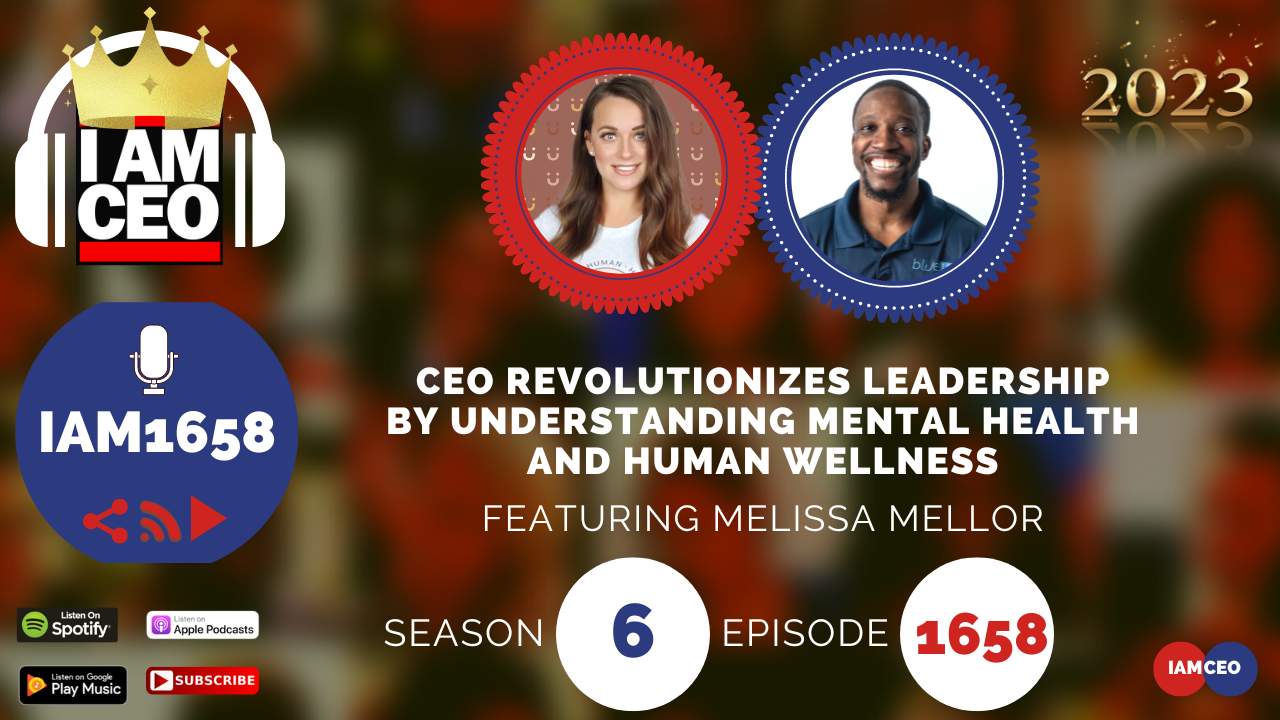 Why it was selected for "CBNation Architects": Melissa has so much energy and I love everything she does because we so often do forget about the human aspect of business and how that impacts everything. She talks about the work and how the help to support the entire human and life is not to be in silos. We also talked about how if we don't treat the true root of a problem and maybe create distractions, we are doing ourselves and our organizations a disservice.
Check out premium content in the CBNation Library at http://cbnation.co/library and pick up our eBook to hear some of the best lessons at http://cbnation.co/shop.
Previous Episode: https://iamceo.co/2022/07/19/iam1436-ceo-revolutionizes-leadership-by-understanding-mental-health-and-human-wellness/
Transcription:

Melissa Mellor Teaser 00:00
Our world is just (oof). It's one thing after another. And whether or not you know that you're impacted by this, you are, your body is like a pressure cooker. It's just we're trying to keep it all in. We're trying to live the best possible life we can, right on the edge of not exploding. And all that happens, is you just boil a little bit too long and the whole thing just explodes.
Intro 00:24
Do you want to learn effective ways to build relationships, generate sales, and grow your business? Successful entrepreneurs, startups, and CEOs without listening to a long, long, long interview. If so, you've come to the right place. Gresham Harkless values your time and is ready to share with you precisely the information you're in search of. This is the I am CEO podcast.
Gresham Harkless 00:51
Hello, this is Gresh from the I am CEO podcast and we're doing something a little bit different this year with some of our episodes. We're repurposing some of our favorite episodes around specific topics related to entrepreneurship. This month we're focusing on entrepreneurship and community. Us, we, our, together and we're gonna look at entrepreneurship and industries in different types of entrepreneurship and ultimately what that really means. But we're also gonna delve deeper into the importance of community, networking, niche communities, and how that supports being a CEO entrepreneur and business owner. So sit back and enjoy these special episodes around entrepreneurship and community.
Hello, hello, hello. This is Gresh from the I am CEO podcast. I have a very special guest on the show today. I have Melissa Mellor of Hey U Human. Melissa, it's great to have you on the show.
Melissa Mellor 01:36
Thank you so much for having me. I'm really excited to be here.
Gresham Harkless 01:39
Super excited to have you on as well too. We had a phenomenal conversation in the beginning, so I'm super excited now we get to have you in front of the mic and hear about all the awesome things. And of course, before we do that, I wanted to read a little bit more about Melissa, so you can hear about some of those awesome things. Melissa is the CEO of Hey U Human, a globally recognized mental health and human wellness company. They serve corporations and individuals in over 80 countries around the world with over 15 different applications. Through Hey U human, Melissa is revolutionizing leadership and how business conduct work and lead their staff.  Melissa is passionate about igniting humanity, waking humans up, and helping infrastructure and institutions understand mental health and human wellness through a completely different lens. A lens which the company is no longer reacting to mental health issues and pandering to personal complaints, one that is proactively engaging the whole human to create an unstoppable workforce. If you are human with emotions or if you interact with other humans with emotions, you will want to tune into this very, very special episode.
Melissa, excited again to have you on the show, my friend. Are you ready to speak to the I am CEO community?
Melissa Mellor 02:42
Yes, absolutely.