CBNation
I AM CEO PODCAST
Tech
IAM1656 – Serial Entrepreneur Brings Human Connection Back to Communication
Podcast interview with Ho Yin Cheung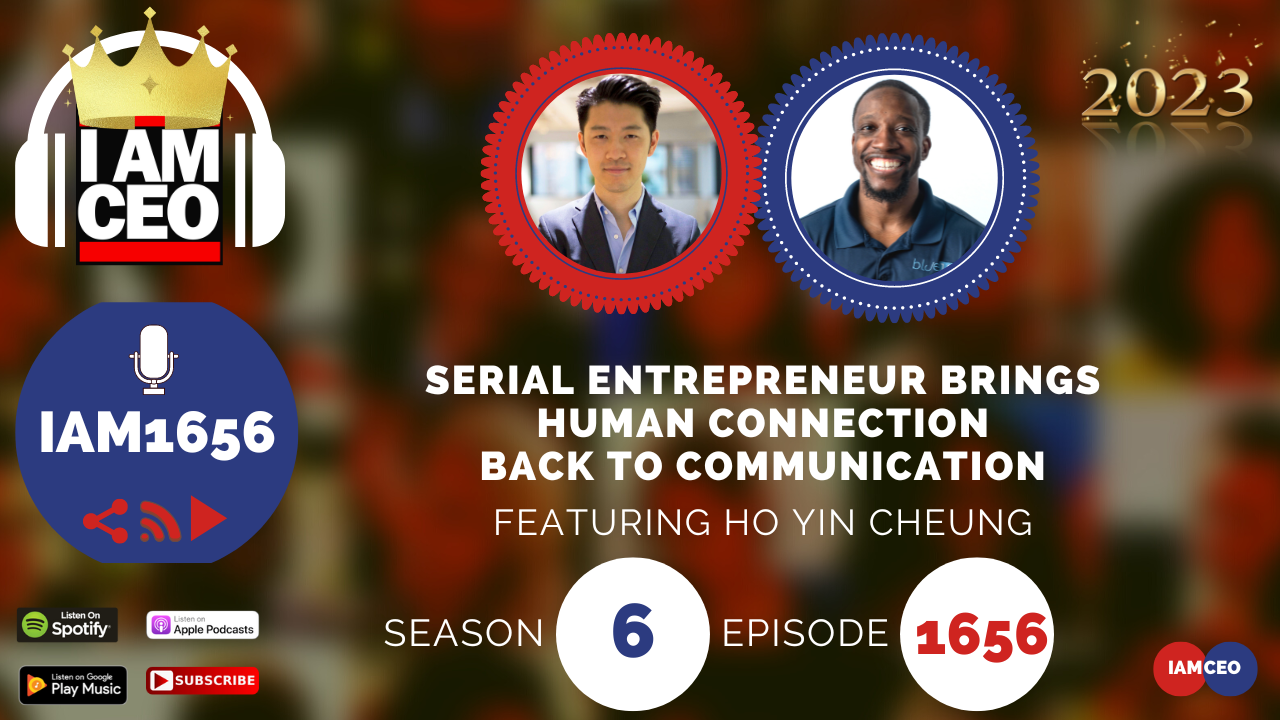 Why it was selected for "CBNation Architects": One huge part of business and life is communication. It was great to hear about Ho Yin has developed his organization to build relationships and connections and lower the barrier of entry into that space. I loved that we talked about the power of time during the episode and how we are trying to scale our time and how impactful it has been for him. This was valuable for remote working too and how to create that connection.
Check out premium content in the CBNation Library at http://cbnation.co/library and pick up our eBook to hear some of the best lessons at http://cbnation.co/shop.
Previous Episode: https://iamceo.co/2019/04/01/iam231-serial-entrepreneur-brings-human-connection-back-to-communication/
Transcription:

Ho Yin Cheung Teaser 00:00
There's a lot of trends and I think following those big trends is really important. And, it's easy to say that because when I was young, I was like, I don't know what a trend is, like there's so many trends going on, what's the right trend to go for? And I don't think I really got it until like much later in life.
Like what is a trend worth following? And what's a trend that's not really worth following? And I think learning how to spot that I think is really important.
Intro 00:26
Do you want to learn effective ways to build relationships, generate sales, and grow your business from successful entrepreneurs, startups, and CEOs without listening to a long, long, long interview?
If so, you've come to the right place. Gresham Harkless values your time and is ready to share with you precisely the information you are in search of. This is the I am CEO podcast.
Gresham Harkless 00:51
Hello, hello, hello, this is Gresh from the I am CEO podcast and we're doing something a little bit different this year with some of our episodes we're repurposing some of our favorite episodes around specific topics related to entrepreneurship.
This month we're focusing on entrepreneurship and community. Us, we, our, together, and we're gonna look at entrepreneurship and industries in different types of entrepreneurship and ultimately what that really means. But we're also gonna delve deeper into the importance of community, networking, niche communities, and how that supports being a CEO entrepreneur and business owner.
So sit back and enjoy these special episodes around entrepreneurship and community.
Hello, hello, hello. This is Gresh from the I am CEO podcast and I have a very special guest on the show today, I have Ho Yin Cheung of Remo. Ho Yin, it's awesome to have you on the show.
Ho Yin Cheung 01:36
Hey, thank you. Thank you so much.
Gresham Harkless 01:38
No problem. Super excited to have you on. And what I wanted to do was just read a little bit more about Ho Yin so you can hear about all the awesome things that he's doing.
And Ho Yin is a serial entrepreneur with an eight-figure Amazon business, a mobile agency, and also a 1 million annual recurring revenue B2B SaaS company. Ho Yin has seven-plus years of experience building remote teams and has worked with Fortune 100 companies like Best Buy, TJ Max, SunGard, Cardinal Health, and Kaiser Permanente.
His new venture is Remo, the next-generation video workspace for Distributed Teams. Ho Yin, are you ready to speak to the I am CEO community?
Ho Yin Cheung 02:14
Yes, I am ready.