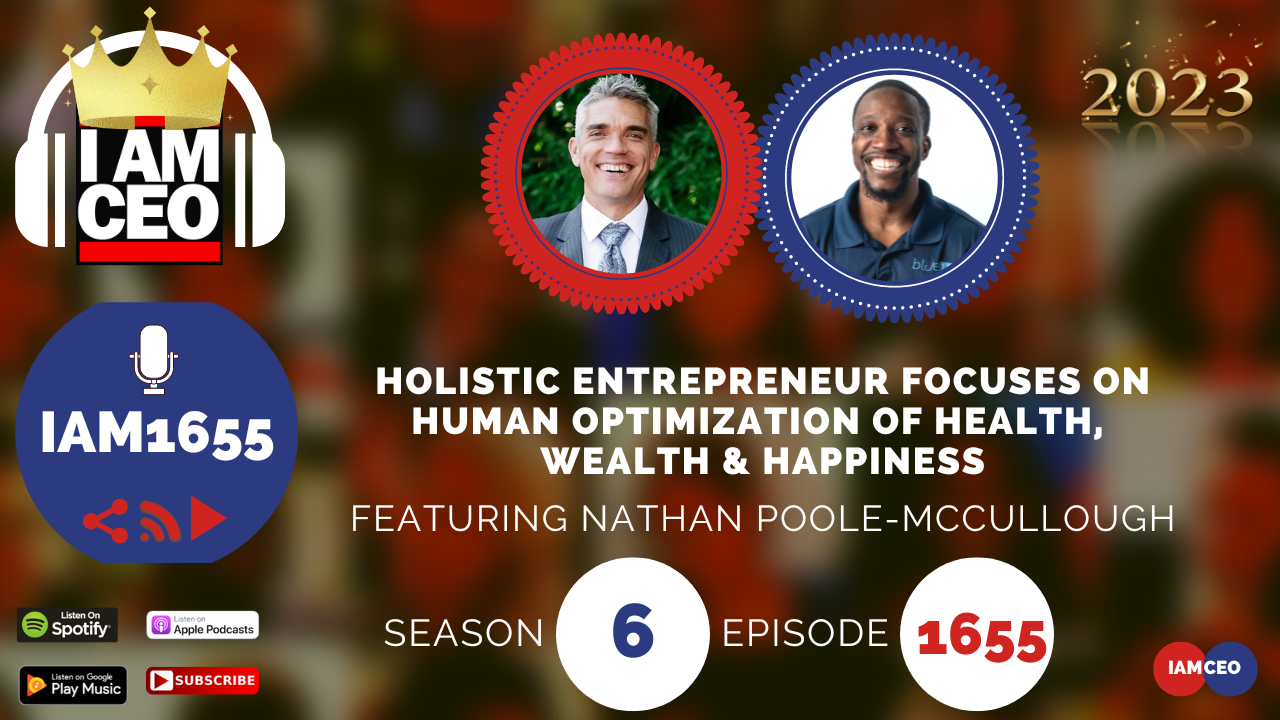 Why it was selected for "CBNation Architects": It was great to hear about Nathan's story and how that has inspired him to help so many others. It's especially powerful to hear his entrepreneurial story and how he started so young. I love the name of his company and the reason behind the name too. It was also great to hear about how Nathan mentioned a podcast with Tom Brady and how it gave him a leg up on success. Also, entrepreneurship is a marathon.
Check out premium content in the CBNation Library at http://cbnation.co/library and pick up our eBook to hear some of the best lessons at http://cbnation.co/shop.
Previous Episode: https://iamceo.co/2019/01/18/iam158-holistic-entrepreneur-focuses-on-human-optimization-of-health-wealth-happiness/
Transcription:

Nathan Poole-McCullough Teaser 00:00
I feel like when I work with people, there's no judgment to them because regardless of what they've done, you know, I don't really deprave, I can bring that to and you know, bring that relatedness and bring that ability to bring perspective in dark times or bring awareness and mindfulness when people are going through difficult times.
Intro 00:23
Do you want to learn effective ways to build relationships, generate sales, and grow your business from successful entrepreneurs, startups, and CEOs without listening to a long, long, long interview?
If so, you've come to the right place. Gresham Harkless values your time and is ready to share with you precisely the information you're in search of. This is the I am CEO podcast.
Gresham Harkless 00:48
Hello, hello, hello, this is Gresh from the I am CEO podcast and we're doing something a little bit different this year with some of our episodes we're repurposing some of our favorite episodes around specific topics related to entrepreneurship. This month we're focusing on entrepreneurship and community.
Us, we, our, together. And we're gonna look at entrepreneurship and industries in different types of entrepreneurship and ultimately what that really means. But we're also gonna delve deeper into the importance of community, networking niche communities, and how that supports being a CEO entrepreneur and business owner.
So sit back and enjoy these special episodes around entrepreneurship and community.
Hello, hello, hello. This is Gresh from the I am CEO podcast and I have a very special guest on the show today. I have Nathan Poole-McCullough of Rising Phoenix Wellness. Nathan, it's awesome to have you on the show.
Nathan Poole-McCullough 01:34
It's awesome to be here, brother. Thanks for having me.
Gresham Harkless 01:36
No problem. No problem. And what I wanted to do was just read a little bit more about Nathan so you can hear about all the awesome things that he's doing. And Nathan is a holistic entrepreneur focusing on human optimization. His focus is on removing the blocks from people from achieving optimal levels of health, wellness, and happiness and becoming the best versions of themselves. Nathan, are you ready to speak to the I am CEO community?
Nathan Poole-McCullough 01:56
I'm ready brother.