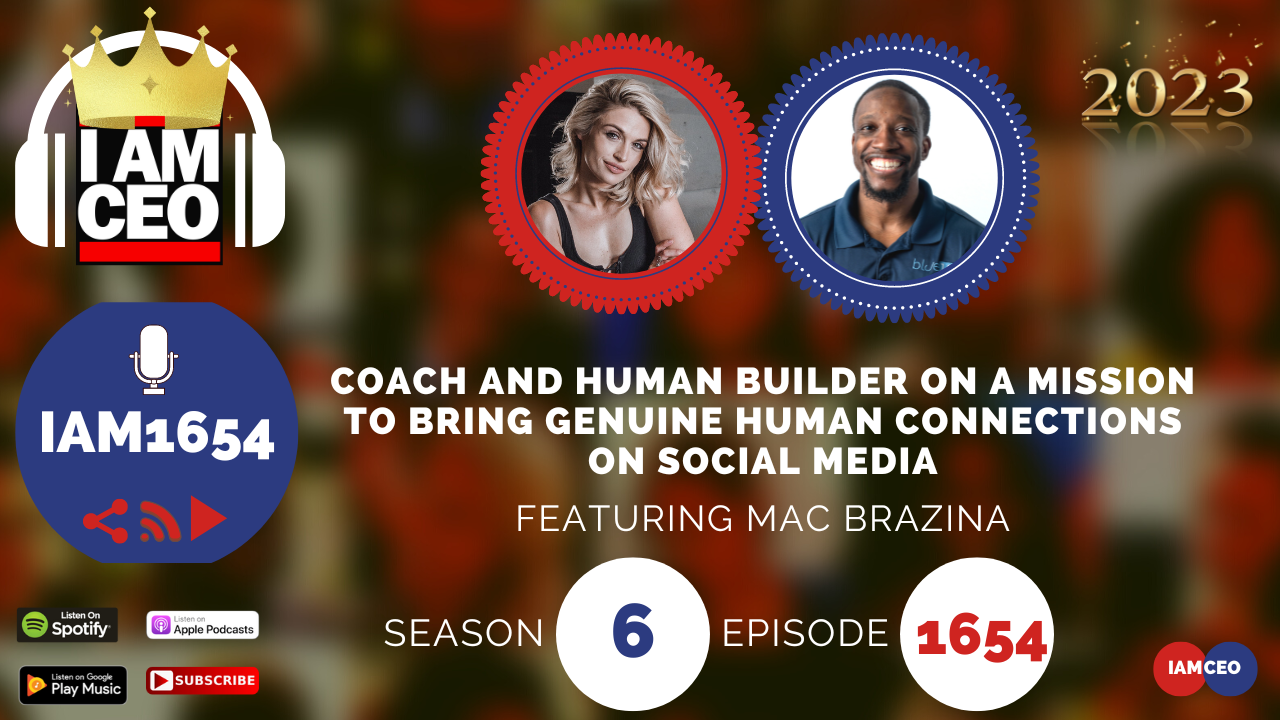 Why it was selected for "CBNation Architects": Mac is The Human Builder and anytime I think about the Human aspect of business, it's this interview with Mac that reminded me of the Human part of who we are in business but even in life. Even more powerful which came up is asking "why" and the purpose that we have. That's how we don't forget about the human part of the business.
Check out premium content in the CBNation Library at http://cbnation.co/library and pick up our eBook to hear some of the best lessons at http://cbnation.co/shop.
Previous Episode: https://iamceo.co/2019/01/01/iam141-coach-and-human-builder-on-a-mission-to-bring-genuine-human-connections-on-social-media/
Transcription:

Mac Brazina 00:00
Getting the workout in is not the problem and really enjoy that. But it's how they feel about themselves, how they talk to themselves. Maybe they're dealing with relationship issues, trauma, and sexual abuse. There is any number of things that are going on, inside the human being. That no matter how fit, you might look aesthetically still need work.
Intro 00:19
Do you want to learn effective ways to build relationships, generate sales, and grow your business from successful entrepreneurs, startups, and CEOs without listening to a long, long, long interview? If so, you've come to the right place. Gresham Harkless values your time and is ready to share with you precisely the information you're in search of. This is the I am CEO podcast.
Gresham Harkless 00:44
Hello, hello, hello. This is Gresh from the I am CEO podcast and we're doing something a little bit different this year. With some of our episodes, we're repurposing some of our favorite episodes around specific topics related to entrepreneurship. This month we're focusing on entrepreneurship and community.
Us, we, our, together and we're gonna look at entrepreneurship and industries in different types of entrepreneurship and ultimately what that really means. But we're also gonna delve deeper into the importance of community, networking, niche communities, and how that supports being a CEO entrepreneur and business owner.
So sit back and enjoy these special episodes around entrepreneurship and community.
Hello, hello, hello, this is Gresh from the I am CEO podcast and I have a very special guest on the show today. I have Mac Brazina, Be Mac Fit, Mac it's awesome to have you on the show.
Mac Brazina 01:30
Thank you so much for having me. This a really cool experience. I'm just sitting here. I do have Kira with me. Anybody follows me, I do have my dog sitting with us today.
Gresham Harkless 01:40
Your dog's name is?
Mac Brazina 01:42
Kira
Gresham Harkless 01:43
Kira. So we have Kira and Mac on our podcast. So thank you. Kira, you're the very first dog to be on the podcast. That's supposed to be on my dog. Hops on every now and then, but she's not supposed to be on. So appreciate you for being on.
What I wanted to do was read a little bit more about Mac so you can hear about all the awesome things that she's doing.
And Mac's mission is to connect, train, and evolve with humans around the world by bringing humanity back to social media. After all, that's all any of this is actually about the genuine human connection to remind you that this life is yours.
We're a little messed up, and that's okay because you aren't alone. Together, we can truly make life happen for you. Mac, are you ready to speak to the I am CEO community?
Mac Brazina 02:20
Yeah, I guess so.