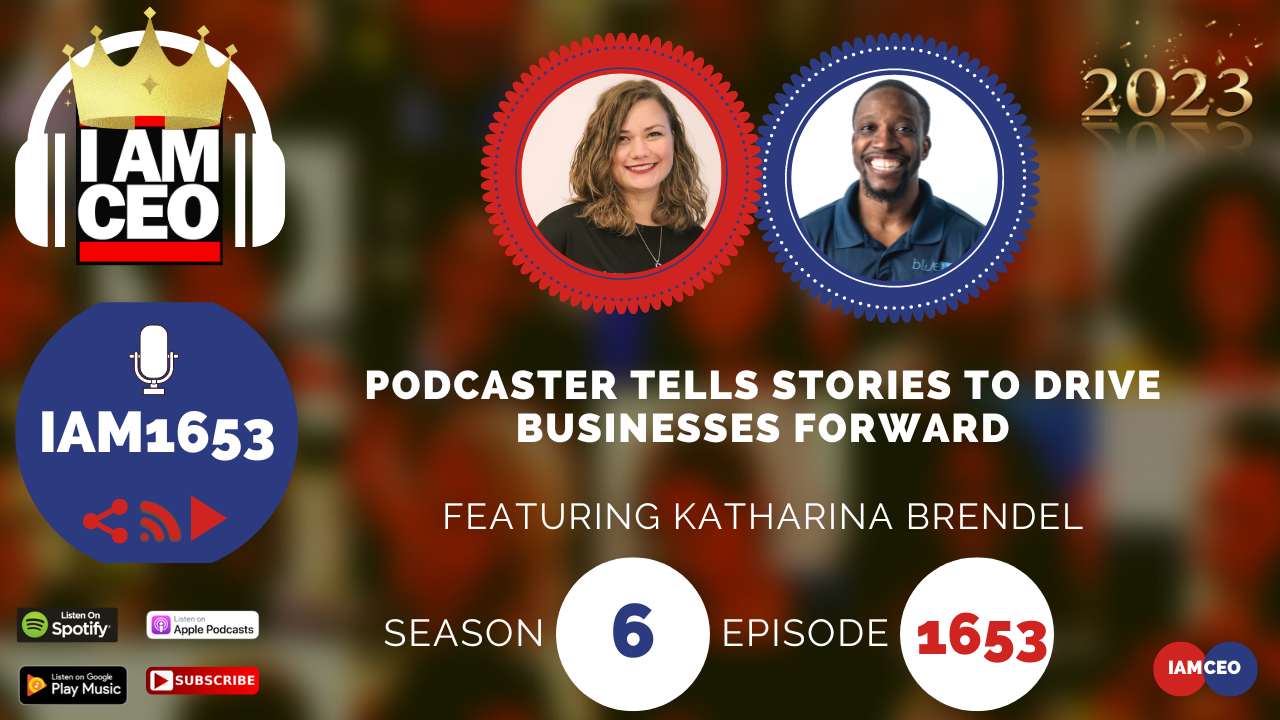 Why it was selected for "CBNation Architects": It's hard not to love everything that Kat is working on and how she caught the "entrepreneurial bug" and ran with it to amplify so many women's voices. She studied journalism so it was awesome to hear how passionate she is about storytelling and how podcasting is such a phenomenal medium to amplify voices.
Check out premium content in the CBNation Library at http://cbnation.co/library and pick up our eBook to hear some of the best lessons at http://cbnation.co/shop.
Previous Episode: https://iamceo.co/2020/01/16/iam521-podcaster-tells-stories-to-drive-businesses-forward/
Transcription:

Katharina Brendel Teaser 00:00
So I like to say that I marry storytelling into business. That's kind of the thing. So from the journalist side, and being a book nerd, I'm a really big fan of things that have to be interesting, you know? They have to and how we connect is stories. You know, what is a campfire, tales, or whatever it may be. That's how we connect.
Intro 00:17
Do you want to learn effective ways to build relationships, generate sales, and grow your business from successful entrepreneurs, startups, and CEOs, without listening to a long, long, long interview? If so, you've come to the right place.
Gresham Harkless values your time and is ready to share with you precisely the information you're in search of. This is the I am CEO podcast.
Gresham Harkless 00:44
Hello, hello, hello. This is Gresh from the I am CEO podcast and we're doing something a little bit different this year with some of our episodes we're repurposing some of our favorite episodes around specific topics related to entrepreneurship. This month we're focusing on entrepreneurship and community.
Us, we, our, together. And we're gonna look at entrepreneurship and industries in different types of entrepreneurship and ultimately what that really means. But we're also gonna delve deeper into the importance of community networking niche communities and how that supports being a CEO entrepreneur and business owner.
So sit back and enjoy these special episodes around entrepreneurship and community.
Hello, hello, hello. This is Gresh from the I am CEO podcast, and I have a very special guest on the show today. I have Kat Brendel of katbrendel.com. Kat, it's awesome to have you on the show.
Katharina Brendel 01:31
Thank you for having me. I'm happy to be here.
Gresham Harkless 01:33
No problem. Super excited to have you on. And what I wanted to do was just read a little bit more about Kat so you can hear about all the awesome things that she's doing.
Kat's love of stories made her a lifelong book nerd and led to her studying journalism and building a career in media. After gaining a boatload of marketing experience around the world, she learned how to not just tell stories for stories sake, but how they can drive businesses forward.
After soaking up all that knowledge, she went out on my own, launching the Leading Rebels podcast, co-founding the community club & coworking space for women CoWomen, and collaborating with kickass (wo)men like you to launch your podcast to get your voice heard.  Kat, are you ready to speak to the I am CEO community?
Katharina Brendel 02:12
I am Ready.