I AM CEO PODCAST
Tech
IAM1258 – CEO Helps Companies Improve Employee Experience and Organisational Performance
Podcast Interview with Omar L. Harris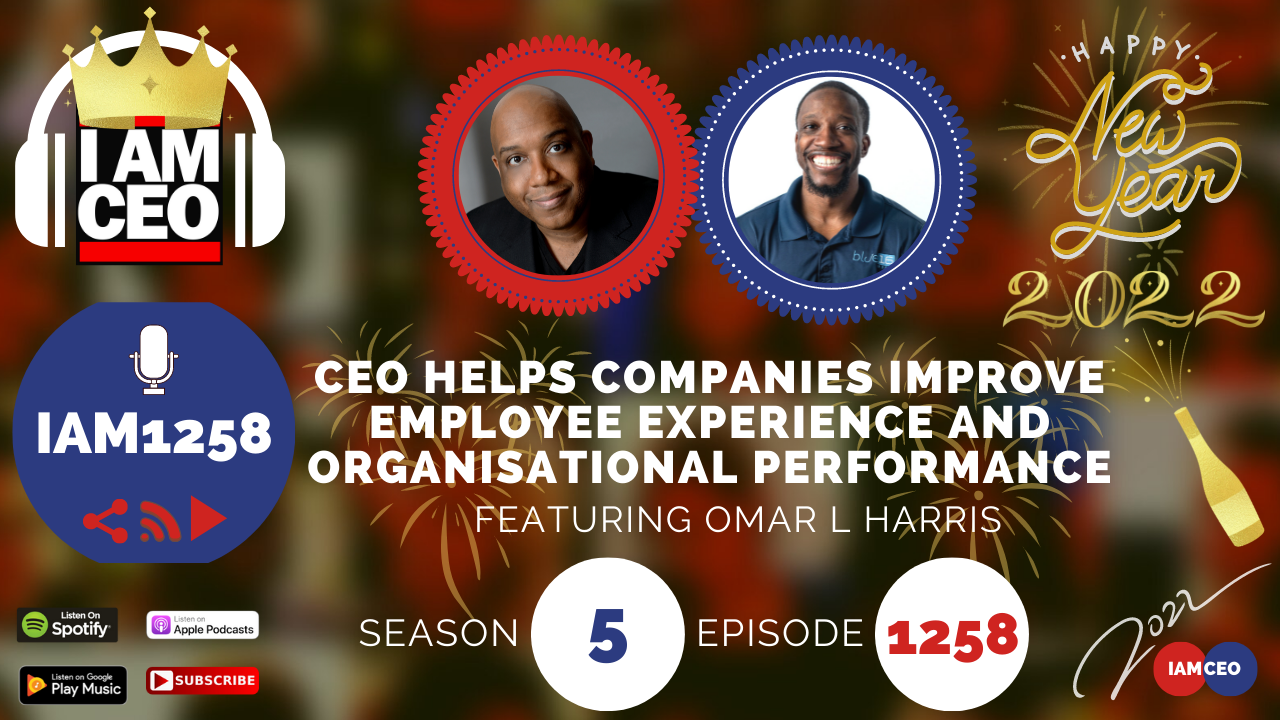 OMAR L. HARRIS (Charlotte, NC, born in Pittsburgh, PA) is the founder of Intent Consulting, TYMPO.io, and EquityPulse.io, a Former GM (GSK and Allergan), Gallup Certified Strengths Coach, Speaker, Award-Winning Bestselling Author of 5 books, including "Be a J.E.D.I. Leader, Not a Boss: Leadership in the Era of Corporate Social Justice, Equity, Diversity, and Inclusion", June 25, 2021, "The Servant Leader's Manifesto", 2020, and "Leader Board: The DNA of High-Performance Teams", 2019). With 20+ years of global pharmaceutical executive experience building teams, Omar has worked on 4 continents (U.S., Middle East, Asia, and Latin America) for Pfizer, Merck, Schering-Plough, and more. His books and work have been featured by CNN HLN Weekend Express, Black News Channel, WPXI-TV NBC News Pittsburgh, CBS/ABC/FOX Lake Charles, The Beating Alpha Podcast, The Living Corporate Podcast, Real Leaders, Ladders, SHRM Blog, Thrive Global, CEO World Magazine, Human Capital Innovations (HCI) Podcast, VoiceAmerica, Roland Martin Unfiltered and many more. As fun facts, Omar speaks 5 languages, plays 7 instruments, and started his first company at the age of 7.
CEO Story: Started entrepreneurship at the tender age of 7 years old, selling golf balls, having the amazing talent of connecting opportunity with commerce and transforming those ideas into business outcomes, mastered it for over 30 years.
Business Service

: Consulting, leadership, coaching, workshops, technology platform.

Secret Sauce

: Positive psychology – looking at the strengths as the starting point, then enhance them.

CEO Hack: Book recommendation: Miracle Morning by Hal Elrod – a new approach to starting your day. SAVERS – Silence/meditation, Affirmation, Visualization (rehearsing success), Exercise, Reading, Scribing (gratitude journaling).
CEO Nugget: "Perfection is the enemy of progress. It's better to gain progress in learning and to fail and learn and to pick us up again than to achieve perfection."
CEO Defined: Be a steward. Own it yourselves towards people who are adding value to your stakeholders. Being a leader not being a boss.
LinkedIn: omarlharris
Facebook: omarlharris
Instagram: omarl.harris
Twitter: strengthsleader
---
Check out one of our favorite CEO Hack's Audible. Get your free audiobook and check out more of our favorite CEO Hacks HERE