DMV CEO
I AM CEO PODCAST
IAM1652 – Friends Bring Women Together Through Coworking Space
Podcast Interview with Amy Dagliano and Kate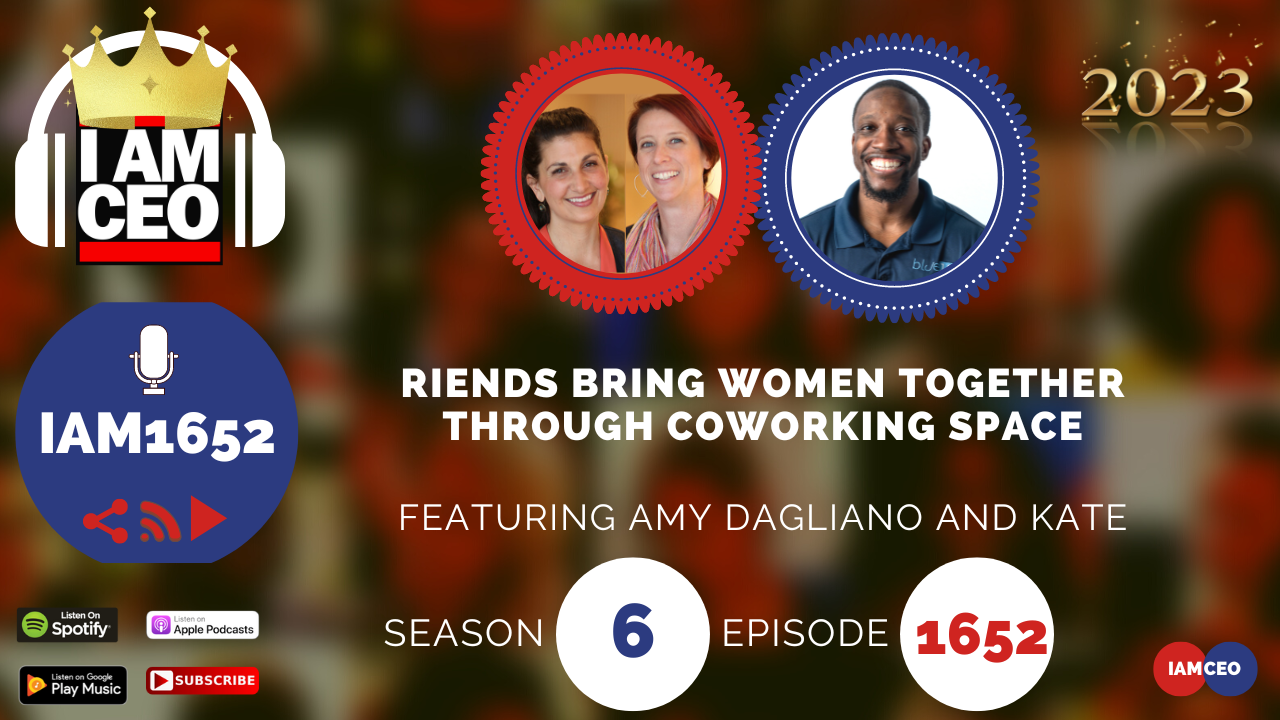 Why it was selected for "CBNation Architects": Having friends is great and being in business with your best friend is even greater. It was awesome to hear how the bond between Amy and Kate has grown into everything that they grew for their community and coworking space. I love that they talked about Collaboration over Competition and how that even planted seed on how they were created.
Check out premium content in the CBNation Library at http://cbnation.co/library and pick up our eBook to hear some of the best lessons at http://cbnation.co/shop.
Previous Episode: https://iamceo.co/2020/10/30/iam809-friends-bring-women-together-through-coworking-space/
Transcription:

Amy Dagliano and Kate Teaser 0:00
So we do offer a beautiful co-working space for people, specifically women who are working from home, whether it's because they run their own businesses or they have a remote job. It's a beautiful place where people can go and work in a space that's really community-focused. So you're surrounded by other like-minded people. It's an open community where you can sit wherever you want, but we have different zones.
Intro 0:25
Do you want to learn effective ways to build relationships, generate sales, and grow your business from successful entrepreneurs, startups, and CEOs without listening to a long, long, long interview?
If so, you've come to the right place, Gresham Harkless values your time and is ready to share with you precisely the information you're in search of. This is the I am CEO podcast.
Gresham Harkless 0:52
Hello, hello, hello. This is Gresh from the I am CEO podcast and we're doing something a little bit different this year. With some of our episodes, we're repurposing some of our favorite episodes around specific topics related to entrepreneurship.
This month we're focusing on entrepreneurship and community. Us, we, our together, and we're gonna look at entrepreneurship and industries in different types of entrepreneurship and ultimately what that really means.
But we're also gonna delve deeper into the importance of community, networking niche communities, and how that supports being a CEO entrepreneur and business owner. So sit back and enjoy these special episodes around entrepreneurship and community.
Hello, hello. Hello, this is Gresh from the I am CEO podcast and I have two very special guests on the show today I have Amy Gagliano and Kate Janet of Rowan tree. Amy and Kate, it's awesome to have you on the show.
Amy Dagliano and Kate 1:42
Thank you so much.
Gresham Harkless 1:44
No problem, super excited to have you both on before we jumped in. I want to read a little bit more about both of them so you can hear about all the awesome things that they're doing.
Best friends Amy and Kate were celebrating their shared birthday in 2017 when the conversation turned to how amazing women are when they join together for a common goal. A few months an official idea was idea sprouted and Rowan Tree coworking and cogrowth community was born. Offering both virtual and in-person memberships, they are pioneering a new way to work.
Geared for women and welcome to ALL, Rowan Tree offers an inclusive, safe, and open community and coworking space. Within their growth ecosystem of women entrepreneurs and passionate allies, they intentionally foster a community of connection, collaboration, and inspiration. They infuse a mix of wellness, creativity, laughter, self-health, and kindness into their Rowgramming.
In the last year, they offered over 200 workshops on professional, business, personal, well-being, and creative growth. It's great to have you both on the show. Are you ready to speak to the I am CEO community?
Amy Dagliano and Kate 2:43
Yeah.