I AM CEO PODCAST
IAM1687 – Founder Creates Comfort Device at Home Using Modern Technology
Podcast Interview with Joe Natoli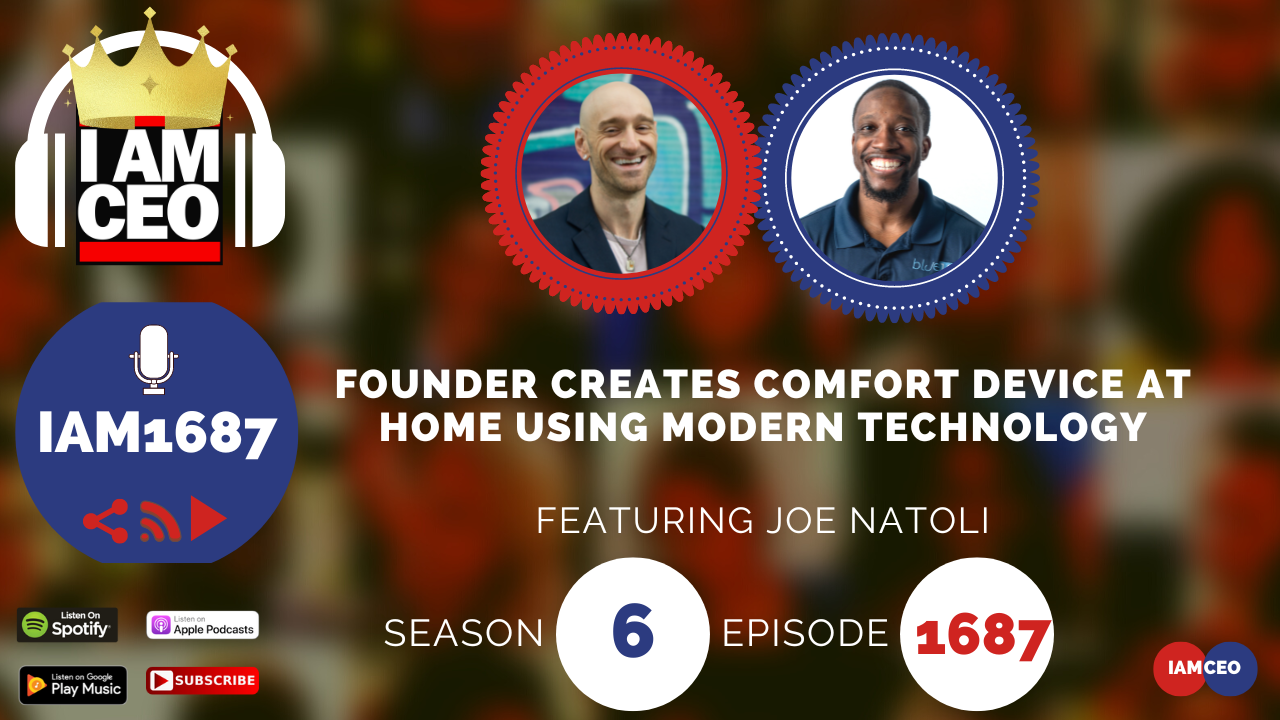 Why it was selected for "CBNation Architects": Joe has an awesome story and I really appreciate hearing how his game design background and how that helped him think differently. Not only did he create a disruptive business model but his company provide so much analytics and data about your environment. Often, we can forget about the disruption that there can be in any industry and with Joe he shared about how his varied experience and knowledge led him to disrupt the HVAC industry. Also, it was cool to hear about his CEO Hack related to googling.
I AM CEO Handbook Volume 3 is HERE and it's FREE. Get your copy here: http://cbnation.co/iamceo3. Get the 100+ things that you can learn from 1600 business podcasts we recorded. Hear Gresh's story, learn the 16 business pillars from the podcast, find out about CBNation Architects and why you might be one and so much more. Did we mention it was FREE? Download it today! 
Previous Episode: https://iamceo.co/2022/12/06/iam1576-founder-creates-comfort-device-at-home-using-modern-technology/
Transcription:

Joe Natoli Teaser 00:00
And what we do, as you mentioned, it's the world's first comfort service. So we provide analytics data health notifications and updates around your environment. So what's going on inside your home as far as temperature, air quality, all this stuff. And then we actually give you a free heat pump, a window-based heat pump that you can put in your window. It connects to our service and app. You get all these analytics on how you're using it.
Intro 00:24
Do you want to learn effective ways to build relationships, generate sales, and grow your business from successful entrepreneurs, startups, and CEOs without listening to a long, long, long interview? If so, you've come to the right place. Gresham Harkless values your time and is ready to share with you precisely the information you're in search of. This is the I am CEO podcast.
Gresham Harkless 00:51
Hello, hello, hello. This is Gresh from the I am CEO podcast and I appreciate you listening to this episode. And if you've been listening this year, we're doing something a little bit different where we're repurposing our favorite episodes under certain categories or topics. That we think are gonna be extremely impactful for CEOs, entrepreneurs, and business owners.
This month is going to be about not forgetting about the human part of business. Often we forget about the human part of life. We often forget about the human part of business. So look for self-care tips, fitness, burnout, purpose, biz and personal, personal branding, motivation, drive, success, understanding your why, and of course, how important customer service is. But at the heart of it, it's all about, remembering the human part of business. So sit back and enjoy this special episode of the I am CEO podcast.
Hello, hello, hello. This is Gresh from the I am CEO podcast. I have a very special guest on the show today. I have Joe Natoli of Looft. Joe, excited to have you on the show.
Joe Natoli 01:47
And I'm excited to be here, Gresh. Thanks for having me.
Gresham Harkless 01:50
Yeah, absolutely. And I love all the awesome things that you're doing. So before we jumped into the interview, I wanted to read a little bit more about some of those awesome things that Joe's doing. So you hear about some of those.
And Joe has had many titles throughout his career, actor, game designer, educator, full-stack, developer, and entrepreneur. His passion for delighting people through technology led him to found Looft, world's first cooling and heating comfort service company. While working at a venture builder in Leipzig, Germany. Joe brings knowledge of international startups, Silicon Valley, and having worked with billionaire investors, Tim Draper, and Draper University, teaching entrepreneurship around the world from Africa to Asia.
Afterwards, Joe settled in Europe to put his knowledge to work by forming ventures in the underserved markets of Eastern Germany, and Joe could be considered the ultimate startup guy having built, founded, or failed over a dozen startup businesses. Joe, excited again to have you on this show. Are you ready to speak to the I am CEO community?
Joe Natoli 02:44
Yeah, definitely. And, whoever that was that you just read about, sounds super interesting. So I'm excited to hear from that as well.