I AM CEO PODCAST
Tech
IAM1686 – Founder Offers Solution that can Transform Scalable Datas
Podcast Interview with Armon Petrossian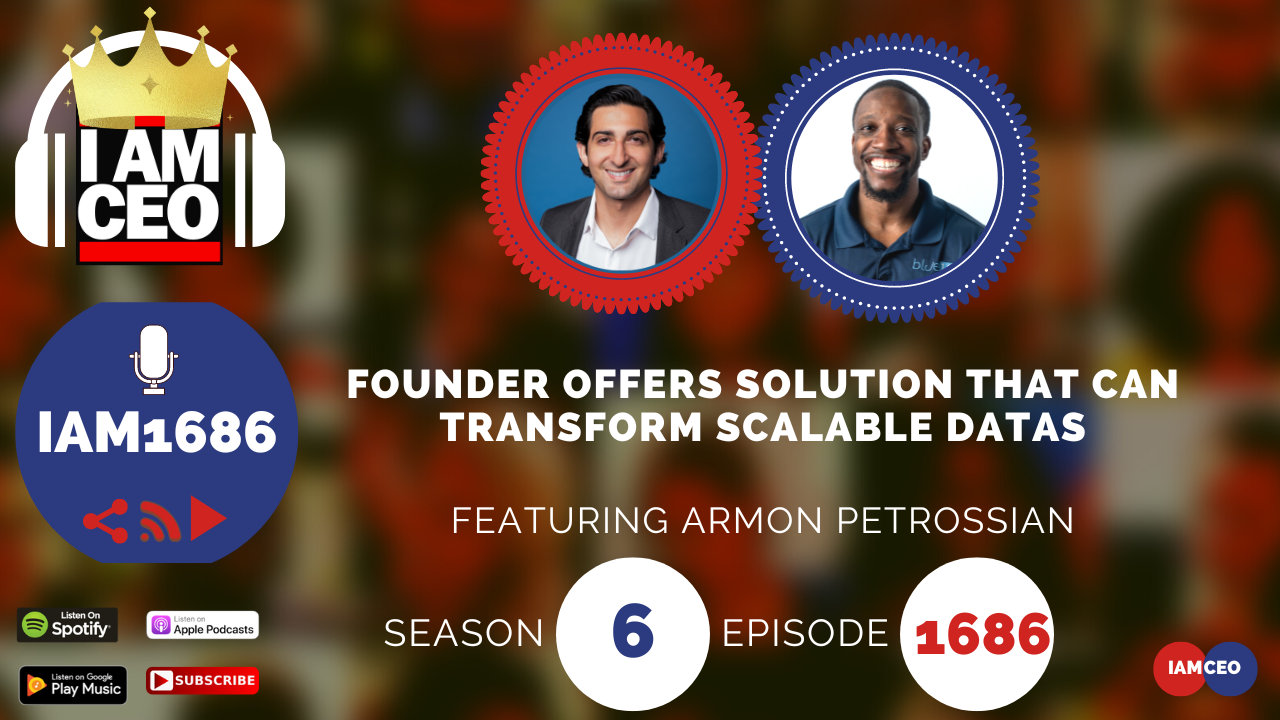 Why it was selected for "CBNation Architects": Armon's entrepreneurial journey started by seeing a gap in the market and a problem that came up over and over again so, he and his co-founder created a solution for a cloud database platform that is scalable and helps people get the insights of the data. I also loved that he talked about how powerful it is to be financially free before starting a company.
I AM CEO Handbook Volume 3 is HERE and it's FREE. Get your copy here: http://cbnation.co/iamceo3. Get the 100+ things that you can learn from the 1600 business podcasts we recorded. Hear Gresh's story, learn the 16 business pillars from the podcast, find out about CBNation Architects and why you might be one and so much more. Did we mention it was FREE? Download it today! 
Previous Episode: https://iamceo.co/2022/06/04/iam1391-founder-offers-solution-that-can-transform-scalable-datas/
Transcription:

Armon Petrossian Teaser 00:00
The largest bottleneck in analytics today, as efficient and scalable as possible, and what that bottleneck is, is taking data in its raw format when it's been landed in a cloud database platform, and actually transforming it to the point where it's consumable by, people in the business trying to drive insight out of that data.
Intro 00:22
Do you want to learn effective ways to build relationships, generate sales, and grow your business from successful entrepreneurs, startups, and CEOs without listening to a long, long, long interview?
If so, you'll come to the right place. Gresham Harkless values your time and is ready to share with you precisely the information you're in search of. This is the I am CEO podcast.
Gresham Harkless 00:49
Hello, hello, hello. This is Gresh from the I am CEO podcast and I appreciate you listening to this episode. And if you've been listening this year, we're doing something a little bit different where we're repurposing our favorite episodes. Under certain categories or topics that we think are gonna be extremely impactful for CEOs, entrepreneurs, and business owners, this month is going to be about not forgetting about the human part of business.
Often we forget about the human part of life. We often forget about the human part of business. So look for self-care, hips, fitness, burnout, purpose, biz, and personal, personal branding, motivation, drive, success, understanding your why.
And of course, how important customer service is, but at the heart of it, it's all about remembering the human part of business. So sit back and enjoy this special episode of the I am CEO podcast.
Hello, hello, hello. This is Gresh from the I am CEO podcast. I have a very special guest on the show today. I Armon Petrossian of Coalesce. Armon, super excited to have you on the show.
Armon Petrossian 01:47
So glad to be here, Gresh. Thanks for having me.
Gresham Harkless 01:50
Yeah, it's definitely awesome to have you on. And before we jumped into the interview, I want to read a little bit more about Armon so you can hear about all the awesome things that he's working on.
And as co-founder and CEO, Armon created Coalesce, the only data transformation tool built for scale. Prior to that, Armon was part of the founding team at WhereScape, a leading provider of data automation software.
At WhereScape, Armon served as a national sales manager for almost a decade. Armon, super excited to have you on the show again. Are you ready to speak to the I am CEO community?
Armon Petrossian 02:19
I'm so ready. Let's do it.