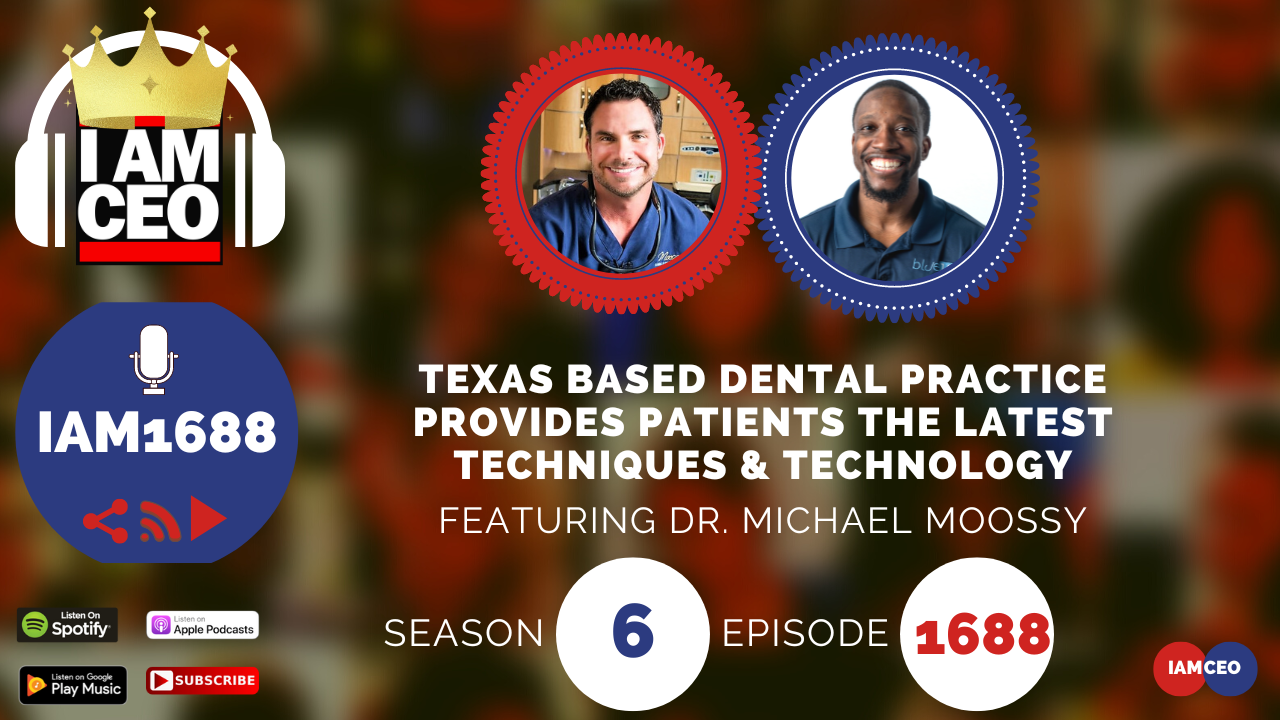 Why it was selected for "CBNation Architects": Dr. Michael Moossy gets how important dentristry is and as they have the latest technology and systems that they use, it's the understanding of how people want to be cared for and valued. We remember that it's important for clients but it's also important for employees and team members too. He also makes sure to keep track of how that environment is through reviews and feedback.
I AM CEO Handbook Volume 3 is HERE and it's FREE. Get your copy here: http://cbnation.co/iamceo3. Get the 100+ things that you can learn from 1600 business podcasts we recorded. Hear Gresh's story, learn the 16 business pillars from the podcast, find out about CBNation Architects and why you might be one and so much more. Did we mention it was FREE? Download it today! 
Previous Episode: https://iamceo.co/2018/11/12/iam105-texas-based-dental-practice-provides-patients-the-latest-techniques-technology/
Transcription:

Dr. Michael Moossy Teaser 00:00
It's realizing that this profession, dentistry, it's a service industry. It's customer service, man, and we do it well. I've got it down. It's all about hiring the right people, putting them in the right place, and making sure they're all on the same team with a common goal of treating the patient, with the utmost the best excellence in customer service.
Intro 00:21
Do you want to learn effective ways to build relationships, generate sales, and grow your business from successful entrepreneurs, startups, and CEOs without listening to a long, long, long interview? If so, you've come to the right place. Gresham Harkless values your time and is ready to share with you precisely the information you're in search of. This is the I am CEO podcast.
Gresham Harkless 00:48
Hello, hello, this is Gresh from the I am CEO podcast and I appreciate you listening to this episode. And if you've been listening this year, we're doing something a little bit different where we're repurposing our favorite episodes under certain categories or topics that we think are gonna be extremely impactful for CEOs, entrepreneurs, and business owners.
This month is going to be about not forgetting about the human part of business. Often we forget about the human part of life. We often forget about the human part of business. So look for self-care tips, fitness, burnout, purpose, biz and personal, personal branding, motivation, drive, success, understanding your why, and of course, how important customer service is. But at the heart of it, it's all about, remembering the human part of business. So sit back and enjoy this special episode of the I am CEO podcast.
Hello, hello, hello. This is Gresh from the I am CEO podcast and I have a very special guest on the show today. I have Dr. Michael Moossy of Moossy General and Cosmetic Dentistry. Dr. Michael it's awesome to have you on the show.
Dr. Michael Moossy 01:48
Thank you. Thank you. Glad to be here.
Gresham Harkless 01:49
Awesome. And what I want to do is just read a little bit about Dr. Michael so you can learn a little bit more about all the awesome things that he's doing. And Dr. Moossy is a native Texan, born in Dallas and raised in Lubbock. He received his undergraduate degree at St. Edwards University in Austin and went on to attain his doctorate of dental surgery at the University of Texas Dental Branch in Houston.
Dr. Moossy has been in practice since 1998. He owns two practices, one fee-for-service cosmetic practice, and one in-network insurance office. You'll find him at his flagship dental practice focusing primarily on cosmetics and reconstructive dentistry. He prides himself on exceeding the required continuing education for dentists each year and strives to keep himself and his practices up to date on the latest techniques in technology.
Dr. Moossy are you ready to speak to the I am CEO community?
Dr. Michael Moossy 02:42
Yeah, let's do this.