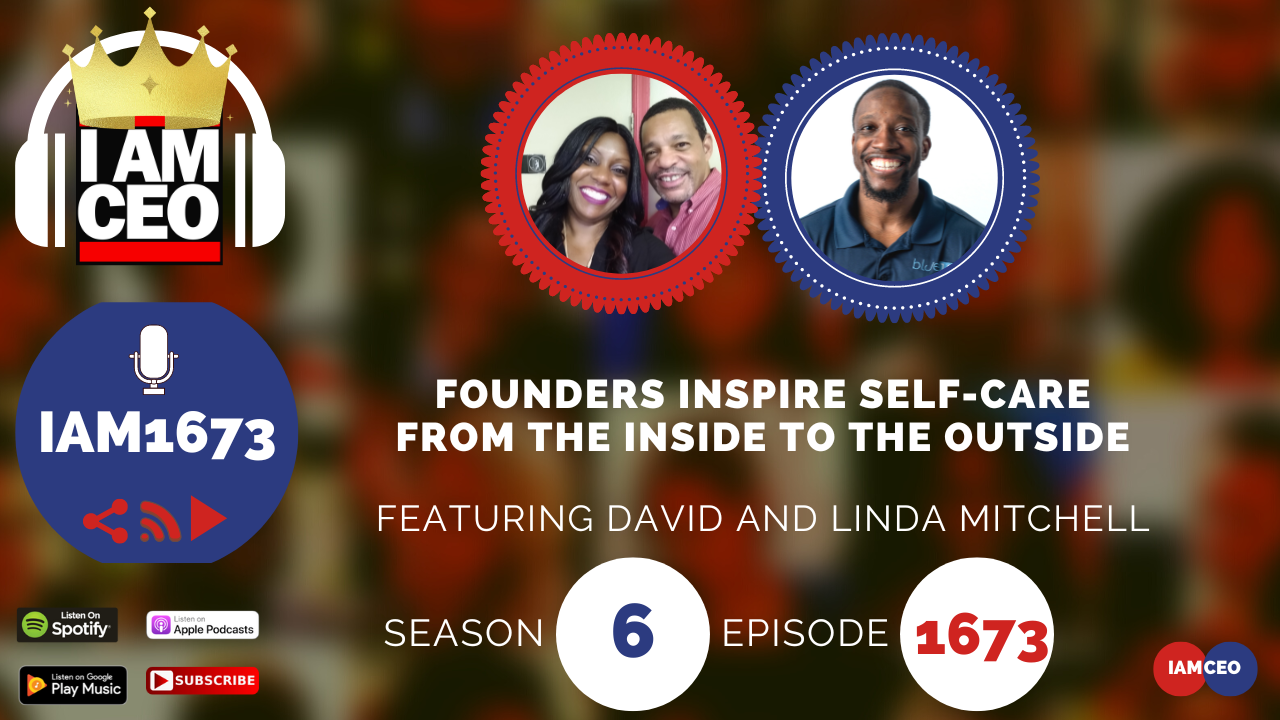 Why it was selected for "CBNation Architects": Linda is awesome and I met them at the very beginning when I started my business. I loved that she talked about her "happy place" and how many phenomenal things came from there. We talk about putting your oxygen mask on first and how important that is to give to others. I love the "Love" that Linda talked about and how that is manifested in everything that they have been able to build and grow.
Check out premium content in the CBNation Library at http://cbnation.co/library and pick up our eBook to hear some of the best lessons at http://cbnation.co/shop.
Previous Episode: https://iamceo.co/2020/02/14/iam550-founders-inspire-self-care-from-the-inside-to-the-outside/
Linda Mitchell Teaser 00:00
Yes, we are doing coaching. We offer Christian counseling. We offer life coaching and we offer couples coaching. All the things in our lives that we use every day. Prayer, praise, just taking care of ourselves, exercising, sharing scripture, reading the word. We share it with our clients to encourage them to have a good life, to be healthy and to be happy.
Intro 00:24
Do you want to learn effective ways to build relationships, generate sales, and grow your business from successful entrepreneurs, startups, and CEOs without listening to a long, long, long interview? If so, you've come to the right place. Gresham Harkless values your time and is ready to share with you precisely the information you are in search of. This is the I am CEO podcast.
Gresham Harkless 00:51
Hello, hello, hello. This is Gresh from the I am CEO podcast, and I appreciate you listening to this episode. And if you've been listening this year, we're doing something a little bit different where we're repurposing our favorite episodes under certain categories or topics that we think are gonna be extremely impactful for CEOs, entrepreneurs, and business owners.
This month is going to be about not forgetting about the human part of business. Often we forget about the. Part of life, we often forget about the human part of business. So look forward to self-care tips, fitness, burnout, purpose, biz and personal, personal branding, motivation, drive, success, understanding your why, and of course, how important customer service is. But at the heart of it, it's all about remembering the human part of business. So sit back and enjoy this special episode of the I am CEO podcast.
Hello, hello, hello. This is Gresh from the I am CEO podcast and I have a very special guest on the show today. I've Linda Mitchell from David and Linda Mitchell, and we're just interviewing Linda today, but they're both from this Sweetheart Mitchell Collection. Linda, it's awesome to have you on the show.
Linda Mitchell 1:54
Glad to be here, Gresham. I appreciate you.
Gresham Harkless 01:57
Yeah, no problem. I definitely appreciate you as well too. And what I wanted to do was just read a little bit more about their business so you can hear about all the awesome things that they're doing. And David and Linda are CEO and founders of Sweetheart Mitchell Collection, a collection of self-love and self-care products and services that inspire you to take care of yourself from inside to the outside.
Their services range from Christian counseling to couples coaching to individual self-love and self-care coaching. Their homemade products range from all-natural whipped body butter to massage candles to herbal supplements. Linda, are you ready to speak to the I am CEO community?
Linda Mitchell 02:30
I am so ready. Hello everyone.