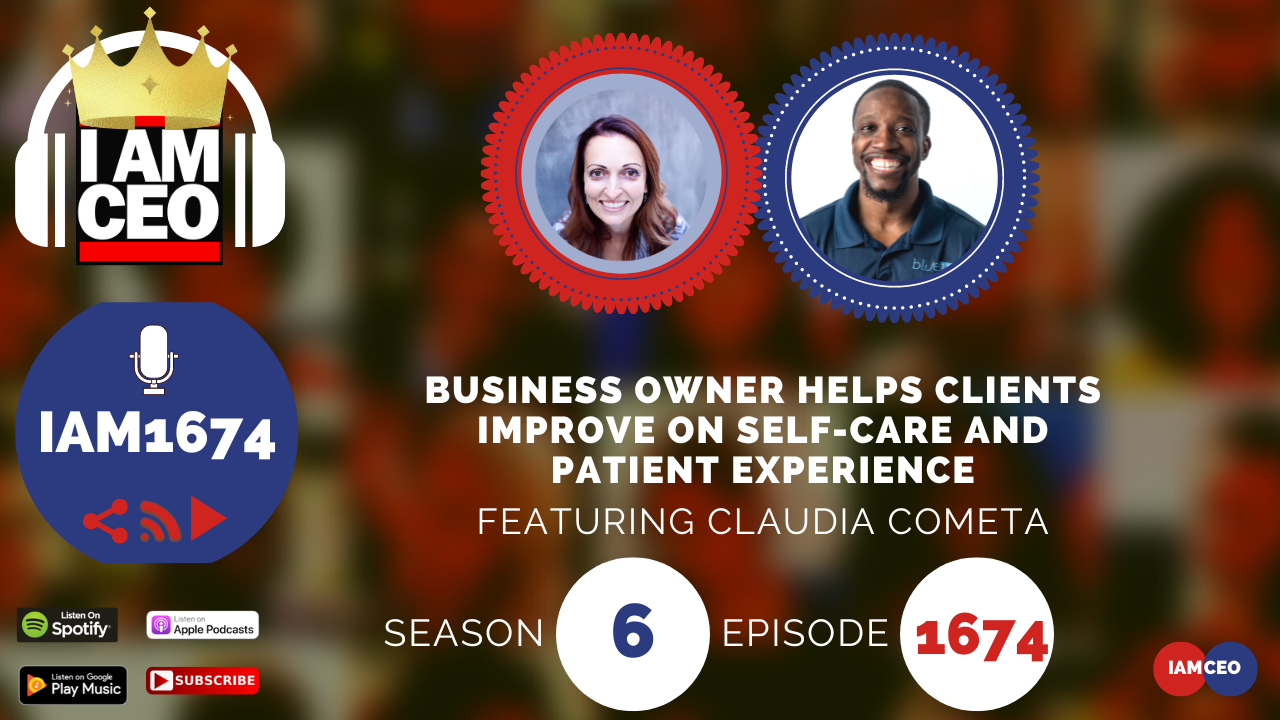 Why it was selected for "CBNation Architects": Claudia gets "it" and she works with clients to be that "guiding light" and be an advocate for something that is so important for all of us which is our health and wellness.  We talked about self-care, the power in "surrendering" and how impactful that can be in life but also in business. Her definition of being a CEO is being a human "being" and not a human "doing" also was very impactful.
Check out premium content in the CBNation Library at http://cbnation.co/library and pick up our eBook to hear some of the best lessons at http://cbnation.co/shop.
Previous Episode: https://iamceo.co/2019/05/17/iam277-business-owner-helps-clients-improve-on-self-care-and-patient-experience/
Transcription:

Claudia Cometa Teaser 00:00
For some people it's the young entrepreneurs who are hustling and doing their thing but also neglecting themselves, neglecting self-care. And they are now realizing I'm having these symptoms. I am, going to the doctor. I'm not getting the answers and I need help because I don't, this is not my full-time job.
I am not a healthcare professional and I have a hustle that I'm doing, and I just don't, simply don't have the time to be Google MD. So I need somebody to walk me through this mess.
Intro 00:27
Do you want to learn effective ways to build relationships, generate sales, and grow your business from successful entrepreneurs, startups, and CEOs without listening to a long, long, long interview?
If so, you've come to the right place. Gresham Harkless values your time and is ready to share with you precisely the information you're in search of. This is the I am CEO podcast.
Gresham Harkless 00:54
Hello, hello, hello, this is Gresh from the I am CEO podcast and I appreciate you listening to this episode. And if you've been listening this year, we're doing something a little bit different where we're repurposing our favorite episodes under certain categories or topics.
That we think are gonna be extremely impactful for CEOs, entrepreneurs, and business owners. This month is going to be about not forgetting about the human part of business. Often we forget about the human part of life. We often forget about the human part of business. So look for self-care tips, fitness, burnout, purpose, biz, and personal, personal branding, motivation, drive, success, understanding your why, and of course, how important customer service is.
But at the heart of it, it's all about, remembering the human part of business. So sit back and enjoy this special episode of the I am CEO podcast.
Hello, hello, hello. This is Gresh from the I am CEO podcast and I have a very special guest on the show today. I have Claudia Cometa of Peace Advocacy Group.
Claudia, it's awesome to have you on the show.
Claudia Cometa 01:51
So great to be here with you, Gresham. Thanks for having me.
Gresham Harkless 01:54
No problem. Super excited to have you on. And what I want to do was just read a little bit more about Claudia so you can hear about all the awesome things that she's doing.
And Claudia is a pharmacist turned business owner who lives her life purposefully and passionately. She worked for over a decade as a clinical pharmacist, then was quickly forced to see the healthcare system from the patient's side after her father was diagnosed with lymphoma.
It was this year-long struggle that shifted her course permanently. She now is on a mission to help others find clarity in their own healthcare journeys and ultimately seek true wellness, which integrates mind, body, and spirit.
Claudia, are you ready to speak to the I am CEO community?
Claudia Cometa 02:30
Absolutely. Can't wait.