DMV CEO
I AM CEO PODCAST
IAM1672 – Personal Brand Specialist Enables CEOs and Executives to Define Their Brands
Podcast Interview with Jen Dalton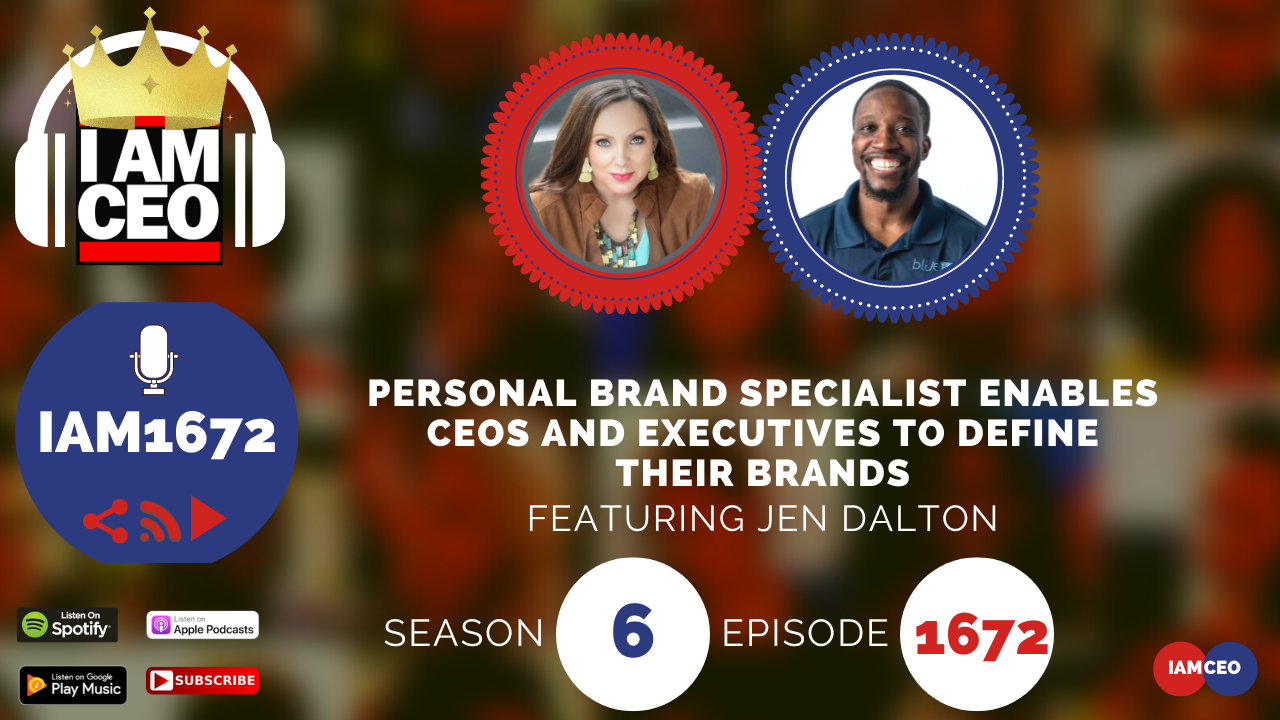 Why it was selected for "CBNation Architects": Jen does so many awesome things and she fully understands how a brand, especially your personal brand is a foundation of the business that you build and grow. She understands the importance of strategy and knowing your "why" and how that directs so much of us as individuals but also our organizations.
Check out premium content in the CBNation Library at http://cbnation.co/library and pick up our eBook to hear some of the best lessons at http://cbnation.co/shop.
Previous Episode: https://iamceo.co/2021/09/05/iam1119-personal-brand-enables-ceos-and-executives-to-define-their-brands/
Transcription:

Jen Dalton Teaser 00:00
I think it's important to remember that from an imposter syndrome standpoint, and interestingly enough, there's research that shows 70% of people have imposter syndrome. There's a difference in knowing who you are and knowing what your job entails or information about a company.
Intro 00:21
Are you ready to hear business stories and learn effective ways to build relationships, generate sales, and level up your business from awesome CEOs, entrepreneurs, and founders, without listening to a long, long, long interview?
If so, you've come to the right place. Gresh values your time and is ready to share with you the valuable info you're in search of. The I am CEO podcast.
Gresham Harkless 00:48
Hello, hello, hello. This is Gresh from the I am CEO podcast and I appreciate you listening to this episode. And if you've been listening this year, we're doing something a little bit different where we're repurposing our favorite episodes under certain categories or topics that we think are gonna be extremely impactful for CEOs, entrepreneurs, and business owners.
This month is going to be about not forgetting about the human part of business. Often we forget about the human part of life. We often forget about the human part of business. So look forward to self-care tips, fitness, burnout, purpose, biz and personal, personal branding, motivation, drive, success, understanding your why, and of course, how important customer service is. But at the heart of it, it's all about, remembering the human part of business. So sit back and enjoy this special episode of the I am CEO podcast.
Hello, hello, hello. This is Gresh from the I am CEO podcast and I have a very special guest on the show today. I have Jen Dalton of Brand Mirror. Jen, it's great to have you on the show.
Jen Dalton 01:45
Thank you so much for having me.
Gresham Harkless 01:47
Super excited to have you on and before we jumped into the interview, I wanted to read a little bit more about Jen so you can hear about all the awesome things that she's doing. And as a personal brand specialist with entrepreneurship in her DNA, Jen helps business owners and executives define how they show up as leaders and make the most of their strengths, and tend to their legacy growth and visibility.
She is passionate about enabling individuals and companies to define their brands and differentiate themselves in authentic, credible, and relevant ways to the market. She is the author of The Intentional Entrepreneur in 2016, and Listen: How to Embrace The Difficult Conversations Life Throws At You (December 7th, 2020). An international speaker and reputation coach, she collaborates with CEO's, executives, and startups to live their purpose authentically and intentionally.
She's been featured at Inc., Forbes Authority Magazine, Thrive Global, the Washington Post, and HLN. And Jen is a mover and shaker always doing phenomenal things in the community, in the DMV area. So super excited to have her on the show and hear about how she makes all these businesses and entrepreneurs and executives able to communicate all the awesome things they're doing.
So, Jen, great to have you on the show. Are you ready to speak to the I am CEO community?
Jen Dalton 02:59
I am so excited to be here. I can't wait.