CBNation
I AM CEO PODCAST
IAM1651 – TV Host & Global Business Celebrity Builds His Network of C-Suite Leaders
Podcast Interview with Jeffrey Hayzlett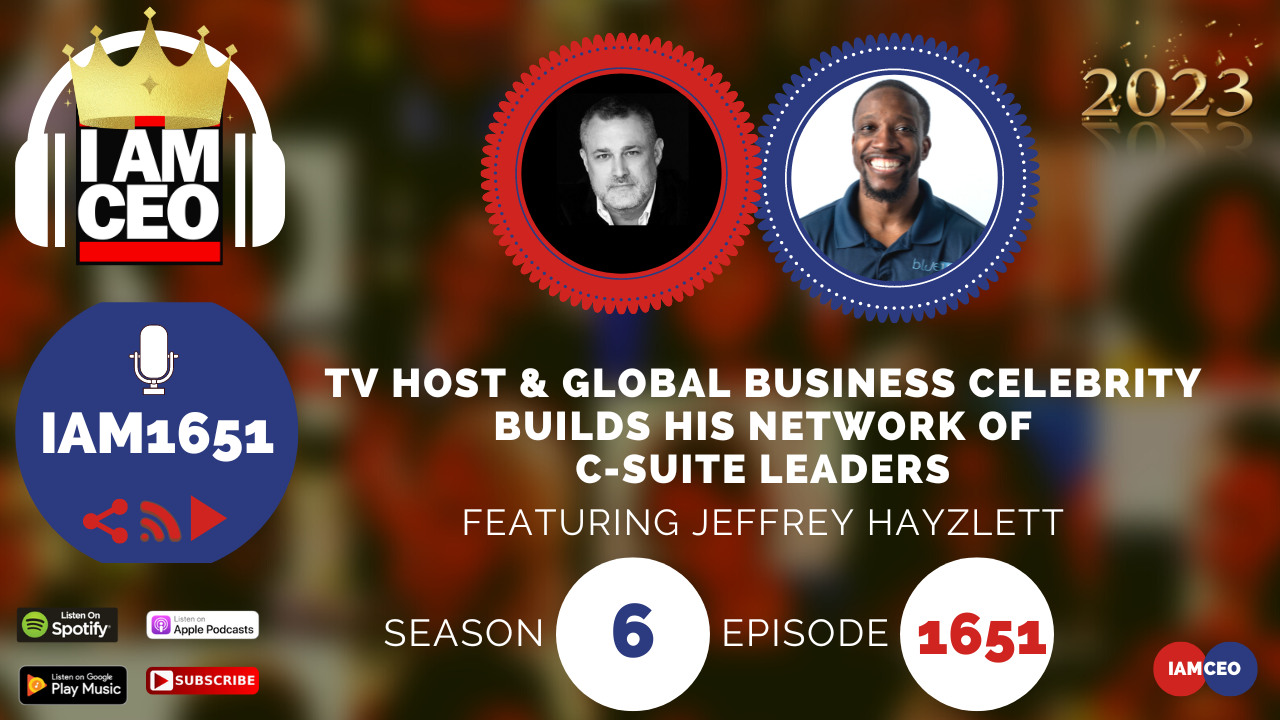 Why it was selected for "CBNation Architects": Jeffrey has built a community and network of C-Suite executives. It was great to hear his story and how he took something he leveraged while growing his company and brought it to so many people.
Check out premium content in the CBNation Library at http://cbnation.co/library and pick up our eBook to hear some of the best lessons at http://cbnation.co/shop.
Previous Episode: https://iamceo.co/2018/10/04/iam078-tv-host-global-business-celebrity-build-his-network-of-c-suite-leaders/
Transcription:

Jeffrey Hayzlett Teaser 00:00 
Being relentless. I'm relentless. If I get onto something, whatever it is I'm gonna do, we're gonna do it. Sooner or later it's gonna get done. So that, you have to have, that's one of the things I think makes up our hero CEOs, is that they're also relentless in the ability of going after what they want and focusing on the key things.
So, That's mine. It's relentless. I'm relentless.
Intro 00:21
Do you want to learn effective ways to build relationships, generate sales, and grow your business from successful entrepreneurs, startups, and CEOs without listening to a long, long, long interview?
If so, you come to the right place. Gresham Harkless values your time and is ready to share with you precisely the information you are in search of. This is the I am CEO podcast.
Gresham Harkless 00:46
Hello, hello, hello. This is Gresh from the I am CEO podcast and we're doing something a little bit different this year with some of our episodes we're repurposing some of our favorite episodes around specific topics related to entrepreneurship. This month we're focusing on entrepreneurship and community.
Us, we, our, together. And we're gonna look at entrepreneurship and industries in different types of entrepreneurship and ultimately what that really means. But we're also gonna delve deeper into the importance of community networking niche communities and how that supports being a CEO entrepreneur and business owner.
So sit back and enjoy these special episodes around entrepreneurship and community.
Hello, hello, hello, this is Gresh from the I am CEO podcast and I have a very special guest on the show today. I have Jeffrey Hayzlett of C-Suite Network. Jeffrey is awesome to have you on the show.
Jeffrey Hayzlett 01:33
It's good to be here. Thanks so much for having me.
Gresham Harkless 01:35
No problem. And what I wanted to do was just read a little bit more about Jeff so you can learn a little bit more about all the awesome things that he's doing.
And Jeffrey is a primetime television host of C-Suite with Jeffrey Hayzlett and Executive Perspectives on C-Suite TV and business Podcast host of All Business with Jeffrey Hayzlett on C-Suite Radio. He's a global business celebrity speaker, bestselling author and chairman, and CEO of the C-Suite network. Home of the world's most trusted network of C-suite leaders. Hayzlett is a well-traveled public speaker, former Fortune 100 CMO, and author of three bestselling books Think Big, Act Bigger. The Rewards of Being Relentless, Running the Gauntlet and the Mirror Test. Hayzlett is one of the most compelling figures in business today and inducted into the National Speakers Association Speaker Hall of Fame.
Jeffrey, are you ready to speak to the I am CEO community?
Jeffrey Hayzlett 02:29
I am ready. Thank you.