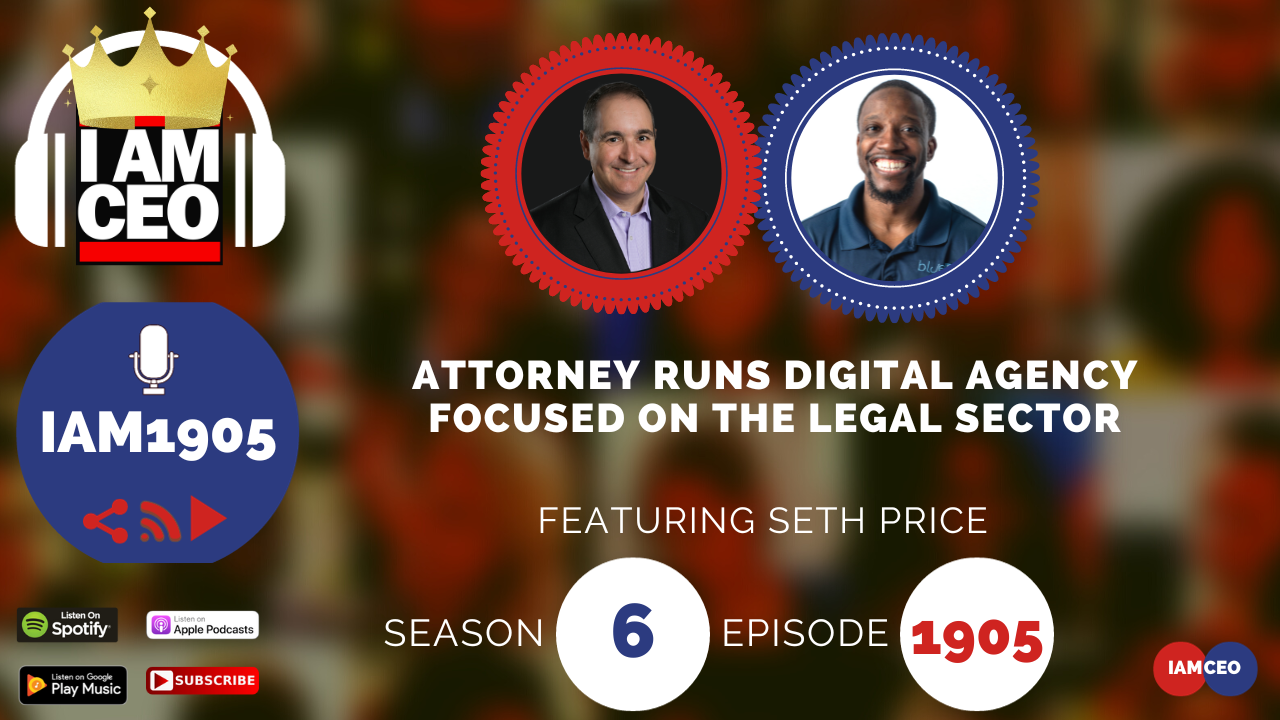 Why it was selected for "CBNation Architects":
In this episode of IAMCEO podcast, Seth Price, founding partner of Price Benowitz LLP and the founder and CEO of BluShark Digital, outlines his journey within the legal sector and digital marketing industry.
Seth successfully scaled a two-person law firm to 40 lawyers in less than a decade and leveraged the digital skills that contributed to this growth to establish a top-tier digital agency, BluShark Digital, focused on serving the legal sector.
As a transformational thought-leader with significant experience, Seth has been a regular speaker and moderator at some of the largest law conferences in the U.S., offering insights on aligning business development strategies with evolving consumer habits in the legal industry. His topics typically range from building a firm, ethics, firm operations best practices, SEO, to digital marketing in general.
Key points from the podcast include:
CEO Hack: Seth underscored the importance of establishing and adhering to processes and systems.
CEO Nugget: Seth mentioned, "You don't know what you don't know," implying the importance of continuous learning and adapting to changing tides in business.
CEO Defined: Seth described the role of a CEO as being there for their team, suggesting a sense of responsibility, engagement, and support towards the team.
Check out our CEO Hack Buzz Newsletter–our premium newsletter with hacks and nuggets to level up your organization. Sign up 
HERE
. 

I AM CEO Handbook Volume 3
 is HERE and it's FREE. Get your copy here: 
http://cbnation.co/iamceo3
. Get the 100+ things that you can learn from 1600 business podcasts we recorded. Hear Gresh's story, learn the 16 business pillars from the podcast, find out about CBNation Architects and why you might be one and so much more. Did we mention it was FREE? Download it today!
Transcription:
The full transcription is only available to CBNation Library Members. Sign up today!
Seth Price Teaser 00:00
I think the piece that I've gotten to know over time is you don't know what you don't know, and the sooner you get to that point, the better. And so look, there's stuff that I know, but you don't know what you don't know. That happens in life in general on a regular basis.
And that the sooner that you embrace that they're constantly, how do I improve? how do I find expertise that can help me move the ball forward?
Intro 00:25
Are you ready to hear business stories and learn effective ways to build relationships, generate sales, and level up your business from awesome CEOs, entrepreneurs and founders without listening to a long, long, long interview?
If so, you've come to the right place. Gresh values your time and is ready to share with you the valuable info you're in search of.
This is the IAMCEO podcast.
Gresham Harkless 00:52
Hello, hello, hello. This is Gresh from the IAMCEO podcast, and I appreciate you listening to this episode. If you've been listening this year, you know that we hit 1600 episodes at the beginning of this year. We're doing something a little bit different where we're repurposing our favorite episodes around certain categories, topics, or as I like to call them business pillars that we think are going to be extremely impactful for CEOs, entrepreneurs, and business owners, or what I like to call CB Nation architects who are looking to level up their organizations.
This month, we are focused on innovation, disruption, women entrepreneurship, DEI, the gig economy, remote economy, even the cannabis industry. Think about these industries and these disruptive technologies that really sometimes aren't as disruptive, but there are people that are just paying attention to what the market needs and they're providing that. So really think about the things that are quote and quote outside of the norm, but really help entrepreneurship to grow and fully develop.
I think it's an extremely exciting time when you're talking about any type of innovation or disruption, because I think that there's so many opportunities and needs that aren't felt that are starting to be filled by different groups, different organizations, or even different industries. So what I want you to do is sit back and enjoy this special episode of the IAMCEO podcast.
Hello, hello, hello. This is Gresh from the IAMCEO podcast. I have a very special guest on the show today. I have Seth Price, of BluShark Digital and Price Benowitz. Seth, it's great to have you on the show.
Seth Price 02:16
Great to be here. Thank you for having me.
Gresham Harkless 02:17
Definitely super excited to have you on. Before we jump in, I want to read a little bit more about Seth so you can hear about all the awesome things that he's doing.
He's an accomplished attorney and transformational thought leader. Seth Price is a founding partner in the business backbone of Price Benowitz, as well as the founder and CEO of BluShark Digital.
Seth took a two-person law firm scaled it to 40 lawyers in less than a decade. Now he takes the same digital power that brought the firm to create a best-in-class digital agency focused on the legal sector in BluShark Digital.
Seth, great to have you on the show. Are you ready to speak to the IAMCEO Community?
Seth Price 02:45
I am ready. I should just bring you everywhere. If I have someone introducing me like that, life would be a lot easier.