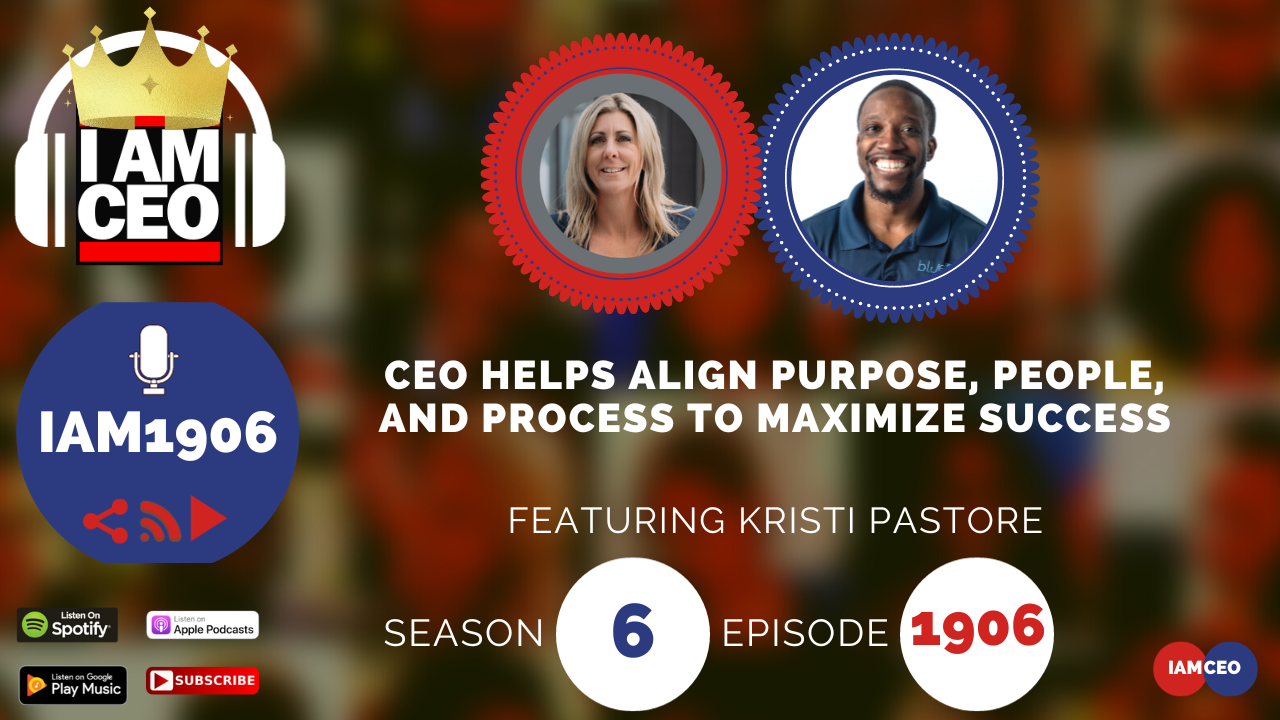 Why it was selected for "CBNation Architects":
In this episode of IAMCEO podcast, Kristi Pastore, the CEO of Culture Works, speaks about how she helps businesses reach their full potential by aligning their purpose, people, and processes.
Culture Works is a San Diego-based company that focuses on creating dynamic operations within a company through its culture. Kristi and her team work with small to mid-sized clients who might not have an HR department or only one person fulfilling this role. They aim to understand these companies' purpose and how they align with their employees, improving their HR and talent management strategies to facilitate growth.
Key insights from the podcast include:
CEO Story: A long-time passion for people and business led Kristi to the field of HR and eventually to start Culture Works. She saw a significant need in the market to develop middle management and to support companies that constantly evolve in their thought process on people and build.
CEO Hack: Kristi uses a family vision board both at home and at work to keep track of her goals and to inspire herself to keep pushing forward.
CEO Nugget: She urges everyone to listen closely to themselves and to those who believe in you and support you.
CEO Defined: To Kristi, being a CEO is about creating a vision and aligning your energy with the direction you're leading.
Check out our CEO Hack Buzz Newsletter–our premium newsletter with hacks and nuggets to level up your organization. Sign up 
HERE
. 

I AM CEO Handbook Volume 3
 is HERE and it's FREE. Get your copy here: 
http://cbnation.co/iamceo3
. Get the 100+ things that you can learn from 1600 business podcasts we recorded. Hear Gresh's story, learn the 16 business pillars from the podcast, find out about CBNation Architects and why you might be one and so much more. Did we mention it was FREE? Download it today!
Transcription:
The full transcription is only available to CBNation Library Members. Sign up today!
Kristi Pastore Teaser 00:00
So we look at all three different levels. We look at their talent, their culture, and their HR in those different facets, and really try to understand where they're at as a life cycle of the company and how we can fit in.
Intro 00:13
Do you want to learn effective ways to build relationships, generate sales, and grow your business from successful entrepreneurs, startups, and CEOs without listening to a long, long, long interview?
If so, you've come to the right place. Gresham Harkless values your time and is ready to share with you precisely the information you're in search of.
This is the I am CEO podcast.
Gresham Harkless 00:40
Hello. Hello. Hello. This is Gresham from the IAMCEO podcast, and I appreciate you listening to this episode. If you've been listening this year, you know that we hit 1600 episodes at the beginning of this year. We're doing something a little bit different where we're repurposing our favorite episodes around certain categories, topics, or as I like to call them business pillars that we think are going to be extremely impactful for CEOs, entrepreneurs, and business owners, or what I like to call CB nation architects who are looking to level up their organizations.
This month, we are focused on innovation, disruption, women entrepreneurship, DEI, gig economy, remote economy, even the cannabis industry. Think about these industries and these disruptive technologies that really sometimes aren't as disruptive but there are people that are just paying attention to what the market needs, and they're providing that. So really think about the things that are quote and quote outside of the norm, but really help entrepreneurship to grow and fully develop.
I think it's an extremely exciting time when you're talking about any type of innovation or disruption, because I think that there are so many opportunities and needs that aren't felt that are starting to be filled by different groups, different organizations, or even different industries. So what I want you to do is sit back and enjoy this special episode of the IAMCEO podcast.
Hello, hello, hello. This is Gresh from the IAMCEO podcast and I have a very special guest on the show today. I have Kristi Pastore of CultureWorks. Kristi, it's awesome to have you on the show.
Kristi Pastore 02:04
So nice to be here. Thanks for having me.
Gresham Harkless 02:06
No problem. Super excited to have you on. Before we jump in, I want to read a little bit more about Kristi so you can hear about all the awesome things that she's doing.
Kristi Pastore is of CultureWorks and she's the CEO of CultureWorks, a San Diego-based company focused on aligning purpose, people in process to maximize success through dynamic company culture operations.
Kristi, are you ready to speak to the IAMCEO community?
Kristi Pastore 02:30
I am. Let's do it.