DMV CEO
I AM CEO PODCAST
IAM1637 – CEO Builds a Community of Business Advisors and CEO's
Podcast Interview with Mark Haas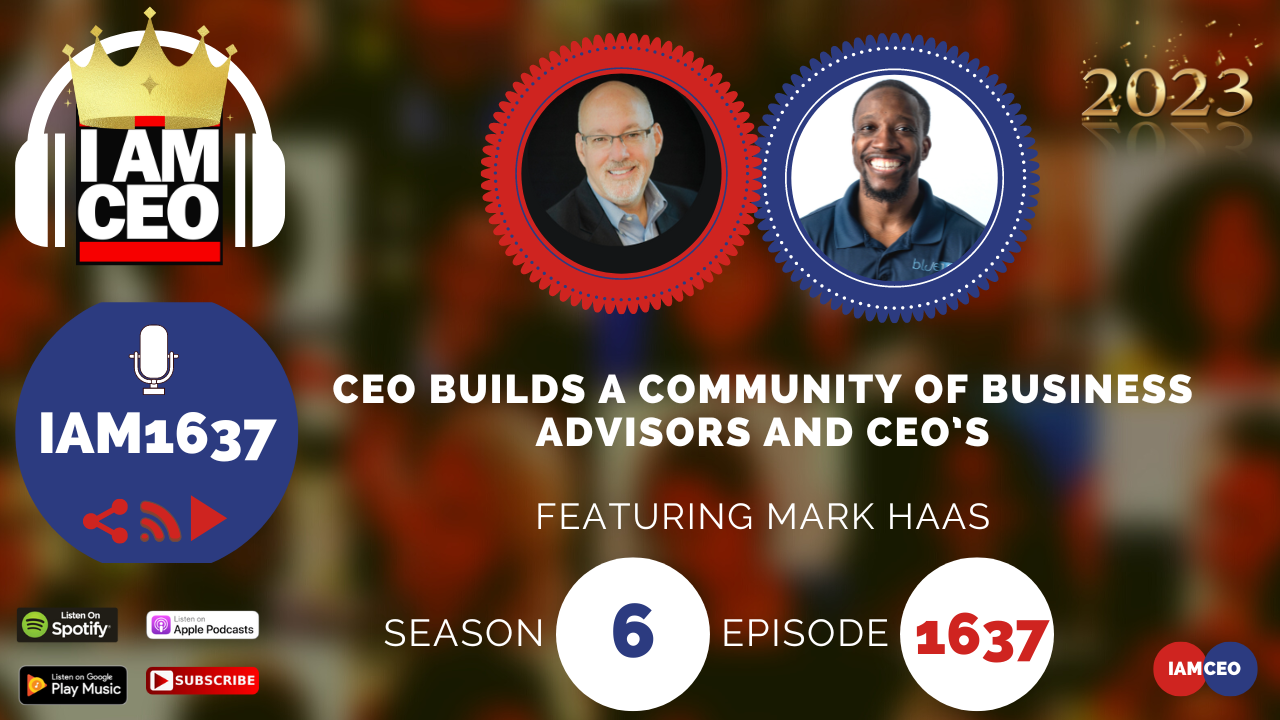 Why it was selected for "CBNation Architects": Mark spoke about complexity and how he created an "ecosystem" to solve the problems of CEOs in their community. It was also to listen to the foundational principles, values, and ethics in the organizations he's been able to grow.
Check out premium content in the CBNation Library at http://cbnation.co/library and pick up our eBook to hear some of the best lessons at http://cbnation.co/shop.
Previous Episode: https://iamceo.co/2022/09/11/iam1490-ceo-builds-a-community-of-business-advisors-and-ceos/
Transcription:

Mark Haas 00:00
And, I think if you're gonna set the culture, set the tone for the culture of an organization, you have to have some grounding in a philosophy or a vision or whatever. I mean, the company has a vision. Well, what's your vision? And is it aligned? I know a lot of clients I've had had their idea about where they want to go personally is different from the company, and you guys either ought to have gotten on the same page or part ways or something.
Intro 00:26
Do you want to learn effective ways to build relationships, generate sales, and grow your business from successful entrepreneurs, startups, and CEOs without listening to a long, long, long interview? If so, you come to the right place. Gresham Harkless values your time and is ready to share with you precisely the information you're in search of. This is the I am CEO podcast.
Gresham Harkless 00:52
Hello, hello, hello. This is Gresh from the I am CEO podcast and we're doing something a little bit different. This year with some of our episodes we're repurposing some of our favorite episodes around specific topics related to entrepreneurship. This month we're focusing on entrepreneurship and community.
Us. We, our together, and we're gonna look at entrepreneurship and industries in different types of entrepreneurship, and ultimately what that really means.
But we're also gonna delve deeper into the importance of community networking niche communities and how that supports being a CEO, entrepreneur, and business owner.
So sit back. And enjoy these special episodes around entrepreneurship and community.
Hello, hello, hello, this is Gresh from the I am CEO podcast. I have a very special guest on the show today. I have Mark Haas of AEG. Mark, super excited to have you on the show.
Mark Haas 01:38
Great. Thanks to be here, Gresh. Looking forward to it.
Gresham Harkless 01:41
Yes, I'm looking forward to it as well too. You're doing so many awesome things and what I wanted to do before we jumped into the interview was read a little bit more about Mark so you can hear about some of those awesome things. And Mark is co-founder and CEO of AEG the Association for Enterprise Growth.
He's responsible for leading the expansion of AEG's national ecosystem of city-based communities of elite business advisors and successful mid-market CEOs. Formerly as a management consultant, he advised executives and boards in strategy and operations, including biomedical research, social services, technology, education, and professional services.
He's facilitated high visibility sessions such as World War for military strategy response to nuclear terrorism, national health security training, and STEM education. CEO roundtables are, and it is an international trainer with clients in Europe, Asia, and Africa, and is an ethics officer as well. Mark, you're doing so many awesome things, excited to have you here today.
Are you ready to speak to the I am CEO community?
Mark Haas 02:39
I am certainly doing that.