I AM CEO PODCAST
IAM1638 – Founder Creates a Community Service for Young Girls
Podcast Interview with Shantay Carter
dw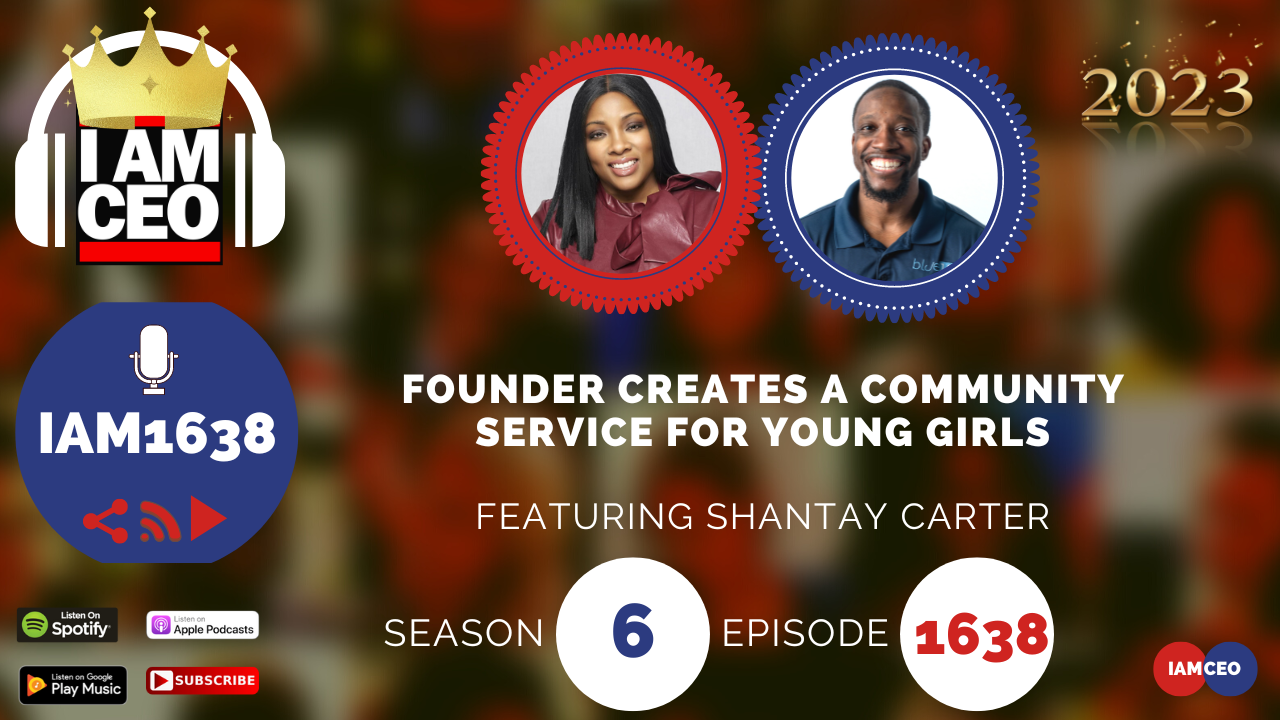 Why it was selected for "CBNation Architects": Shantay spoke about her journey and how something good came out of a less-than-ideal time–"she wanted to take the negative energy and turn it into something positive." Her organization is similar to the support system she had during a challenging time that she went through. We loved hearing how she made that impact through her non-profit and continues to innovate from there.
Check out premium content in the CBNation Library at http://cbnation.co/library and pick up our eBook to hear some of the best lessons at http://cbnation.co/shop.
Previous Episode: https://iamceo.co/2022/02/13/iam1280-community-service-that-brings-genuine-smile-to-young-girls/
Transcription:

Shantay Carter 00:00
To see those young girls come in and be able to find dresses that they need for the prom, the looks on their faces, and the smiles are priceless. Like that's something like you know that okay, I'm here, I'm fulfilling my purpose and I did my job.
Intro 00:15 Do you want to learn effective ways to build relationships, generate sales, and grow your business from successful entrepreneurs, startups, and CEOs without listening to a long, long, long interview?
If so, you've come to the right place. Gresham Harkless values your time and is ready to share with you precisely the information you're in search of. This is the I am CEO podcast.
Gresham Harkless 00:41
Hello, hello, hello, this is Gresh from the I am CEO podcast and we're doing something a little bit different this year with some of our episodes we're repurposing some of our favorite episodes around specific topics related to entrepreneurship.
This month we're focusing on entrepreneurship and community. Us. We, our together and we're gonna look at entrepreneurship and industries and different types of entrepreneurship and ultimately what that really means. But we're also gonna delve deeper into the importance of community networking niche communities and how that supports being a CEO entrepreneur and business owner.
So sit back and enjoy these special episodes around entrepreneurship and community.
Hello, hello, hello, this is Gresh from the I am CEO podcast. I have a very special guest on the show today. I, Shantay Carter of Women of Integrity Inc. Shantay, it's great to have you on the show.
Shantay Carter 01:28
Thank you. Thank you for having me.
Gresham Harkless 01:29
Yes, super excited to have you on and hear about all the awesome things that you're doing. But before we do that, I wanted to read a little bit more about Shantay so you can hear about some of those awesome things. And Shantay better known as the Nurse Philanthropist has been a registered nurse for over the past 21 years.
She is the founder of Women of Integrity Inc., Men of Integrity, Inc., And co-founder of Nurses of Integrity. She's an award-winning Empowerment Leader and Public Speaker, and she is also the best-selling author of Destined for Greatness. Shantay is a proud member of the NAACP, Alpha Kappa Alpha Sorority, Incorporated. The Nassau County Medical Reserve Corp, the NY chapter of the American Nurse Association, and the Greater NYC Black Nurses Association.
And her passion and purpose is to educate, empower, and inspire the youth and her fellow nurses. Shantay believes that being of service is one of the greatest rewards in life. Shantay, super excited to have you on here about all the awesome things that you're doing.
Are you ready to speak to the I am CEO community?
Shantay Carter 02:27
Yes, I am. Thank you. Thank you.