I AM CEO PODCAST
IAM1639 – Founder Helps Businesses Grow Their Investment
Podcast Interview with Barrett Y. Bogue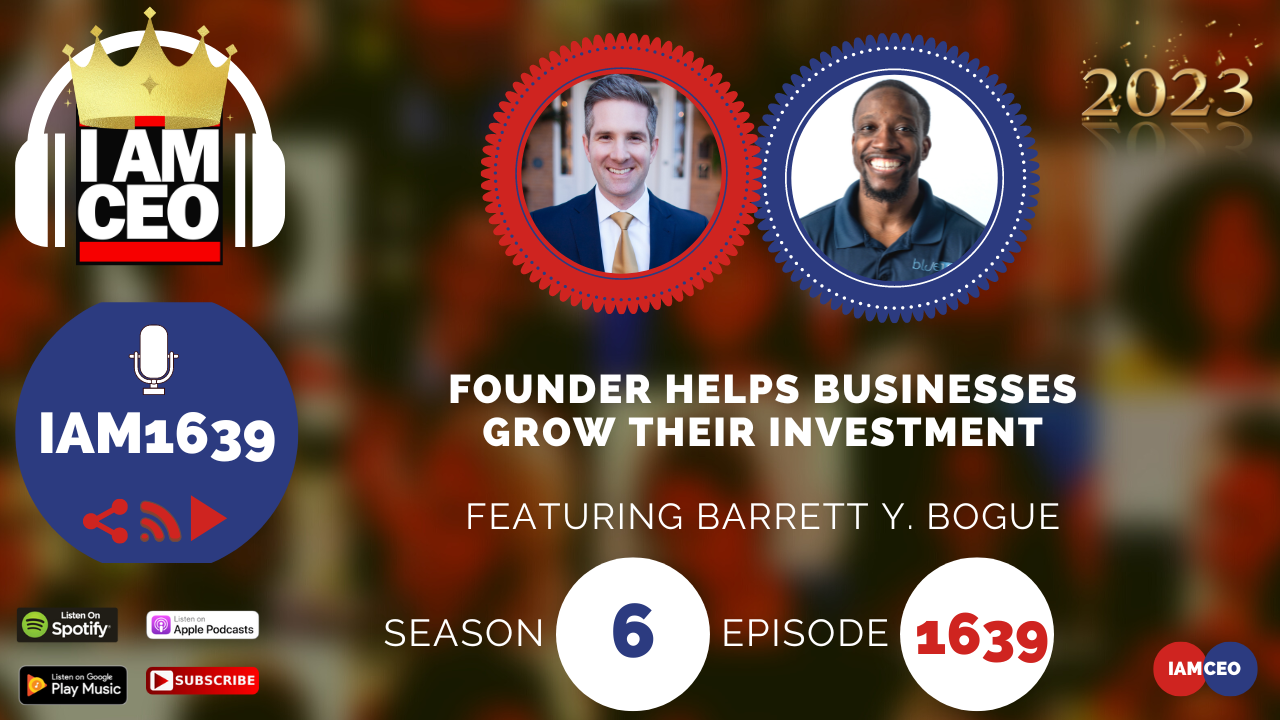 Why it was selected for "CBNation Architects": Barrett has a great pulse on the military-connected community and how powerful it is when you are connected and entrenched within the community you can go deep in being able to serve them.
Check out premium content in the CBNation Library at http://cbnation.co/library and pick up our eBook to hear some of the best lessons at http://cbnation.co/shop.
Previous Episode: https://iamceo.co/2021/03/01/iam931-founder-helps-businesses-grow-their-investment/
Transcription:

Barrett Y. Bogue Teaser 00:00
Start small, think big. Definitely like I said earlier, date your business idea before you're ready to marry it. And be intentional and purposeful in what you're doing.
Intro 00:11
Are you ready to hear business stories and learn effective ways to build relationships, generate sales, and level up your business from awesome CEOs, entrepreneurs, and founders. Without listening to a long, long, long interview?
If so, you've come to the right place. Gresh values your time and is ready to share with you the valuable info you're in search of. This is the I am CEO podcast.
Gresham Harkless 00:38
Hello, hello, hello. This is Gresh from the I am CEO podcast and we're doing something a little bit different this year with some of our episodes we're repurposing some of our favorite episodes around specific topics related to entrepreneurship.
This month we're focusing on entrepreneurship and community. Us, we, our together and we're gonna look at entrepreneurship and industries in different types of entrepreneurship. And ultimately what that really means. But we're also gonna delve deeper into the importance of community networking niche communities and how that supports being a CEO entrepreneur and business owner.
So sit back and enjoy these special episodes around entrepreneurship and community.
Hello, hello, hello, this is Gresh from the I am CEO podcast and I have a very special guest on the show today we have Barrett Bogue of Evocati LLC. Barrett, it's awesome to have you on the show.
Barrett Y. Bogue 01:23
It's great to be here. I really appreciate the opportunity to come and talk with future and current CEOs.
Gresham Harkless 01:28
Definitely, definitely. And you're doing so many awesome things. I truly appreciate you, for hopping on as well. And what I wanted to do is just read a little bit more about Barrett so you can hear about all the awesome things that he's doing. And Barrett is president and founder of Evocati LLC and marketing consulting firm that helps businesses grow their investment in the military-connected community.
Prior, to founding Evocati, he served in executive leadership roles in the federal and nonprofit sectors, including the US Department of Veteran Affairs. He served six years in the US Marine Corps Reserves and was deployed in support of Operation Iraqi Freedom II. Barrett is a 2009 President Management Fellow in 2019 Scholar with a George W Brush Institute Stand two Veteran Leadership Program.
He lives with his wife and daughter in Fairfax, Virginia. Barrett, thank you for your service. And are you ready to speak to the I am CEO community?
Barrett Y. Bogue 02:13
Yeah. I appreciate it. Gresh, let's get going.