I AM CEO PODCAST
IAM1636 – Philanthropist Helps Businesses and Organisations Impact the Community
Podcast Interview with Brandon Parkes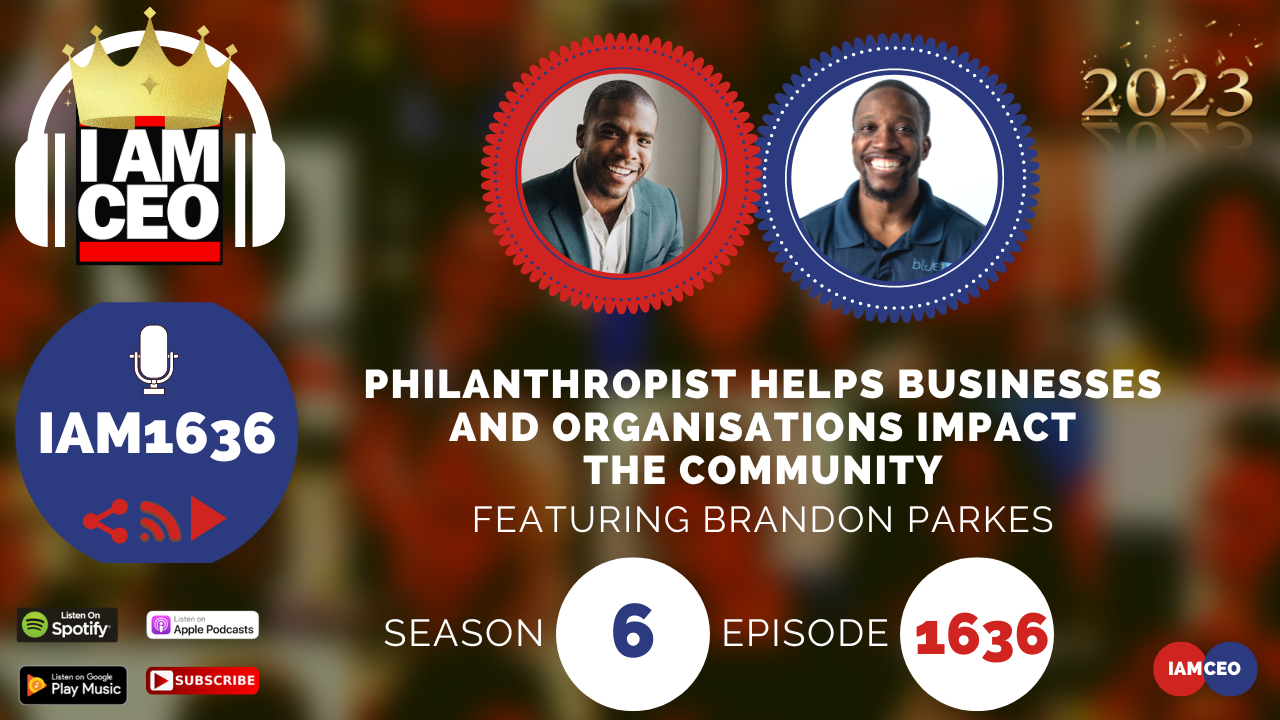 Why it was selected for "CBNation Architects": Brandon is helping to empower the organizations to make a great impact. He spoke a lot about making an impact without sacrificing your "why." Sometimes we forget that  building a community and driving people together is done in terms of "doing good."
Check out premium content in the CBNation Library at http://cbnation.co/library and pick up our eBook to hear some of the best lessons at http://cbnation.co/shop.
Previous Episode: https://iamceo.co/2022/10/11/iam1520-philanthropist-helps-businesses-and-organisations-impact-the-community/
Transcription:

Brandon Parkes 00:00
So I'd say, our consultants just brings such a wealth of experience to each of our engagements. They have a commitment of doing things differently. They just really offered such fresh perspective and like really customized counsel that even when I'm getting in the weeds of some of our client engagements it just sparks such innovative thinking and delivers such adaptive solutions to our clients that it just really is just unparalleled to me on understanding that they have a really driving tangible change.
Intro 00:24
Do you want to learn effective ways to build relationships, generate sales, and grow your business from successful entrepreneurs, startups, and CEOs without listening to a long, long, long interview? If so, you've come to the right place. Gresham Harkless values your time and is ready to share with you precisely the information you're in search of. This is the I am CEO podcast.
Gresham Harkless 00:51
Hello, hello, hello. This is Gresh from the I am CEO podcast and we're doing something a little bit different this year with some of our episodes. We're repurposing some of our favorite episodes around specific topics related to entrepreneurship. This month we're focusing on entrepreneurship and community. Us, we, our, together, and we're gonna look at entrepreneurship in industries. In different types of entrepreneurship and ultimately what that really means. But we're also gonna delve deeper into the importance of community, networking, niche communities and how that supports being a CEO entrepreneur and business owner. So sit back and enjoy these special episodes around entrepreneurship and community.
Hello, hello, hello, this is Gresh from the I am C E O podcast. I have a very special guest on the show today. I have Brandon Parkes of Parkes Philantrophy. Brandon, super excited to have you on the show.
Brandon Parkes 01:37
Thanks, Gresh really appreciate it. Definitely looking forward to the conversation.
Gresham Harkless 01:40
Yes, it should be an awesome conversation. You're doing so many phenomenal things. So before we jump into that, I wanted to read a little bit more about Brandon so you could hear about some of those awesome things. Brandon is the CEO and Founder of Parkes Philanthropy, a social impact consulting firm. Leveraging over 90 plus years of collective experience, Parkes Philanthropy is dedicated to equipping nonprofits, corporations, and individuals with ideas and resources, and support they need to positively impact the world. He previously served as a senior consultant for Bridge Philanthropic Consulting L L C, the nation's largest African American fundraising firm. And prior was a head of the nonprofit engagement at Carry Club, an AI tech company that connects young professionals to leadership roles on nonprofit boards.
He formally worked in a corporate philanthropic capacity for companies such as Morgan Stanley and also Toyota. Through these professional titles, he gained experience supporting an effective philanthropic strategy that increases social impact, external and internal engagement, and nonprofit capacity building. He has been humbled to be named one of the cause artists, 20 inspiring African Americans impacting the world through social impact and social innovation. He's named one of the startup booths, NYC 33 under 33, and has been featured in several publications such as Black Enterprise Blavity, nonprofit Technology News, and Blacks and Technology. It's Brandon's passion to empower any constituent looking to make a positive social impact on the world. Brandon, excited to have you on the show. You're doing so many phenomenal things. Are you ready to speak to the I am CEO community?
Brandon Parkes 03:13
I am ready. Yeah. Thanks. Appreciate it. That was a great bio.