Healthy CEO
I AM CEO PODCAST
IAM1540 – Cafe Owner Offers Premium Coffee and Healthy Food to New Yorkers
Podcast Interview with Gregory Zamfotis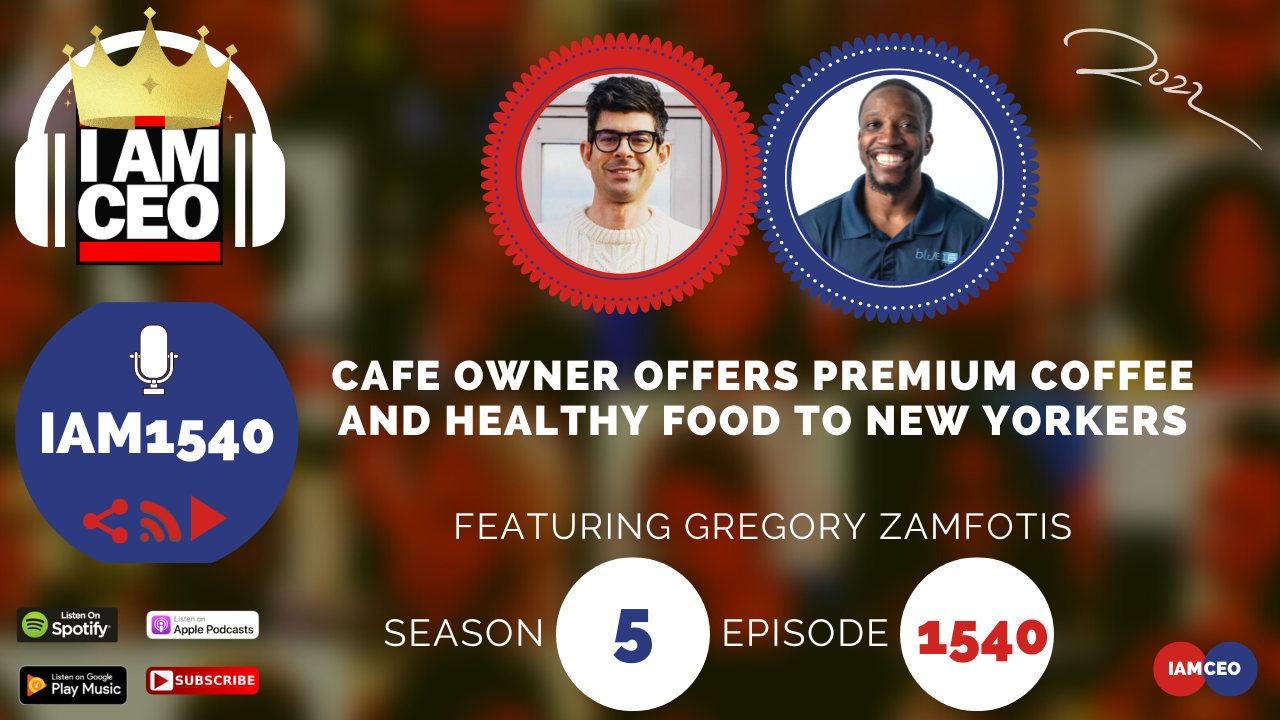 Born and raised in New York, Gregory Zamfotis is familiar with the hustle. Prior to founding Gregorys Coffee, he studied law but found himself seeking something different. It was during time spent with his father, a successful businessman in the NY food industry, that he discovered his interest in creating a space where healthy food and beverages were available to people like him—driven to succeed but staying in shape along the way. These discussions took place in a range of coffee shops around the city, and it was then that he noticed how many were lacking quality food options. This planted the seed in him to create a space where you don't have to make sacrifices to get great coffee and get it quickly. He wanted to offer healthy options to people like him—driven to succeed without sacrificing nutritious food.
Focused on the consumer experience first and foremost, Gregory has built a business with his fellow New Yorkers in mind, ensuring their hustle is only enhanced by quality products served in the most convenient locations.
CEO Story: Greg was already exposed to the business world since he was young because he was helping his father's business. As he was taking his Law school and trying to pivot to his own way of business. Started his healthy coffee shop in 2006, and Greg was all in managing the business. Taking to the busy streets of Manhattan, a quality experience,

 

premium product in a fast-paced environment. Get people their product quickly without sacrificing the quality
Business Service: Serving premium coffee. Start to build a menu around the core product. Baked products. Plant-based option.
Secret Sauce: Always seeking to improve, and innovate. Approaching the business like selling to yourself, is what gets you excited and passionate. Hearing people out.
CEO Hack: Never lose touch with your people and what's going on in the business
CEO Nugget: Make sure to read everything that you are signing. Know what you are getting into.
CEO Defined: Deeply in touch with your business and your people. Giving what the business needs and when it needs it and when you need to ask for help.
Website: www.gregoryscoffee.com
Instagram: gregoryscoffee
Twitter: gregoryscoffee
Facebook: GregorysCoffee
---
Check out one of our favorite CEO Hack's Audible. Get your free audiobook and check out more of our favorite CEO Hacks HERE