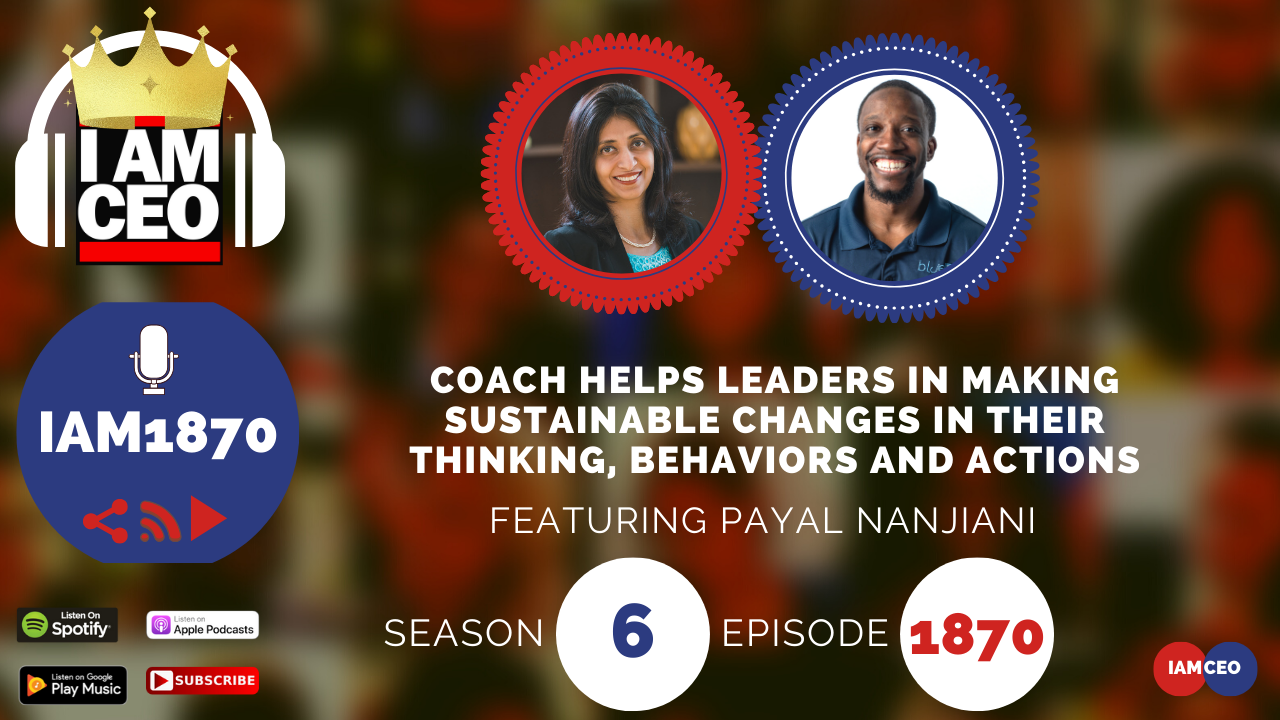 Why it was selected for "CBNation Architects"
:
In this episode of the IAMCEO Podcast, the speaker is Payal Nanjiani, a globally acclaimed leadership expert, executive coach, and author. Lauded by the TIMES Group as the most influential leadership speaker and executive coach, Payal is on a mission to humanize leadership through her distinct concept of 'Success Within Leadership,' focusing on helping leaders make sustainable changes in their thinking, behaviors, and actions.
With over two decades of experience, she has assisted leaders in achieving massive breakthroughs, propelling them and their organizations to extraordinary levels of success. Her journey began when she started working in corporate America and noticed that about 75%-80% of employees were stuck in mid-level roles despite working exceptionally hard, with only about 15% reaching the top. This prompted her to seek answers and led to the birth of the idea of Success Within Leadership.
Payal offers coaching to clients ready to elevate their current position and willing to make necessary changes. Her unique factor, or 'Secret Sauce,' lies in her deep passion for serving people and transforming their thinking and behavior.
CEO Hack: Payal finds deep connection and value in reading which she believes helps in serving people better.
CEO Nugget: She advocates for the well-rounded care of one's physical, emotional, financial, and spiritual well-being. According to her, understanding all the dimensions of life is crucial to playing one's role and winning the game.
CEO Defined: To Payal, being a CEO pertains to serving people, catalyzing power from within, and helping individuals transform their lofty goals into realities.
Check out our CEO Hack Buzz Newsletter–our premium newsletter with hacks and nuggets to level up your organization. Sign up 
HERE
. 

I AM CEO Handbook Volume 3
 is HERE and it's FREE. Get your copy here: 
http://cbnation.co/iamceo3
. Get the 100+ things that you can learn from 1600 business podcasts we recorded. Hear Gresh's story, learn the 16 business pillars from the podcast, find out about CBNation Architects and why you might be one and so much more. Did we mention it was FREE? Download it today!
Transcription:
The full transcription is only available to CBNation Library Members. Sign up today!
Payal Nanjiani 00:00
Please take care of yourself physically, emotionally, financially, spiritually. You can only play your role and win the game if you feel stable, nourished in all dimensions of your life, and if not in all, at least in the majority part of your life.
Intro 00:18
Do you want to learn effective ways to build relationships, generate sales, and grow your business from successful entrepreneurs, startups, and CEOs without listening to a long, long, long interview?
If so, you've come to the right place. Gresham Harkness values your time and is ready to share with you precisely the information you're in search of.
This is the IAMCEO podcast.
Gresham Harkless 00:45
Hello. Hello. Hello. This is Gresham from the IAMCEO podcast, and I appreciate you listening to this episode. If you've been listening this year, you know that we hit 1600 episodes at the beginning of this year. We're doing something a little bit different where we're repurposing our favorite episodes around certain categories, topics, or as I like to call them, business pillars that we think are going to be extremely impactful for CEOs, entrepreneurs, and business owners, or what I like to call the CB nation, architects who are looking to level up their organizations.
This month we are focused on leadership management and coaching. When we think of leadership, management and coaching, we often think of doing all of the other things, but often it's a person that's able to build up their team, that's able to cultivate a creative and innovative culture so that people can excel and actually be their own leaders. So that's why this month we're focusing on those three big topics because they make a huge impact on the organizations that we're part of.
Now you'll hear some of those topics this month, and of course, some really great perspectives on how people are even defining leadership, which I think is extremely exciting. So sit back and enjoy this special episode of the IAMCEO podcast.
Hello. Hello. Hello. This is Gresh from the IAMCEO podcast. I have a very special guest on the show today. I have Payal Nanjiani of PayalNanjiani.com. Payal, it's great to have you on the show.
Payal Nanjiani 02:04
Thank you so much, Gresham. It's a pleasure and an honor to be here with you.
Gresham Harkless 02:10
Yes, it's a pleasure. It's definitely all ours. I love all the awesome things that you're working on, so before we jumped into the interview, I want to read a little bit more about Payal so you can hear about some of those awesome things.
Recognized by the Times Group as the most influential leadership speaker and executive coach, Payal is an Indian American globally acclaimed leadership expert, executive coach and an author. With the mission to humanize leadership, Payal has popularized the concept of success within leadership with the primary focus on leaders making sustainable changes in their thinking, behaviors and their actions.
She has been over two decades helping leaders to achieve a massive leadership breakthrough, get to the next level and achieve extraordinary levels of success for themselves and their organizations. For almost 21 years, has been a highly sought after leadership speaker for organizations and conferences that have chosen Payal for their most important events and her talks and training and help people to achieve a leadership breakthrough like never before.
She is a New York award-winning author. Payal's books help you to be a peak performer and reach your next level in her new book, When the Leadership Game Every Time is going to be something where we're going to touch on a little bit today.
Payal, excited again to have you on the show. Are you ready to speak to the IAMCEO community?
Payal Nanjiani 03:23
Thank you so much. It's an honor to be here.