I AM CEO PODCAST
Life Style
IAM1283 – CEO Blends the Multi-Race Culture through Apparels
Podcast Interview with Brittany Pogue-Mohammed Acosta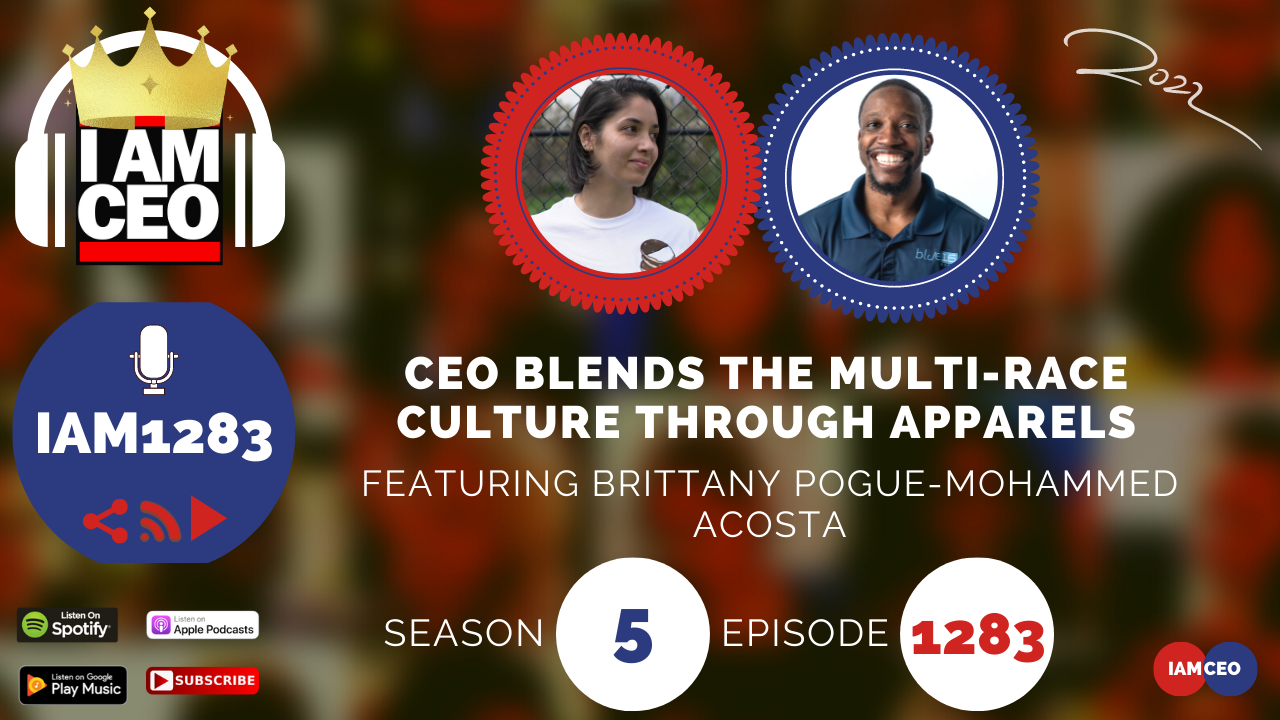 Growing up in The Bronx, NYC, the middle of three first-generation kids, Brittany Pogue-Mohammed Acosta's mother (of Irish and Scandinavian descent) and her father (who immigrated from Trinidad), both extremely proud people, ensured they knew what their kids were mixed with and that they took equal pride in both sides. Now that Brittany and her husband Daniel (Puerto Rican and Black) have a daughter of their own, Brittany found herself constantly searching for products for her-books, toys, and apparel that depicted a variety of skin tones, that spoke to a child who is racially diverse-but all that she found were hair care products. So, she decided to create what she was looking for herself: a site that caters to biracial and multiracial individuals; a community where all mixed-race people can share experiences, ask questions, and just talk about the unique issues they face as racially diverse individuals. The goal at Mosaic the Label is to enable mixed-race individuals to show pride in their mix, to feel seen, to be heard, and understood. At Mosaic, they want you to know that it's good to live in the in-between-you do not have to choose a side. After all, it's the parts that make the whole.
CEO Story: Started in May 2021 when her idea of why not have a website that has mixed products for boys and girls. And it went way deeper as a movement, especially for mixed-race people.
Business Service: Collection of Shirts for adults and toddlers with a new york attitude. Then launched the hoodies and other smaller items.
Secret Sauce:

The ability to communicate the actual experience that she had and turn it into products that create a mutual connection to her clients.

CEO Hack: Breaking down big projects into smaller tasks and getting them done.
CEO Nugget:

Giving yourself credit. Celebrate your wins. Live on the present and not just on the future.

CEO Defined:

Being able to drive your own bus, get to sit where you want without asking anybody. Having a vision and executing them the way you want it. You're in control of your destination/journey where you're going.
Instagram: mosaicthelabel
---
Check out one of our favorite CEO Hack's Audible. Get your free audiobook and check out more of our favorite CEO Hacks HERE