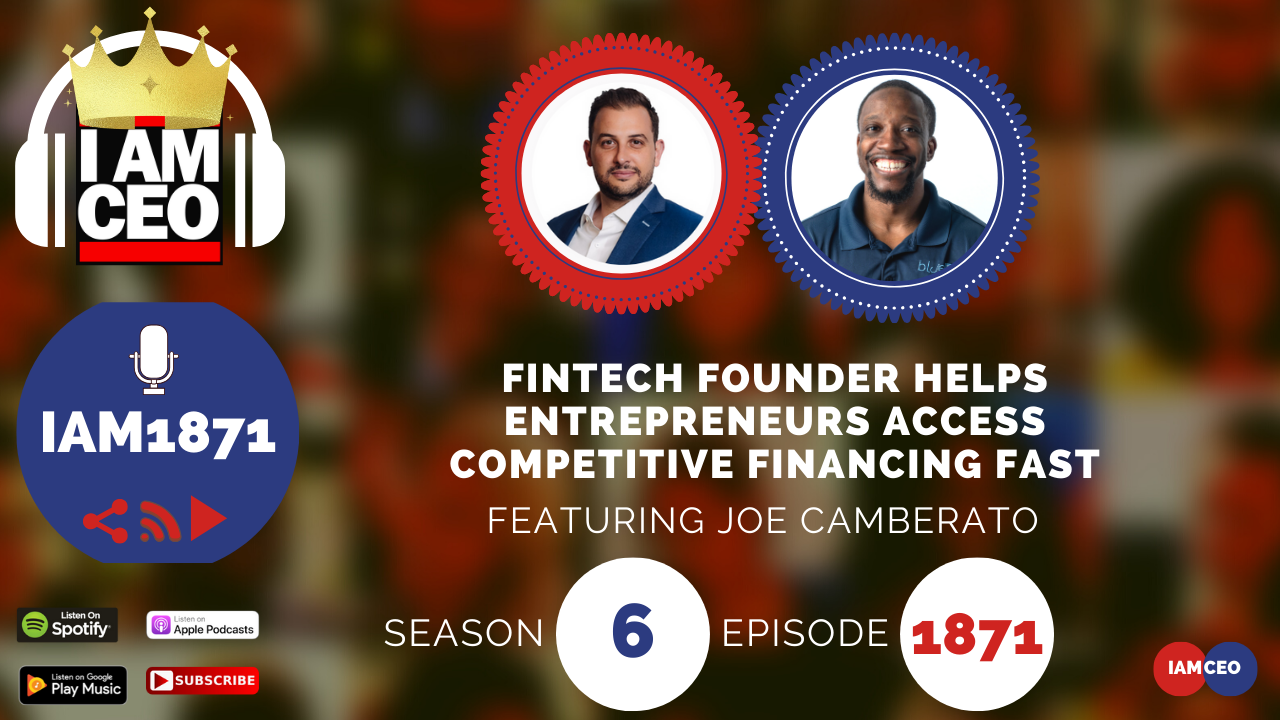 Why it was selected for "CBNation Architects"
:
In this episode of IAMCEO Podcast, Joe Camberato, the CEO and founder of National Business Capital, is featured. National Business Capital is a leading fintech marketplace that aids entrepreneurs in quickly gaining access to competitive financing via an intuitive online platform and a skilled team.
Joe, himself an entrepreneur, started National Business Capital to address the challenges business owners face in securing the necessary funding for growth. With a clear vision, determination, and passionate leadership, he has grown his company from a small operation started in his spare bedroom to a top workplace in Long Island, managing to achieve this feat without any private investments.
CEO Story: Joe has first-hand experience with the struggles entrepreneurs face, such as securing bank loans for business. His clients frequently approached him with requests for help in securing business loans, spurring him to establish his fintech company to ease the process for business owners looking to obtain capital. He expanded his company from its humble beginnings in a spare bedroom to a enterprise that has secured $2 billion in funding, significantly impacting the business community.
Business Service: Services offered by National Business Capital include SBA loans, term loans, line of credit, equipment financing, inventory loans, and more. They aim to match the financial needs of all clients.
Secret Sauce: Their unique factor is the combination of people and knowledge, where they train their Business Finance Advisors through the National Business Academy.
CEO Hack: Joe understands the importance of maintaining the right mindset — a mix of exercise, meditation, and thinking time. He emphasizes the value of establishing successful networks and relationships.
CEO Nugget: Joe advises patience since all beneficial things take time.
CEO Defined: The definition of a CEO, in Joe's opinion, is to be a good leader, constantly learn, and assist others to do the same.
Check out our CEO Hack Buzz Newsletter–our premium newsletter with hacks and nuggets to level up your organization. Sign up 
HERE
. 

I AM CEO Handbook Volume 3
 is HERE and it's FREE. Get your copy here: 
http://cbnation.co/iamceo3
. Get the 100+ things that you can learn from 1600 business podcasts we recorded. Hear Gresh's story, learn the 16 business pillars from the podcast, find out about CBNation Architects and why you might be one and so much more. Did we mention it was FREE? Download it today!
Transcription:
The full transcription is only available to CBNation Library Members. Sign up today!
Joe Camberato Teaser 00:00
We've streamlined all the processes, digitalized the application process, secured a bank connection. We do all these great things. And by following these great processes, systems, technology, and more importantly, really great people here at the company, we've helped secure 2 billion dollars now in financing for all types of industries, all entrepreneurs all across the country, which is really amazing.
Intro 00:24
Do you want to learn effective ways to build relationships, generate sales, and grow your business from successful entrepreneurs, startups, and CEOs without listening to a long, long, long interview?
If so, you've come to the right place. Gresham Harkless values your time and is ready to share with you precisely the information you are in search of.
This is the IAMCEO podcast.
Gresham Harkless 00:51
Hello, hello, hello. This is Gresh from the IAMCEO podcast and I appreciate you listening to this episode. If you've been listening this year, you know that we hit 1600 episodes at the beginning of this year. We're doing something a little bit different where we're repurposing our favorite episodes around certain categories, topics, or as I like to call them business pillars that we think are going to be extremely impactful for CEOs, entrepreneurs, and business owners, or what I like to call the CB nation architects who are looking to level up their organizations.
This month, we are focused on leadership, management, and coaching. When we think of leadership management and coaching, we often think of doing all of the other things. But often it's a person that's able to build up their team, that's able to cultivate a creative and innovative culture so that people can excel and actually be their own leaders. So that's why this month we're focusing on those three big topics because they make a huge impact on the organizations that we're a part of.
Now you'll hear some of those topics this month. Of course, some really great perspectives on how people are even defining leadership, which I think is extremely exciting. So sit back and enjoy this special episode of the IAMCEO podcast.
Hello. Hello. Hello. This is Gresh from the IAMCEO podcast. I have a very special guest on the show today, I have Joe Camberato of National Business Capital. Joe, super excited to have you on the show.
Joe Camberato 02:11
Thanks for having me on Gresh. I appreciate being here.
Gresham Harkless 02:14
Yes, it should definitely be an awesome conversation. That's for sure. So before I jump into the interview, I want to read a little bit more about Joe so you can hear about some of the awesome things that he's working on.
Joe is the CEO and founder of National Business Capital, the leading Fintech marketplace, helping entrepreneurs across competitive financing fast through an easy-to-use online platform and experience team. Joe knows entrepreneurs because he is an entrepreneur. He started National Business Capital after realizing how challenging it is for business owners to access the funding they need to grow.
With a strong vision and determination and passionate leadership, Joe grew his firm from a small operation in his spare bedroom to a number one top workplace in Long Island – all without one dollar of private equity.
Joe, excited to have you on the show again my friend, are you ready to speak to the IAMCEO community?
Joe Camberato 03:01
Yes, I am looking forward to it.