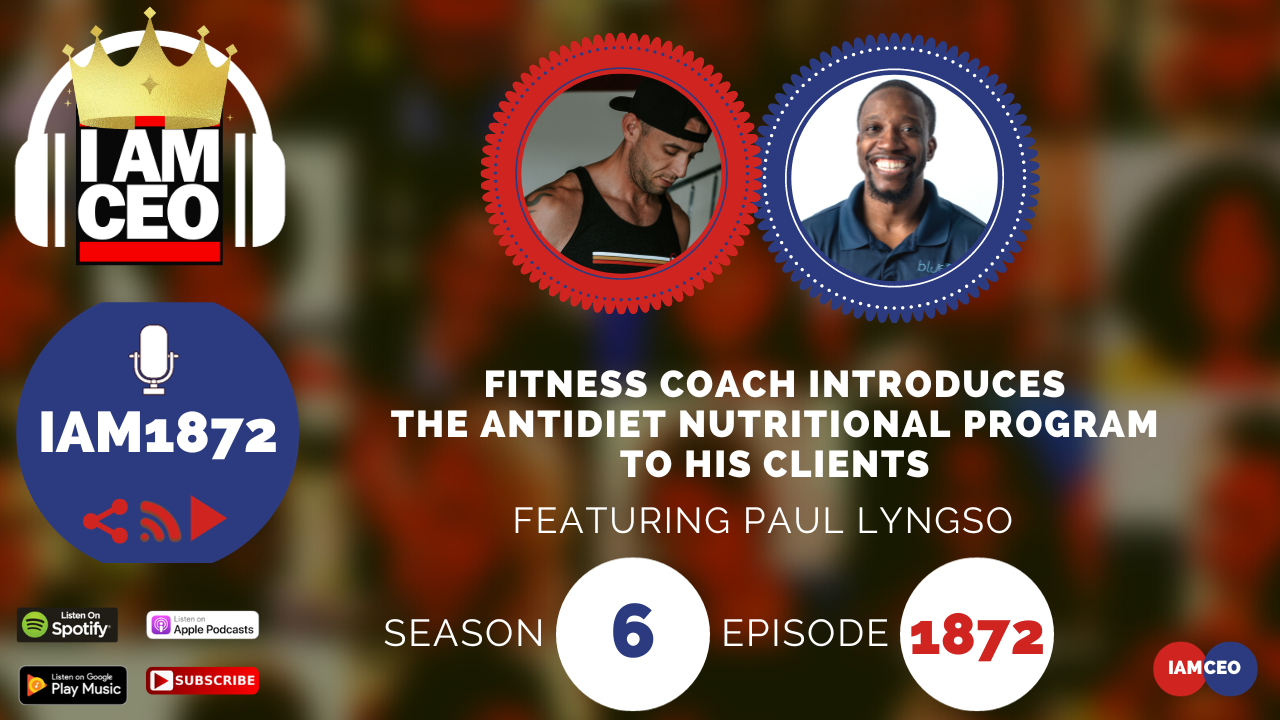 Why it was selected for "CBNation Architects"
:
In this IAMCEO Podcast episode, we learn from Paul Lyngso, founder of Lyngso Fitness Academy. The episode offers insights into his unique approach to health and fitness that has helped transform many lives.
CEO Story: Paul stepped into the fitness industry in 2008 or 2009, and soon after launched his unique fitness venture. When the pandemic disrupted conventional gym activities, Paul adeptly transitioned into running online courses and providing one-on-one coaching.
Business Service: Under his one-on-one coaching service, Paul offers tailor-made nutrition and exercise programs. Through a solidly chronicled curriculum, he teaches clients how to implement fitness principles specific to their lifestyles.
Secret Sauce: Paul's innovative fitness program, called "The AntiDiet Nutritional Program," sets him apart from many fitness influencers. Rather than imposing a strict, restrictive diet, he promotes an approach based on abundance and customization to fit the individual's lifestyle.
CEO Hack: Paul employs a tool named "reframe," which aids in shifting perspective from an unresourceful point of view to a helpful one.
CEO Nugget: Paul believes taking calculated risks is proportional to the level of success one wants to achieve.
CEO Defined: He sees a CEO's role as one of leadership and vision. It's wrapped up in self-leadership and the ability to envision your own life.
Check out our CEO Hack Buzz Newsletter–our premium newsletter with hacks and nuggets to level up your organization. Sign up 
HERE
. 

I AM CEO Handbook Volume 3
 is HERE and it's FREE. Get your copy here: 
http://cbnation.co/iamceo3
. Get the 100+ things that you can learn from 1600 business podcasts we recorded. Hear Gresh's story, learn the 16 business pillars from the podcast, find out about CBNation Architects and why you might be one and so much more. Did we mention it was FREE? Download it today!
Transcription:
The full transcription is only available to CBNation Library Members. Sign up today!
Paul Lyngso Teaser 00:00
And let's look at what actually matters, which is principles. And then let's look at how to apply them for you because there is no should, there is no universal. Everybody needs to be doing the same thing. That's just not true. You need to be able to pull, question yourself and pull it out, and then decide what you want to do with your life.
Rather than just some generic, Oh, I feel like I should do this.
Intro 00:19
Do you want to learn effective ways to build relationships, generate sales and grow your business from successful entrepreneurs, startups, and CEOs without listening to a long, long, long interview?
If so, you've come to the right place. Gresham Harkless values your time and is ready to share with you precisely the information you're in search of this is the IAMCEO podcast.
Gresham Harkless 00:48
Hello. Hello. Hello. This is Gresh from the IAMCEO podcast. And I appreciate you listening to this episode. And if you've been listening this year, you know that we hit 1600 episodes at the beginning of this year.
We're doing something a little bit different where we're repurposing our favorite episodes around certain categories, topics, or as I like to call them business pillars that we think are going to be extremely impactful for CEOs, entrepreneurs, and business owners, or what I like to call the CB nation architects who are looking to level up their organizations.
This month, we are focused on leadership management and coaching. When we think of leadership management and coach, we often think of doing all of the things, but often it's a person that's able to build up their team. That's able to cultivate a creative and innovative culture so that people can excel and actually be their own leaders.
So that's why this month we're focusing on those three big topics, because they make a huge impact on the organizations that we're part of. Now, you'll hear some of those topics this month, of course, some really great perspectives on how people are even defining leadership, which I think is extremely exciting.
So sit back and enjoy this special episode of the IAMCEO podcast.
Hello. Hello. Hello. This is Gresh from the IAMCEO podcast. I have a very special guest on the show today at Paul Lyngso of Lyngso Fitness Academy. Paul, excited to have you on the show.
Paul Lyngso 02:08
Good to be here.
Gresham Harkless 02:09
Yes, excited to have you on is great to have you be a part of this. And what I want to do is just read a little bit more about Paul. So you can hear about some of the awesome things he's doing before we jump straight in.
And as the founder of Lyngso Fitness Academy, Paul has helped thousands of people across the globe to finally overcome their internal and external blocks to greatness.
Paul is exceptional because of his psychological and philosophical approach to health and fitness. I bet you know, at least one, at least a hundred fitness influencers on social media and have watched a crazy amount of transformational videos through infamous diets and his approach is the exact opposite.
In fact, his signature program is the Anti-Diet Nutrition Program. It works on abundance, not restriction. You can achieve your goals without giving up the things you love. You need to learn how to fine-tune these things. He offers a new way of doing things that actually works and is sustainable in the long run.
And his brand Metaphysique has helped hundreds of people live a healthy life without running away from their comfort food. Paul, excited to have you on the show and everything you stand for. Are you ready to speak to the IAMCEO community?
Paul Lyngso 03:12
I am dude. Let's do it.