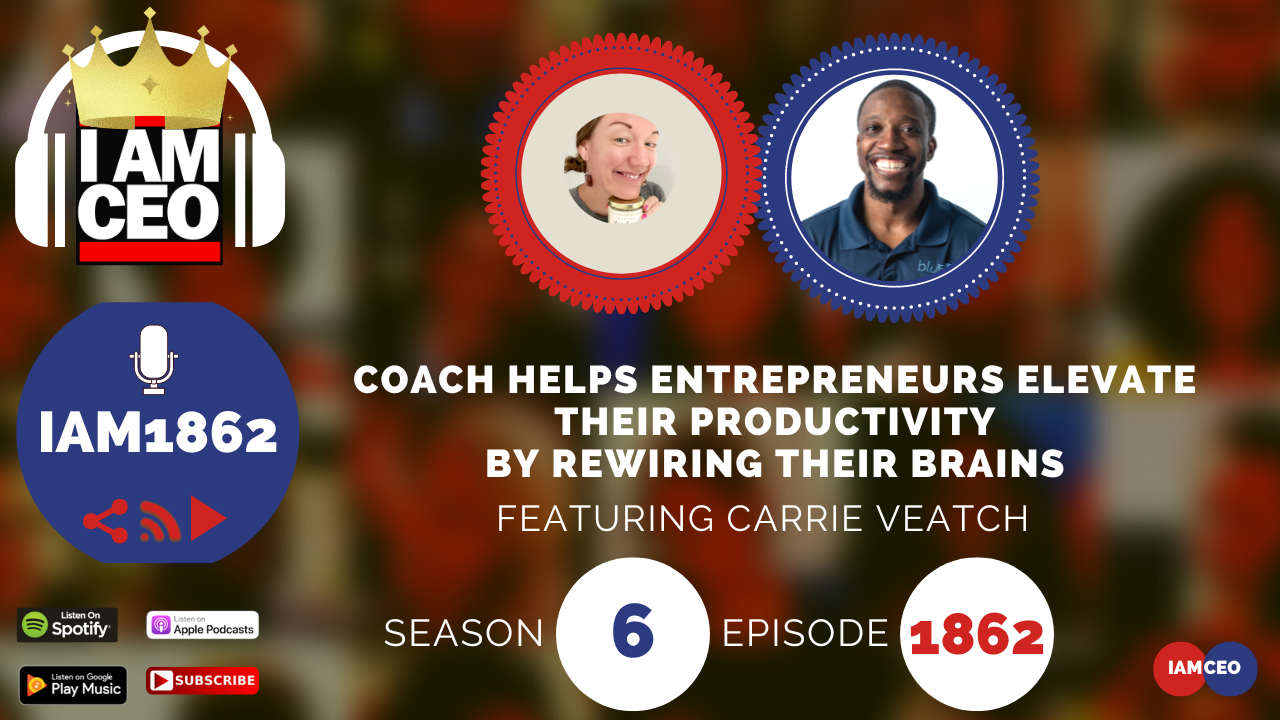 Why it was selected for "CBNation Architects"
:
In this episode of IAMCEO Podcast, Carrie, a coach who helps entrepreneurs, organizations, and C-Level Executives elevate their leadership communication skills, productivity, and ability to achieve the seemingly impossible, shares her story and insights. She combines neuroscience and mindset work to teach clients how to rewire their brains, enabling them to create lives of time, location, and financial freedom.
CEO Story: Carrie's core value has always been freedom. She wasn't interested in the traditional 9-5 setup and wanted to control her destiny. Initially, she was a therapist with a Masters in Counseling, which allowed her to do deeper work with people and help them change from the inside out. Eventually, she found the online coaching world and became passionate about helping others live outside the box.
Business Service: Carrie's approach involves helping clients identify their target audience and empowering them to make the best decisions for themselves without overthinking every step of the process.
Secret Sauce: Carrie's ability to create a safe environment for strangers and people in her orbit allows her to build trust and essential relationships with clients.
CEO Hack: Carrie uses a method of working on a single task for 25 minutes, followed by a 5-minute break, allowing her to maintain focus and productivity.
CEO Nugget: She advises taking quicker, decisive actions and trusting yourself. Overthinking can cost thousands, if not millions of dollars, and hinder progress.
CEO Defined: To Carrie, being a CEO means having a business you love and attaining happiness, health, and wealth.
Check out our CEO Hack Buzz Newsletter–our premium newsletter with hacks and nuggets to level up your organization. Sign up 
HERE
. 

I AM CEO Handbook Volume 3
 is HERE and it's FREE. Get your copy here: 
http://cbnation.co/iamceo3
. Get the 100+ things that you can learn from 1600 business podcasts we recorded. Hear Gresh's story, learn the 16 business pillars from the podcast, find out about CBNation Architects and why you might be one and so much more. Did we mention it was FREE? Download it today!
Transcription:
The full transcription is only available to CBNation Library Members. Sign up today!
Carrie Veatch Teaser 00:00
Holding two things to be true at the same time. And it's that both and or the dualities of life versus it's either or I never want someone to be reliant on me, right? What I want to do and what I hope to do is to empower a client to make the very best choices for themselves because I am not in their brain. I am not in their life. I am not there 24 seven.
Intro 00:24
Do you want to learn effective ways to build relationships, generate sales, and grow your business from successful entrepreneurs, startups, and CEOs without listening to a long, long, long interview?
If so, you've come to the right place. Gresham Harkless values your time and is ready to share with you precisely the information you're in search of. This is the IAMCEO podcast.
Gresham Harkless 00:51
Hello, hello, hello. This is Gresham from the IAMCEO podcast, and I appreciate you listening to this episode. And if you've been listening this year, you know that we hit 1600 episodes at the beginning of this year.
We're doing something a little bit different where we're repurposing our favorite episodes around certain categories, topics, or as I like to call them, Business pillars that we think are going to be extremely impactful for CEOs, entrepreneurs, and business owners, or what I like to call the CB nation architects who are looking to level up their organizations.
This month, we are focused on leadership, management, and coaching. When we think of leadership, management, and coach, we often think of doing all of the things, but often it's a person that's able to build up their team. That's able to cultivate a creative and innovative culture so that people can excel and actually be their own leaders.
So that's why this month we're focusing on those three big topics because they make a huge impact on the organizations that we're part of. Now you'll hear some of those topics this month. Of course, some really great perspectives on how people are even defining leadership, which I think is extremely exciting.
So sit back and enjoy this special episode of the IAMCEO podcast.
Hello. Hello. Hello. This is Gresh from the IAMCEO podcast. I have a very special guest on the show today. I have Carrie Veatch of Set Yourself Free, LLC. Carrie, excited to have you on the show.
Carrie Veatch 02:11
Thanks so much for having me, Gresh.
Gresham Harkless 02:13
Yeah, super excited to have you on and for all the awesome things that you're doing. So, Of course, before we jumped into the great conversation, I want to read a little bit more about Carrie. So you can hear about some of those awesome things that she's working on.
And Carrie coaches driven entrepreneurs, organizations in C-level executives to elevate their leadership, communication skills, productivity, and their capacity to accomplish the seemingly impossible.
Carrie combines neuroscience, teaches clients to rewire their brains through mindset work in a safe container for clients to create lives of time, location, and financial freedom. Carrie, excited again to have you on the show. Are you ready to speak to the IAMCEO community?
Carrie Veatch 02:49
I am so ready. Thank you.