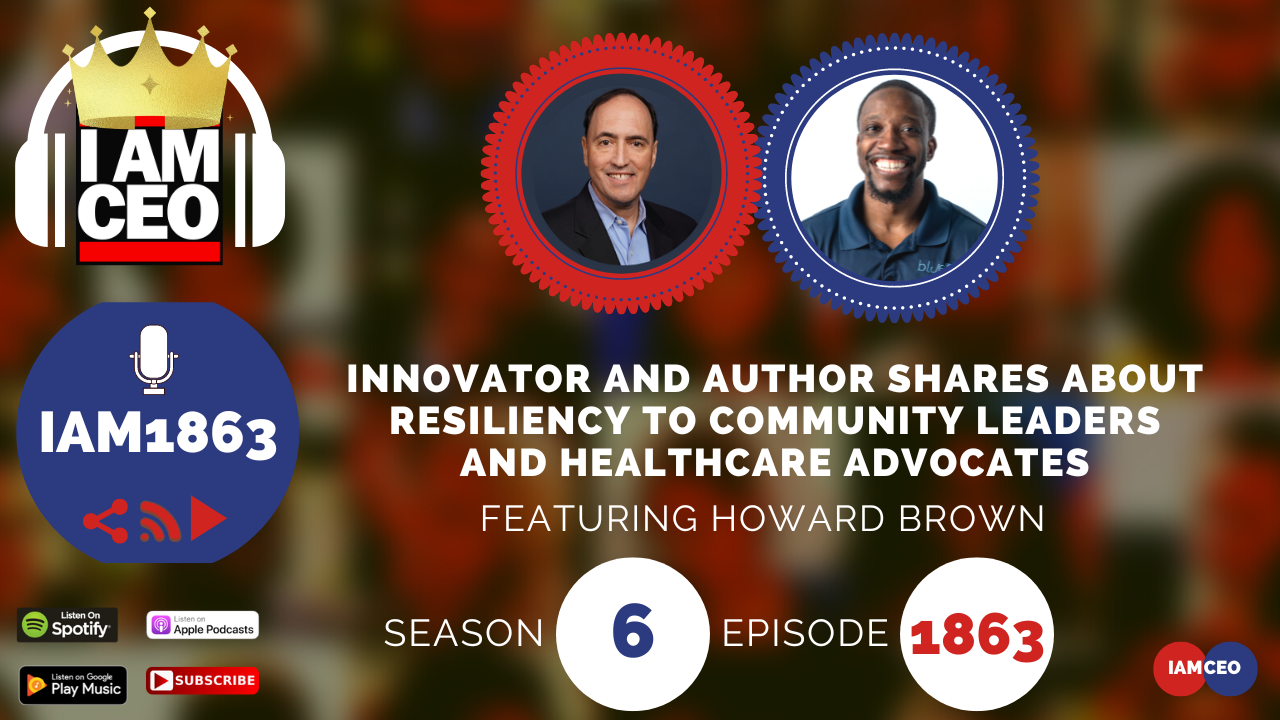 Why it was selected for "CBNation Architects"
:
In this episode of IAMCEO
Podcast
, Howard Brown, an entrepreneur, author, mentor, stage IV cancer survivor, and international bridge-builder, discusses his journey, experiences, and the resilience that drove him to be an innovation leader and healthcare advocate.
CEO Story: Howard's life journey changed direction when he attended entrepreneurship school. He built his foundation at NCR, a major training company, and then dived into the start-up environment. A self-proclaimed "tech guy", Howard enjoys innovating and monetizing ideas.
Business Service: Howard focuses on healthcare and mentoring.
Secret Sauce: Howard credits his resilience and ability to look at things differently as the key to success. He emphasizes the significance of sharing hope amid the prevailing darkness in the world.
CEO Hack: Howard suggests cutting out negativity and finding a "happy place" where one is stress-free, to help with forward progress.
CEO Nugget: His advice is to lead with kindness, which would subsequently earn people's respect.
CEO Defined: For Howard, a CEO is a leader of people who ensures they buy into his vision and then encourages them to make it happen.
Check out our CEO Hack Buzz Newsletter–our premium newsletter with hacks and nuggets to level up your organization. Sign up 
HERE
. 

I AM CEO Handbook Volume 3
 is HERE and it's FREE. Get your copy here: 
http://cbnation.co/iamceo3
. Get the 100+ things that you can learn from 1600 business podcasts we recorded. Hear Gresh's story, learn the 16 business pillars from the podcast, find out about CBNation Architects and why you might be one and so much more. Did we mention it was FREE? Download it today!
Howard Brown 00:00
There's moments that you, in leadership that you have to, have all different types of qualities. But I think a really important quality is to lead with kindness. If you lead with kindness, they're not going to get any hurt. You got to be strict sometimes and you got to be demanding, but you do it with kindness.
It makes all the sense in the world. And you earn people's respect that way. And you become a leader that you should be. So that's my nugget.
Intro 00:23
Do you want to learn effective ways to build relationships, generate sales, and grow your business from successful entrepreneurs, startups, and CEOs without listening to a long, long, long interview?
If so, you've come to the right place. Gresham Harkless values your time and is ready to share with you precisely the information you're in search of. This is the IAMCEO podcast.
Gresham Harkless 00:50
Hello, hello, hello. This is Gresh from the IAMCEO podcast and I appreciate you listening to this episode. And if you've been listening this year, you know that we hit 1600 episodes at the beginning of this year.
We're doing something a little bit different where we're repurposing our favorite episodes around certain categories, topics, or as I like to call them. Business pillars that we think are going to be extremely impactful for CEOs, entrepreneurs, and business owners, or what I like to call the CB nation, architects who are looking to level up their organizations this month, we are focused on leadership management and coaching.
When we think of leadership management and coach, we often think of doing all of the things, but often it's a person that's able to build up their team. That's able to cultivate a creative and innovative culture so that people can excel and actually be their own leaders. So that's why this month we're focusing on those three big topics because they make a huge impact on the organizations that we're part of.
Now, you'll hear some of those topics this month, of course, some really great perspectives on how people are even defining leadership, which I think is extremely exciting. So sit back and enjoy this special episode of the IAMCEO podcast.
Hello. Hello. Hello. This is from the I am CEO podcast. I have a very special guest on the show today. I have Howard Brown of shiningbrightly.com. Howard, it's great to have you on the show.
Howard Brown 02:09
Awesome. So glad to be here on this lovely fall day.
Gresham Harkless 02:12
Yes, excited to have you on and talk about all the awesome things that you're doing and your book and so many phenomenal stories and impact that you've been able to have. So, before we jumped into that, I went to read a little bit more about Howard. So you hear about some of those awesome things.
And Howard is a Silicon Valley entrepreneur, two-time stage for cancer patient. survivor, international bridge-builder and mentor. He shares the keys to leading a resilient life that drives successful business innovators, community leaders and health care advocates.
Howard shares the values of survivorship for cancer in life and mentorship as leadership and entrepreneurship of all kinds. And Howard is the author of Shining Brightly, a memoir of resilience and hope by a two time cancer survivor, Silicon Valley entrepreneur and Interfaith Peacemaker.
Howard, again excited to have you on the show. Are you ready to speak to the IAMCEO community.
Howard Brown 03:01
I am and I'm just Howard. I'm here to motivate, educate and inspire.