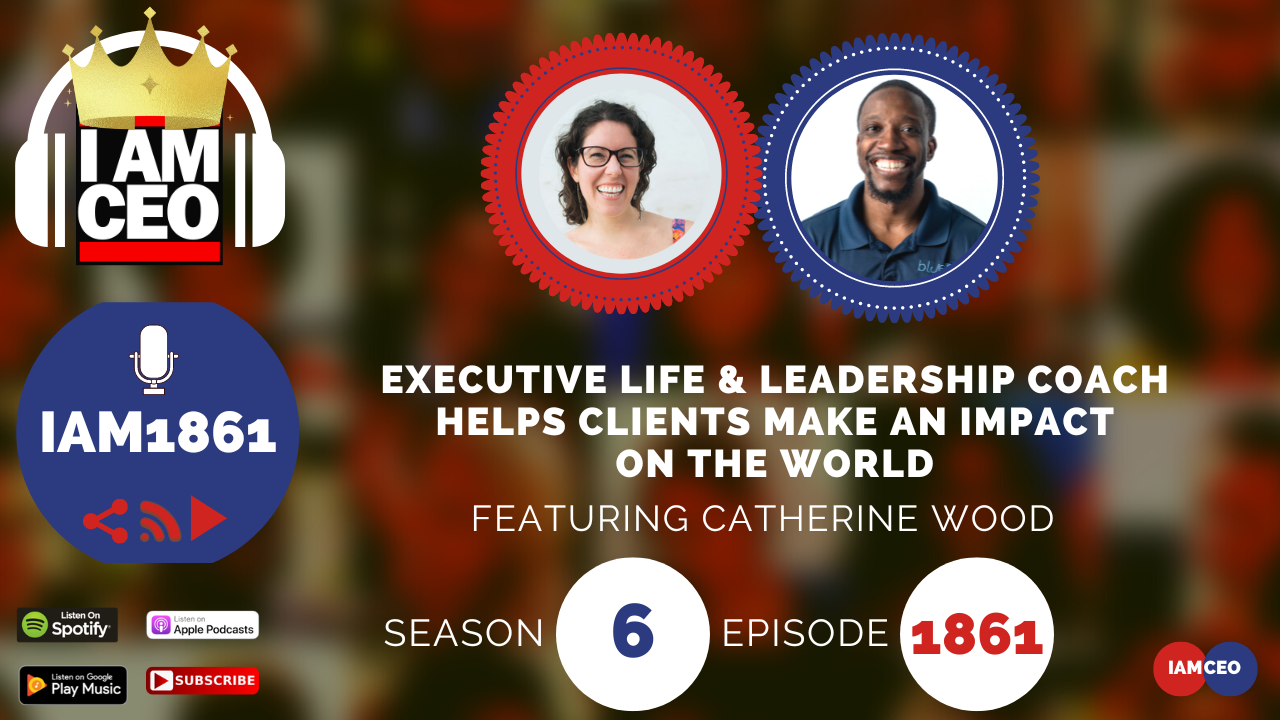 Why it was selected for "CBNation Architects"
:
In this episode of IAMCEO Podcast, Catherine Wood, the Founder and Head Coach of Unbounded Potential, discusses her journey and her work helping rising star performers and entrepreneurs make a positive impact on the world.
CEO Story: Catherine is passionate about freedom and not conforming to a typical 9-5 job setup. Her background as a therapist equipped her with the necessary skills to make a deep impact on people's lives from the inside out. Eventually, she discovered the online coaching world and made it her mission to help others break out of conventional norms and live freely.
Business Service: Catherine's firm, Unbounded Potential, is dedicated to coaching rising star performers and entrepreneurs. Being an executive life and leadership coach herself, she guides her clients on how to reach their highest potential and make the greatest impacts.
Secret Sauce: The unique experience Catherine provides for her clients has led them to referrer to her as a 'guardian angel for their dreams'.
CEO Hack: Catherine emphasizes the significance of having a personal trainer and recommends the book "Chop Wood Carry Water" for steady progress and work ethic.
CEO Nugget: One of the key pieces of advice from Catherine is to make decisions based on where you want to be, not where you currently are.
CEO Defined: Catherine defines being a CEO as living without regret and not settling for a safe or comfortable life.
Check out our CEO Hack Buzz Newsletter–our premium newsletter with hacks and nuggets to level up your organization. Sign up 
HERE
. 

I AM CEO Handbook Volume 3
 is HERE and it's FREE. Get your copy here: 
http://cbnation.co/iamceo3
. Get the 100+ things that you can learn from 1600 business podcasts we recorded. Hear Gresh's story, learn the 16 business pillars from the podcast, find out about CBNation Architects and why you might be one and so much more. Did we mention it was FREE? Download it today!
Transcription:
The full transcription is only available to CBNation Library Members. Sign up today!
Catherine Wood Teaser 00:00
I like to say there are two types of go-getters in the world. There are bridge builders and there are bridge burners. And the bridge builders are the ones who see something they want on the other side of the bridge and they, slowly and safely walk from one side to the other as they lay the planks.
And the bridge burners are the ones who see something they want on the other side of the bridge. They jump over the bridge and then they burn it up after them. So they literally have to make it.
Intro 00:26
Do you want to learn effective ways to build relationships, generate sales, and grow your business from successful entrepreneurs, startups, and CEOs without listening to a long, long, long interview?
If so, you've come to the right place. Gresham Harkless values your time and is ready to share with you precisely the information you are in search of. This is the IAMCEO podcast.
Gresham Harkless 00:52
Hello, hello, hello. This is Gresh from the IAMCEO podcast and I appreciate you listening to this episode. And if you've been listening this year, you know that we hit 1600 episodes at the beginning of this year.
We're doing something a little bit different where we're repurposing our favorite episodes around certain categories, topics, or as I like to call them business pillars that we think are going to be extremely impactful for CEOs, entrepreneurs, and business owners, or what I like to call the CB nation architects who are looking to level up their organizations.
This month, we are focused on leadership, management, and coaching. When we think of leadership, management, and coach, we often think of doing all of the things, but often it's a person that's able to build up their team. That's able to cultivate a creative and innovative culture so that people can excel and actually be their own leaders.
So that's why this month we're focusing on those three big topics because they make a huge impact on the organizations that we're part of. Now you'll hear some of those topics this month. And of course, some really great perspectives on how people are even defining leadership, which I think is extremely exciting.
So sit back and enjoy this special episode of the IAMCEO podcast.
Hello. Hello. Hello. This is Gresh from the IAMCEO podcast, and I have a very special guest on the show today. I have Catherine Wood of Unbounded Potential. Catherine, it's awesome to have you on the show.
Catherine Wood 02:12
So nice to be here.
Gresham Harkless 02:13
Perfect. And what I wanted to do was just read a little bit about all the awesome things that Catherine is doing. So you can hear a little bit about her and her background and all the awesome things that she's been able to accomplish.
Catherine is the founder and head coach of Unbounded Potential, a personal coaching firm dedicated to helping rising star performers and entrepreneurs who are committed to making an impact in the world.
As an executive life and leadership coach, entrepreneur and world traveler. Clients have referred to her as a guardian angel for their dreams. Catherine earned her coaching certificate from Accomplishment Coaching, where she currently supports coaches in training and with their development and personal leadership.
She holds the designation of Professional Certified Coach through the International Coach Federation.
Catherine, are you ready to speak to the IAMCEO community?
Catherine Wood 03:00
I am. I'm happy to be here.