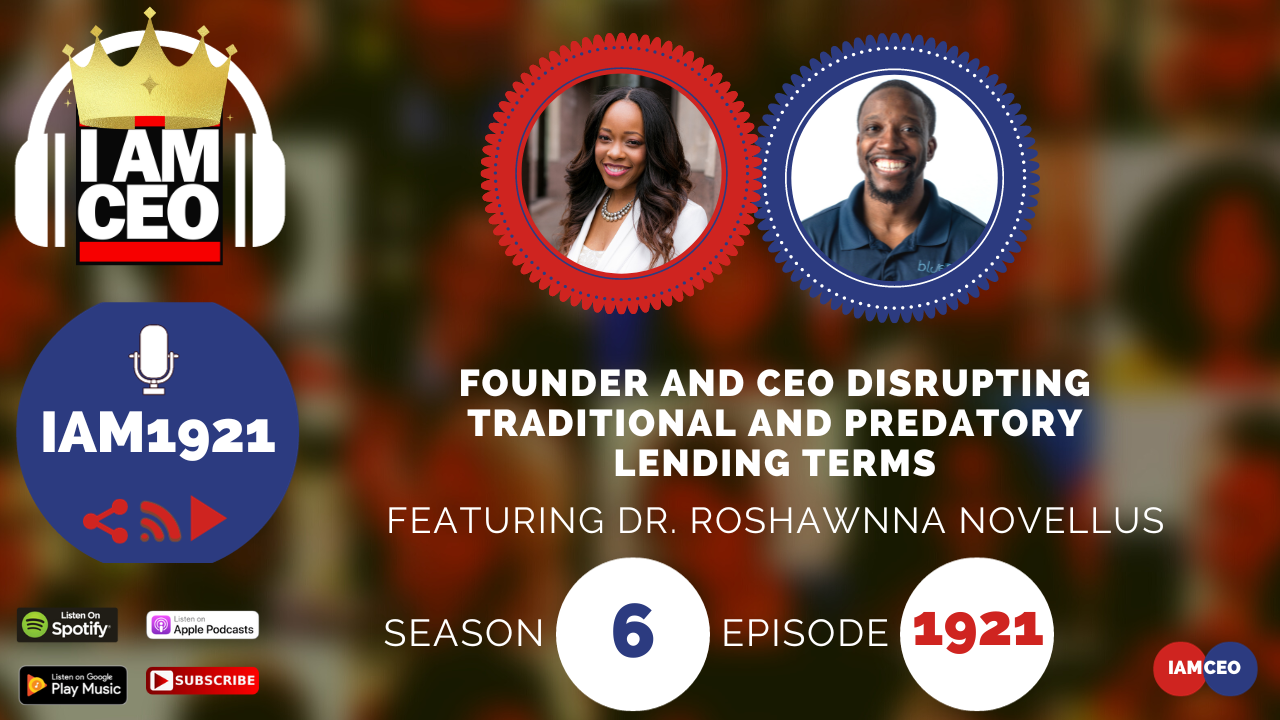 Why it was selected for "CBNation Architects":
In this episode,  the guest is Dr. Roshawnna Novellus, the Founder and CEO of EnrichHER.
Key points discussed in the podcast includes:
EnrichHER: Roshawnna outlines her FinTech platform, EnrichHER, which aims to disrupt traditional and harmful lending terms through its innovative credit model and lending environment. The platform connects revenue-generating women-led companies seeking up to $250,000 with accredited, non-accredited, and institutional lenders.
Dr. Roshawnna Novellus: The podcast features in-depth discussion about Dr. Roshawnna's commendable service on the Commission on Women for the City of Atlanta, her honor as one of Atlanta Business Chronicle's "Women Who Means Business", and her recognition as "Top 25 Disruptors and Innovators in Tech" among other accomplishments.
CEO Hack: Dr. Roshawnna shares her practice of listening to affirmations in the morning and at night.
CEO Nugget: She highlights the importance of asking for help and approaching experts for advice or solutions to problems.
CEO Defined: Dr. Roshawnna defines a CEO as a leader and an individual who has the ability to inspire people.
Check out our CEO Hack Buzz Newsletter–our premium newsletter with hacks and nuggets to level up your organization. Sign up 
HERE
. 

I AM CEO Handbook Volume 3
 is HERE and it's FREE. Get your copy here: 
http://cbnation.co/iamceo3
. Get the 100+ things that you can learn from 1600 business podcasts we recorded. Hear Gresh's story, learn the 16 business pillars from the podcast, find out about CBNation Architects and why you might be one and so much more. Did we mention it was FREE? Download it today!
Transcription:
The full transcription is only available to CBNation Library Members. Sign up today!
Dr. Roshawnna Novellus Teaser 00:00
Every industry needs to transform for the energy transition, but we have to balance keeping equipment running with progress on decarbonizing. GE Digital's Asset Performance Management software uses AI and predictive analytics to boost operations efficiency, prevent breakdowns, and keep employees and sites safer.
All built on a secure and scalable platform and instilled with a century of GE expertise, Search GE APM to learn more.
Intro 00:32
Do you want to learn effective ways to build relationships, generate sales, and grow your business from successful entrepreneurs, startups, and CEOs without listening to a long, long, long interview?
If so, you've come to the right place. Gresham Harkness values your time and is ready to share with you precisely the information you're in search of.
This is to I AM CEO podcast.
Gresham Harkless 00:58
Hello. Hello. Hello. This is Gresh from the I AM CEO podcast, and I appreciate you listening to this episode. If you've been listening this year, you know that we hit 1600 episodes at the beginning of this year. We're doing something a little bit different where we're repurposing our favorite episodes around certain categories, topics or as I like to call them business pillars that we think are going to be extremely impactful for CEOs, entrepreneurs, and business owners, or what I like to call CB nation architects who are looking to level up their organizations.
This month, we are focused on innovation, disruption, women entrepreneurship, DEI, gig economy, remote economy, even the cannabis industry. Think about these industries and these disruptive technologies that really sometimes aren't as disruptive, but there are people that are just paying attention to what the market needs and they're providing that. So really think about the things that are quote and quote outside of the norm, but really help entrepreneurship to grow and fully develop.
I think it's an extremely exciting time when you're talking about any type of innovation or disruption, because I think that there are so many opportunities and needs that aren't felt that are starting to be filled by different groups, different organizations, or even different industries. So what I want you to do is sit back and enjoy this special episode of the I AM CEO podcast.
Hello, this is Gresh from the I Am CEO podcast and I have a very special guest on the show today. I've Dr. Roshawnna Novellus of EnrichHER. Dr. Roshawnna, it's awesome to have you on the show.
Dr. Roshawnna Novellus 02:23
I'm excited to be here.
Gresham Harkless 02:25
Super excited to have you on. And what I wanted to do is read a little bit more about Dr Roshawnna so you can hear about all the awesome things that she's doing.
Dr Roshawnna is a Founder and CEO of EnrichHER a fintech platform that is disrupting traditional and predatory lending terms through its credit model and lending environment.
EnrichHer connects revenue-generating women-led companies seeking up to 250, 000 with accredited, non-accredited and institutional lenders who want to earn cash flow while fueling the growth of women-led businesses. Dr Roshawnna served on the Commission on Women for the City of Atlanta and was honored as one of the women who means business by the Atlanta Business Chronicle.
One of the 40 under 40 by Georgia trend, a house. See on fellow for social impact in one of the top 25 disruptors and innovators and tech in one of the 27 black founders and investors to watch in 2019 by PitchBook.
Dr Roshawnna, are you ready to speak to the I AM CEO community?
Dr. Roshawnna Novellus 03:21
I'm ready.