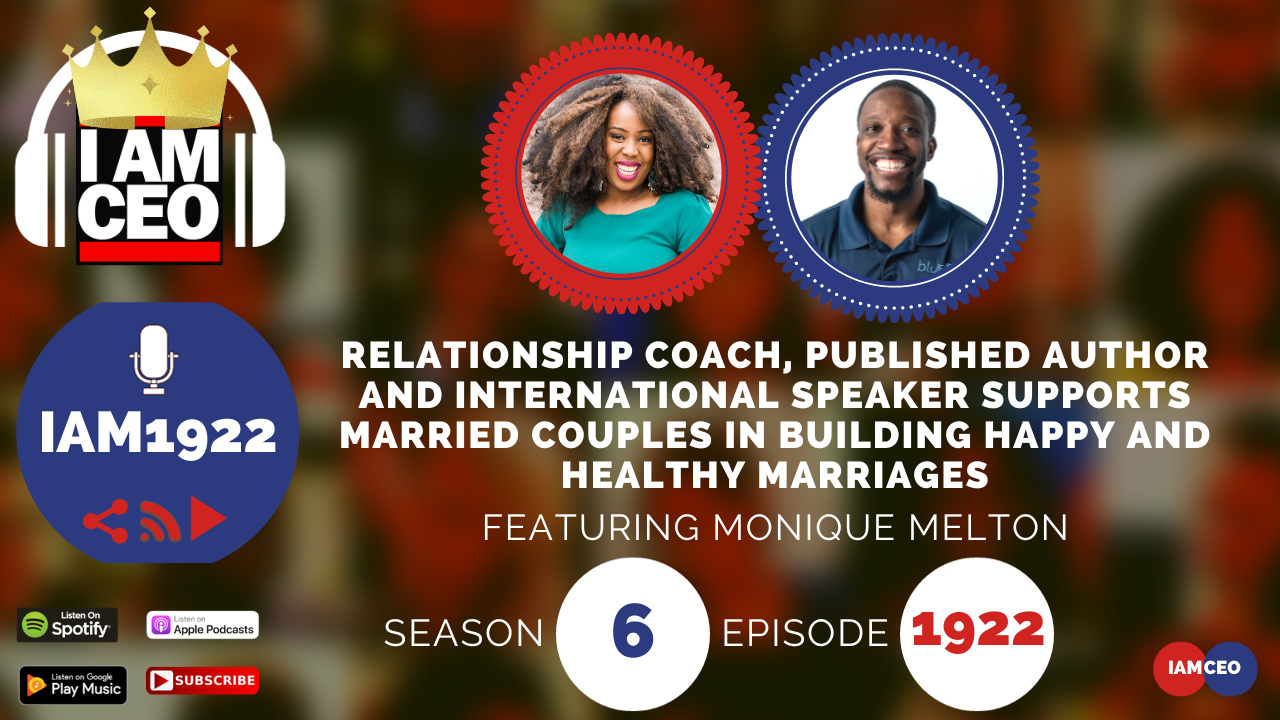 Why it was selected for "CBNation Architects":
In this episode, the guest is Monique Melton, a relationship coach, published author, and international speaker.
Key Points:
Monique Melton's background: Monique started her entrepreneurship right out of college as a professional makeup artist for a decade. In 2014, she shifted to business and relationship coaching, focusing mainly on personal development and relationship components, which remain aligned with her educational background in psychology and counseling.
Business Service: Monique offers relationship coaching and public speaking, helping individuals who struggle with confidence, mindset issues, and anxiety affecting their daily life.
Secret Sauce: Monique believes in keeping things simple and incorporating spirituality in marriage, accepting the presence of someone bigger than oneself.
CEO Hack: Monique uses family planning and shared schedules, and she shares notes on to-do lists through iPhone.
CEO Nugget: Growth can be uncomfortable, but it's essential to embrace it as the end results are amazing.
CEO Defined: A CEO is a leader who's also willing to be led, committed, and bears the responsibility of providing the best for the community.
Check out our CEO Hack Buzz Newsletter–our premium newsletter with hacks and nuggets to level up your organization. Sign up 
HERE
. 

I AM CEO Handbook Volume 3
 is HERE and it's FREE. Get your copy here: 
http://cbnation.co/iamceo3
. Get the 100+ things that you can learn from 1600 business podcasts we recorded. Hear Gresh's story, learn the 16 business pillars from the podcast, find out about CBNation Architects and why you might be one and so much more. Did we mention it was FREE? Download it today!
Transcription:
The full transcription is only available to CBNation Library Members. Sign up today!
Monique Melton Teaser 00:00
I wish I could get people to look at their marriage almost like a car. You don't drive it around and then when all the gas is out, you're like, Oh man, I need to go to the gas station. That would be a huge inconvenience. There are signals and things that your car tells you that something is wrong and then you take it and go get it fixed.
You don't wait until it's not completely operable to go and repair it. It's a lot more work. It's a lot more time. It's a lot more energy. And sometimes you're just like, this is a new car.
Intro 00:30
Do you want to learn effective ways to build relationships, generate sales and grow your business from successful entrepreneurs, startups and CEOs without listening to a long, long, long interview?
If so, you've come to the right place. Gresham Harkless values your time and is ready to share with you precisely the information you're in search of.
This is the I AM CEO podcast.
Gresham Harkless 00:55
Hello. Hello. Hello. This is Gresh from the I AM CEO podcast and I appreciate you listening to this episode. If you've been listening this year, you know that we hit 1600 episodes at the beginning of this year.We're doing something a little bit different where we're repurposing our favorite episodes around certain categories, topics or as I like to call them business pillars that we think are going to be extremely impactful for CEOs, entrepreneurs and business owners. Or what I like to call CB nation architects who are looking to level up their organizations.
This month, we are focused on innovation, disruption, women entrepreneurship, DEI, gig economy, remote economy, even the cannabis industry. Think about these industries and these disruptive technologies that really sometimes aren't as disruptive, but there are people that are just paying attention to what the market needs and they're providing that. So really think about the things that are quote and quote outside of the norm, but really help entrepreneurship to grow and fully develop.
I think it's an extremely exciting time when you're talking about any type of innovation or disruption, because I think that there are so many opportunities and needs that aren't felt that are starting to be filled by different groups, different organizations, or even different industries. So what I want you to do is sit back and enjoy this special episode of the I AM CEO podcast.
Hello, hello, hello. This is Gresh from the I AM CEO podcast and I have a very special guest on the show today. I have Monique Melton of moniquemelton.com. Monique, it's awesome to have you on the show.
Monique Melton 02:18
Thank you for having me.
Gresham Harkless 02:19
No problem. Thanks for being here. What I wanted to do was just read a little bit more about Monique so you can hear about all the awesome things that she's doing.
Monique is a relationship coach, published author and international speaker. The heart of her work is to support people in building happy and healthy relationships. She travels the world speaking at conferences and events on topics related to personal growth, marriage and relationships.
She's been published in magazines, featured in blogs and podcasts, and has touched the lives of people all over the world. She's a natural, big, bold dreamer and a deeply rooted woman of faith. She is proud Navy wife to her high school sweetheart, and she is a loving mother to two little ones.
Monique, are you ready to speak to the I AM CEO community?
Monique Melton 02:59
Yeah.