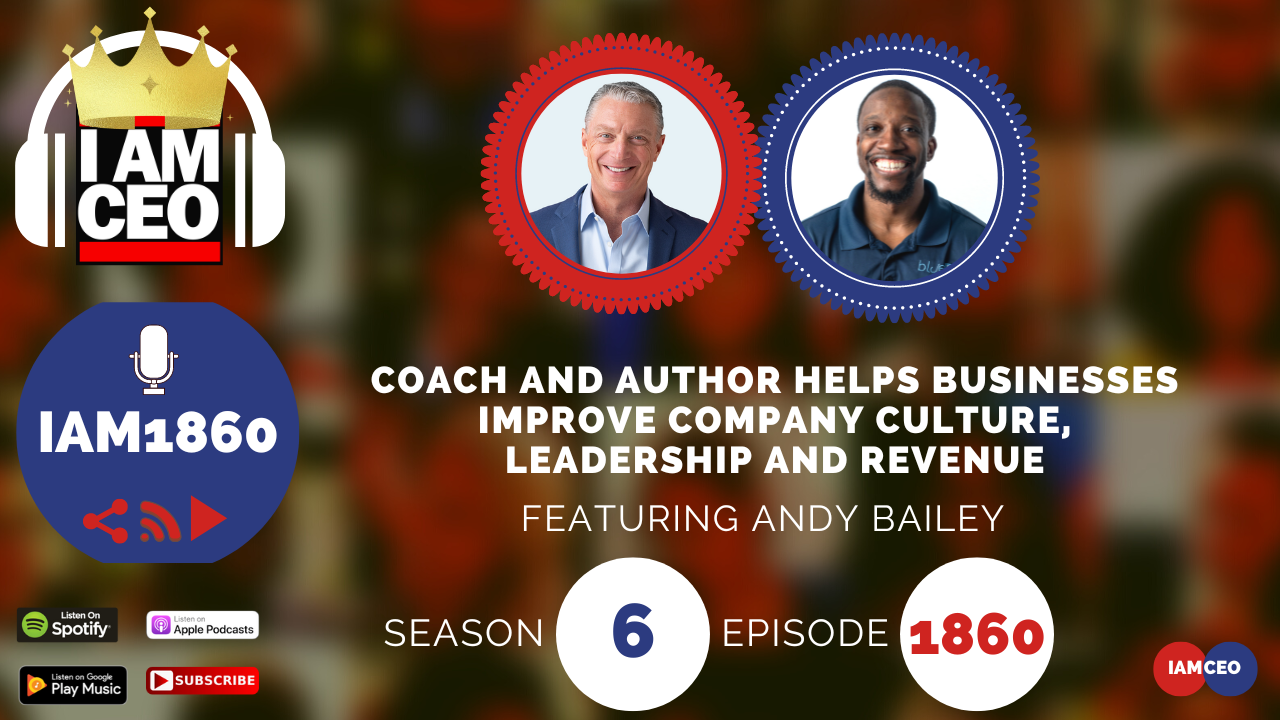 Why it was selected for "CBNation Architects"
:
In this episode of IAMCEO Podcast, Andy Bailey, founder, and CEO of Petra Coach, a business coaching firm, discusses how he improves company culture, leadership, and revenue for businesses across the U.S. and Canada. His methodology draws inspiration from principles first introduced by John D. Rockefeller.
CEO Story: Andy is a lifelong entrepreneur, skilled business coach, author, and contributor. He shares the background story of Petra Coach and discusses the unique strategies he uses to grow businesses.
Business Service: Petra Coach works with businesses to enhance company culture, leadership, and increase revenue. Their methodology is built on principles that have withstood the test of time.
CEO Hack: Andy recommends the application TripIt for organizing travel plans. He is also a firm believer in the power of gratitude and shares how he sent one hundred notes of thanks.
CEO Nugget: According to Andy, the actual product of a business is the business itself.
CEO Defined: Andy defines being a CEO as growing leaders who will go on to create more leaders.
Check out our CEO Hack Buzz Newsletter–our premium newsletter with hacks and nuggets to level up your organization. Sign up 
HERE
. 

I AM CEO Handbook Volume 3
 is HERE and it's FREE. Get your copy here: 
http://cbnation.co/iamceo3
. Get the 100+ things that you can learn from 1600 business podcasts we recorded. Hear Gresh's story, learn the 16 business pillars from the podcast, find out about CBNation Architects and why you might be one and so much more. Did we mention it was FREE? Download it today!
Transcription:
The full transcription is only available to CBNation Library Members. Sign up today!
Andy Bailey 00:00
So when I found out that there were coaches, there was a group of people who went around and helped people do this, that's what I wanted to go do. Because it saves people so much time and effort and energy and, get their needs getting to where they want to get to.
Intro 00:12
Do you want to learn effective ways to build relationships, generate sales and grow your business from successful entrepreneurs, startups, and CEOs without listening to a long, long, long interview?
If so, you've come to the right place. Gresham Harkless values your time and is ready to share with you precisely the information you're in search of.
This is the I AM CEO podcast.
Gresham Harkless 00:39
Hello, hello, hello. This is Gresh from the I AM CEO podcast and I appreciate you listening to this episode. If you've been listening this year, you know that we hit 1600 episodes at the beginning of this year. We're doing something a little bit different where we're repurposing our favorite episodes around certain categories, topics, or as I like to call them business pillars that we think are going to be extremely impactful for CEOs, entrepreneurs, and business owners, or what I like to call the CB nation architects who are looking to level up their organizations.
This month, we are focused on leadership, management and coaching. When we think of leadership, management and coaching, we often think of doing all of the other things, but often it's a person that's able to build up their team, that's able to cultivate a creative and innovative culture so that people can excel and actually be their own leaders. So that's why this month we're focusing on those three big topics because they make a huge impact on the organizations that we're a part of.
Now you'll hear some of those topics this month and of course, some really great perspectives on how people are even defining leadership, which I think is extremely exciting.So sit back and enjoy this special episode of the I AM CEO podcast.
Hello, hello, hello. This is Gresh from the I AM CEO podcast and I have a very special guest on the show today. I have Andy Bailey, of Petra coach. Andy, it's awesome to have you on the show.
Andy Bailey 01:57
Thanks for having me, bud.
Gresham Harkless 01:58
No problem. I'm super excited to have you on. What I wanted to do is just read a little bit more about Andy so you can hear about all the awesome things that he's doing.
Andy is the founder and CEO of Petra Coach, a business coaching firm working with businesses across the United States and Canada to improve company culture, leadership, and revenue using methodologies rooted in the principles first introduced by John D. Rockefeller.
As a lifelong entrepreneur, skilled business coach and author and contributor, Andy Bailey is a recognized expert in the realm of business growth and success strategies. Recently, he released his debut Amazon bestselling book, No Try Only Do, which details the start and success of Petra Coach as well as the unique methodologies upon which it's based.
Andy, are you ready to speak to the I AM CEO community?
Andy Bailey 02:44
You do that way better than I would have done it. Thank you very much.