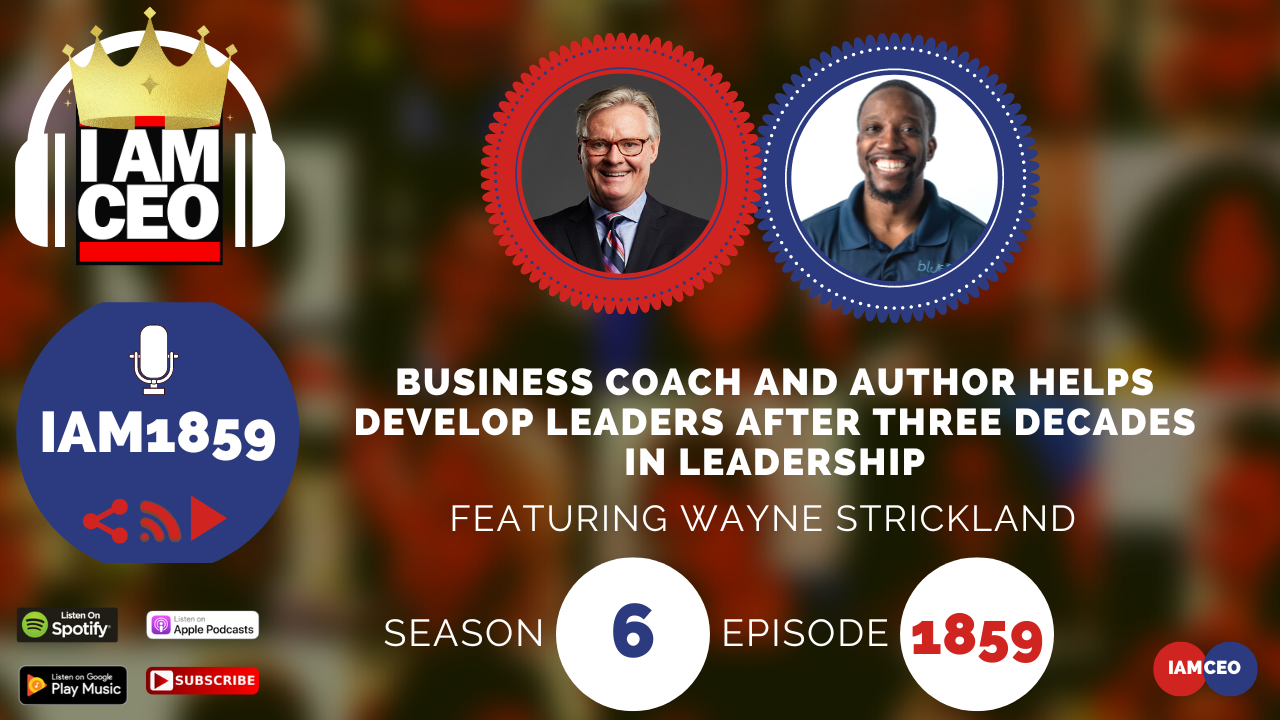 Why it was selected for "CBNation Architects"
:
In this episode of I AM CEO Podcast, we hear from Wayne Strickland, an accomplished business coach, author, consultant, and renowned leader with a commendable 38-year career. He climbed the ranks to become a successful Vice President at Hallmark Cards, a position he held for more than 25 years, and contributed enormously to the brand's growth.
CEO Story: Wayne talks about his time at Hallmark, where in his 35th year he led the launch and development of the Hallmark Greetings business across various Amazon platforms. He has worked with leading retailers worldwide and led sizable teams of 10,000 and 5,000, demonstrating his vast experience and leadership skills. Additionally, Wayne has been instrumental in starting new organizations from scratch.
Business Service: As a business coach, Wayne emphasizes the importance of understanding one's leadership philosophy arguing that personal leadership development is critical to long-term success.
CEO Hack: His advice to leaders is: have crucial conversations, dispel the friction and possess the tenacity to move forward.
CEO Nugget: Wayne advocates three key things for leaders – slow down, think about it, and work on maintaining your balance.
CEO Defined: To Wayne, being a CEO involves sharing things that could help other people.
Check out our CEO Hack Buzz Newsletter–our premium newsletter with hacks and nuggets to level up your organization. Sign up 
HERE
. 
Transcription:
The full transcription is only available to CBNation Library Members. Sign up today!
Wayne Strickland Teaser 00:00
My whole thing now Gresham is about giving back and trying to teach all new leaders some of the things I learned along the way.
Intro 00:08
Do you want to learn effective ways to build relationships, generate sales, and grow your business from successful entrepreneurs, startups, and CEOs without listening to a long, long, long interview?
If so, you've come to the right place. Gresham Harkless values your time and is ready to share with you precisely the information you are in search of.
This is the I AM CEO podcast.
Gresham Harkless 00:33
Hello, hello, hello. This is Gresh from the I AM CEO podcast and I appreciate you listening to this episode. If you've been listening this year, you know that we hit 1600 episodes at the beginning of this year. We're doing something a little bit different where we're purposing our favorite episodes around certain categories, topics, or as I like to call them business pillars that we think are going to be extremely impactful for CEOs, entrepreneurs, and business owners, or what I like to call the CB nation architects who are looking to level up their organizations.
This month, we are focused on leadership, management and coaching. When we think of leadership management and coaching, we often think of doing all of the other things, but often it's a person that's able to build up their team, that's able to cultivate a creative and innovative culture so that people can excel and actually be their own leaders. So that's why this month we're focusing on those 3 big topics, because they make a huge impact on the organizations that we're part of.
Now, you'll hear some of those topics this month, and of course, some really great perspectives on how people are even defining leadership, which I think is extremely exciting. So sit back and enjoy this special episode of the I AM CEO podcast.
Hello. Hello. Hello. This is Gresh from the I AM CEO podcast and I have a very special guest on the show today. I have Wayne Strickland of waynestricklandspeaking.com. Wayne, it's awesome to have you on the show.
Wayne Strickland 01:52
Great to be here and happy holidays to you.
Gresham Harkless 01:55
Happy holidays to you as well. What I wanted to do was just read a little bit more about Wayne so you hear about all the awesome things that he's been able to do and accomplish.
Wayne is a business coach, author, consultant, speaker, and enlightened leader. In his award-winning 38-year career, he rose to successful Vice President at Hallmark Cards for over 25 years where in his 35th year in the business, he led the launch and development of the Hallmark Greetings business across multiple Amazon platforms.
He has worked with the leading retailers across the world and leads teams of 1, 000 and 5, 000. He has also started new organizations from scratch. He considers developing your own leadership philosophy critical to long-term success.
Wayne, are you ready to speak to the I AM CEO community?
Wayne Strickland 02:42
I'm ready. Let's go.