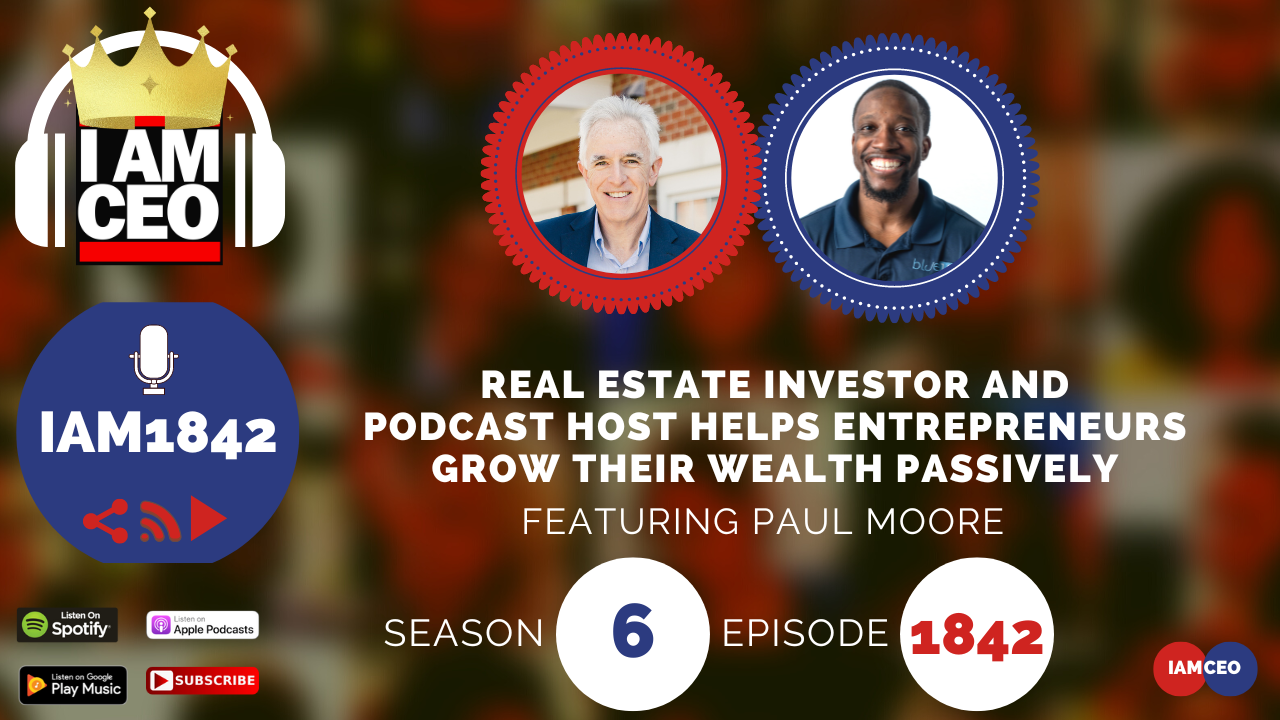 Why it was selected for "CBNation Architects":
This episode on I AM CEO Podcasts features Paul Moore, a real estate investor and podcast host of Wellings Capital. Paul has an extensive background in both engineering and business, having earned an engineering degree and an MBA from Ohio State. After a successful career in the corporate world, he ventured into entrepreneurship and started a staffing company with a partner, which they eventually sold for $2.9 million.
Paul later transitioned into the real estate sector and has since completed 85 real estate investments and exits. He has appeared on HGTV, rehabbed and managed numerous rental properties, and developed a waterfront subdivision. Paul also started two successful online real estate marketing firms. His experience led him to the commercial investment arena, where he manages two private equity funds.
During the episode, Paul shares his CEO hack of focusing on one thing and doing it really well. He advises entrepreneurs to consider pursuing commercial real estate as it has the potential for longer-term investments and growth. Paul defines being a CEO as ruling like a servant and serving like a king, emphasizing the importance of leadership and service.
Check out our CEO Hack Buzz Newsletter–our premium newsletter with hacks and nuggets to level up your organization. Sign up 
HERE
. 

I AM CEO Handbook Volume 3
 is HERE and it's FREE. Get your copy here: 
http://cbnation.co/iamceo3
. Get the 100+ things that you can learn from 1600 business podcasts we recorded. Hear Gresh's story, learn the 16 business pillars from the podcast, find out about CBNation Architects and why you might be one and so much more. Did we mention it was FREE? Download it today!
Transcription:
The full transcription is only available to CBNation Library Members. Sign up today!
Paul Moore 00:00
Almost all the Forbes 400 wealthiest people in America are investing in commercial real estate. A lot of them got there through commercial real estate in the first place. I realized there's a reason for that.
And when I discovered how commercial real estate really works, how the value formula works, et cetera, I've never looked back since then. That's why we launched Welling's capital.
Intro 00:23
Do you want to learn effective ways to build relationships, generate sales, and grow your business from successful entrepreneurs, startups, and CEOs without listening to a long, long, long interview?
If so, you've come to the right place. Gresham Harkless values your time and is ready to share with you precisely the information you're in search of.
This is the I AM CEO podcast.
Gresham Harkless 00:50
Hello. Hello. Hello. This is Gresh from the I AM CEO podcast and I appreciate you listening to this episode. If you've been listening this year, you know that we've hit 1600 episodes at the beginning of this year. We're doing something a little bit different where we're repurposing our favorite episodes around certain categories, topics, or as I like to call them, business pillars that we think are going to be extremely impactful for CEOs, entrepreneurs, and business owners, just like you, what I like to call the CB nation architects who are looking to level up their organizations.
This month, we are focusing on CEO Hacks and CEO Nuggets. This is by far one of my favorite questions I asked on the show. In other words, I asked, what are the apps, books, and habits that makes you more effective and efficient. Those were the CEO hacks. Then I asked for a word of wisdom or a piece of advice or something that you might tell your younger business if you were to hop into a time machine. Those were the CEO nuggets. That's what we'll focus on this month and some of the top ones that can instantly impact your business.
I love all the questions, but with every episode, I thought I would walk away with something I could look at and implement right there to save the precious resources, time and money. Or I would also learn about the advice, tips and tidbits or tools of the trade on how to level up our organization. So you'll hear some of these this month. Sit back and enjoy this special episode of the I AM CEO podcast.
Hello, hello, hello. This is Gresh from the I AM CEO podcast, and I have a very special guest on the show today. I have Paul Moore of Welling's capital. Paul, it's awesome to have you on the show.
Paul Moore 02:24
Hey, it's great to be here. Thanks Gresham.
Gresham Harkless 02:26
No problem. Super excited to have you on. What I wanted to do is just read a little bit more about Paul so you can hear about all the awesome things that he's doing. After graduating with an engineering degree and then an MBA from Ohio State, Paul started on the management development track at Ford Motor Company in Detroit.
After five years, he departed to start a staffing company with a partner. They sold it to a publicly traded firm for 2.9 million dollars, five years later. Along the way, Paul was the finalist for Ernest and Young's Michigan Entrepreneur of the year, two straight years.
Paul later entered the real estate sector where he completed 85 real estate investments and exits, appeared on HGTV special rehab and managed dozens of rental properties, developed a waterfront subdivision and started two successful online real estate marketing firms, three successful developments, including assisting with development of Hyatt Hotel and a multifamily housing project led him into the commercial investment arena where he manages two Private equity firms.
Paul, are you ready to speak to the I AM CEO community?
Paul Moore 03:31
I am ready. I'm exhausted though. After that long bio man, shiny objects in there. Doesn't it sound like?