I AM CEO PODCAST
IAM1442 – Attorney Helps Companies in their Commercial Lease Negotiations
Podcast Interview with Atty. Marc Betesh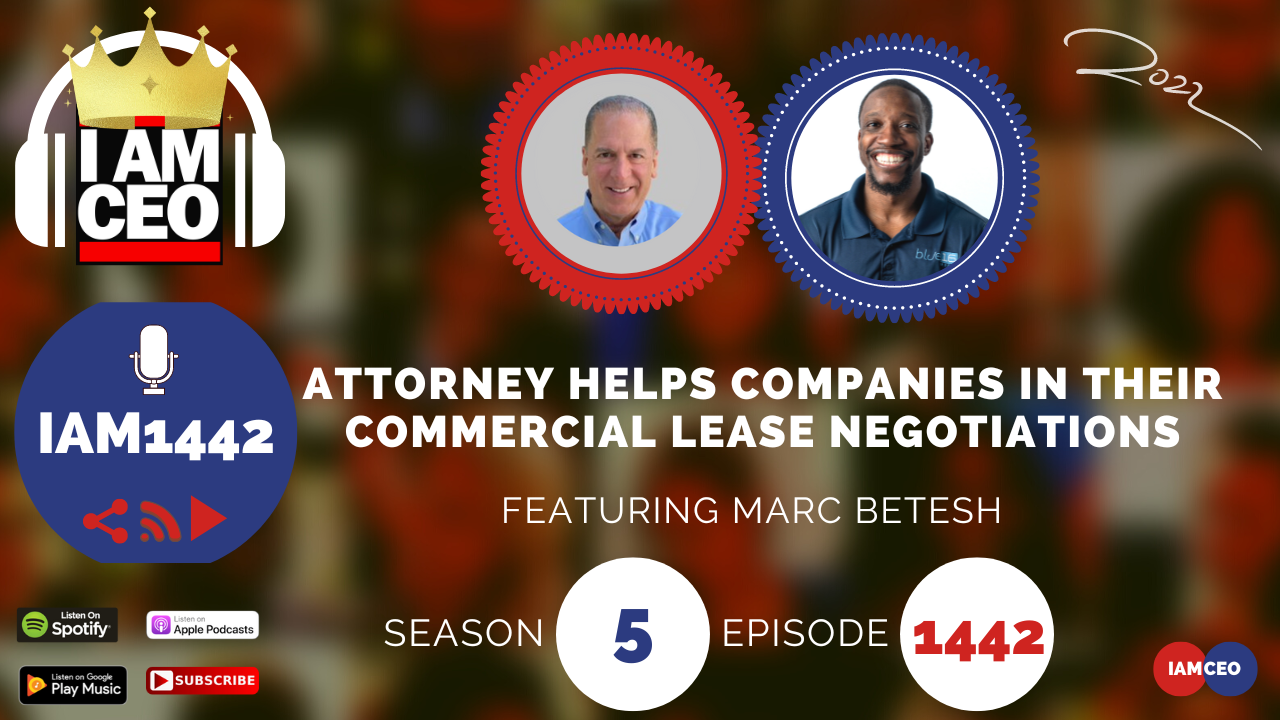 Marc Betesh is the founder and CEO of KBA Lease Services, the leading lease auditing firm, and Visual Lease, the #1 lease optimization software provider. After receiving his BA from Temple University and his JD from Georgetown University, Betesh practiced law in New York City where he negotiated commercial leases. As an attorney, Betesh became widely recognized as an expert on commercial lease negotiation, lease interpretation and expense reimbursement clauses. During this time, he conceived the idea of lease auditing and introduced it to the commercial real estate industry, which led him to create his two companies: KBA Lease Services in 1985 and Visual Lease in 1996.
KBA was the pioneer of commercial lease auditing in 1985 and remains the signature firm in the industry. It has represented thousands of companies in almost every leasing market within the
US, helping them to eliminate overcharges in their commercial leases. Visual Lease is the #1 lease optimization software provider that helps organizations become compliant with FASB, IFRS and GASB lease accounting standards, while simultaneously improving the financial, legal, and operational performance of their leases.
CEO Story: After graduating from Law School, Marc became an expert in commercial lease negotiations. Seeing the need to look at the loopholes of the leasing contracts, he founded the auditing lease company and later on made the lease contract more visible and accessible, building the virtual lease application which has helped companies save tons of money and headache on their obligations while on the lease.
Business Service: Representing clients for lease negotiations, looking at lease contracts, leasing market. Virtual lease software.
Secret Sauce: Great product with years of experience and research, and easy to use.

 

Hiring people that are within the cultural fit of the company.
CEO Hack: Always finding ways to improve, to the next level.
CEO Nugget: Be patient. Make good decisions rationally, calmly, and professionally.
CEO Defined: Being the inspiration in the organization. Drive performance and create emerging qualities and benefits.
Linkedin: https://www.linkedin.com/in/marc-betesh-6b78883/
---
Check out one of our favorite CEO Hack's Audible. Get your free audiobook and check out more of our favorite CEO Hacks HERE