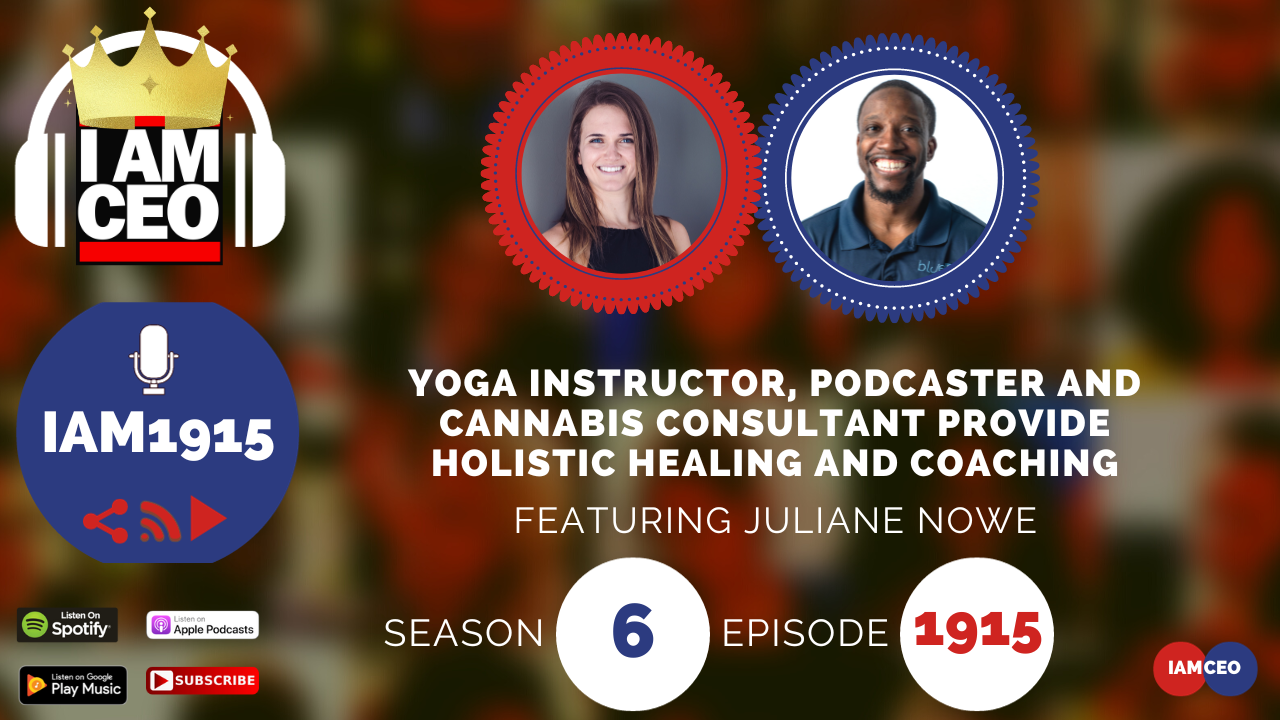 Why it was selected for "CBNation Architects":
In this episode, the guest speaker is Juliane Nowe, the Creative Director, and founder of LadyNowe.
Key Points:
LadyNowe: This organization provides a comprehensive approach to holistic healing and coaching, offering services including yoga, reiki, cannabis consulting, and spirit channeling.
Juliane Nowe's journey: Juliane Nowe used integrative and alternative healing methods to address multiple health diagnoses she faced from birth into her youth. These methods helped her avoid surgeries and cease all pharmaceuticals.
Healing approach: Juliane focuses on healing past and future issues to bring about true power and presence in the present moment. Her mission is to extend the same healing potential to her clients, meeting them wherever they are on their journey.
CEO Hack: Just do it when you get the idea and figure it out along the way.
CEO Nugget: Believe in your knowledge and let others catch up with your vision over time.
CEO Defined: Freedom for your inner being.
Check out our CEO Hack Buzz Newsletter–our premium newsletter with hacks and nuggets to level up your organization. Sign up 
HERE
. 

I AM CEO Handbook Volume 3
 is HERE and it's FREE. Get your copy here: 
http://cbnation.co/iamceo3
. Get the 100+ things that you can learn from 1600 business podcasts we recorded. Hear Gresh's story, learn the 16 business pillars from the podcast, find out about CBNation Architects and why you might be one and so much more. Did we mention it was FREE? Download it today!
Transcription:
The full transcription is only available to CBNation Library Members. Sign up today!
Juliane Nowe Teaser 00:00
People like to see the realness because if it's like too touched, it's like that's fake and people are getting tired of being sold to. Instead of like the airing and connection and feeling vulnerable enough to reach out for the help and the programs or resources.
Intro 00:15
Do you want to learn effective ways to build relationships, generate sales, and grow your business from successful entrepreneurs, startups, and CEOs without listening to a long, long, long interview?
If so, you've come to the right place. Gresham Harkless values your time and is ready to share with you precisely the information you're in search of.
This is the IAMCEO podcast.
Gresham Harkless 00:40
Hello. Hello. Hello. This is Gresh from the IAMCEO podcast and I appreciate you listening to this episode. If you've been listening this year, you know that we hit 1600 episodes at the beginning of this year. We're doing something a little bit different where we're repurposing our favorite episodes around certain categories, topics, or as I like to call them business pillars that we think are going to be extremely impactful for CEOs, entrepreneurs and business owners, or what I like to call CB nation architects who are looking to level up their organizations.
This month, we are focused on innovation, disruption, women entrepreneurship, DEI, gig economy, remote economy, even the cannabis industry. Think about these industries and these disruptive technologies that really sometimes aren't as disruptive, but there are people that are just paying attention to what the market needs and they're providing that. So really think about the things that are quote and quote outside of the norm, but really help entrepreneurship to grow and fully develop.
I think it's an extremely exciting time when you're talking about any type of innovation or disruption, because I think that there's so many opportunities and needs that aren't felt that are starting to be filled by different groups, different organizations, or even different industries. So what I want you to do is sit back and enjoy this special episode of the IAMCEO podcast.
Hello. Hello. Hello. This is Gresh from the IAMCEO podcast and I have a very special guest on the show today. I have Juliane Nowe of ladynowe.com. Juliane, it's awesome to have you on the show.
Juliane Nowe 02:05
Hi, thank you so much. It's great to be here.
Gresham Harkless 02:07
No problem. Super excited to have you on. What I want to do is just read a little bit more about Juliane, so you can hear about all the awesome things that she's doing.
Juliane, is an integrative and alternative healer, Reiki master, yoga instructor, spirit channeler, and cannabis consultant. She focuses on healing your past and future to find your true power and presence in the now. Julianne had multiple health diagnoses from the moment she was born and into her youth.
She healed herself with alternative healing methods and getting to the root cause of emotions and beliefs and avoiding surgeries and stopping all pharmaceuticals. Her purpose is to do the same for others and to meet them wherever they are in their journey.
Julianne, are you ready to speak to the IAMCEO community?
Juliane Nowe 02:49
I'm so ready. Yes.